Is Brazil on your travel wish list? It should be. Brazil is a vast and diverse country with beautiful nature and many opportunities for water and extreme sports enthusiasts. It is also a place with a rich culture and history, which means it will have something to offer any tourist.
Due to the abundance of moisture, the vegetation here is very lush and diverse. The Amazon rainforest, which occupies one-third of Brazil's territory, has created ideal conditions to support life in its various forms.
But stunning nature isn't the only great thing about the country. Brazil's cities are also very colorful. Its capital, Brasilia, has a very unusual layout. Did you know it is designed in the form of a bird?
The tips on our list will help with planning a trip to Brazil.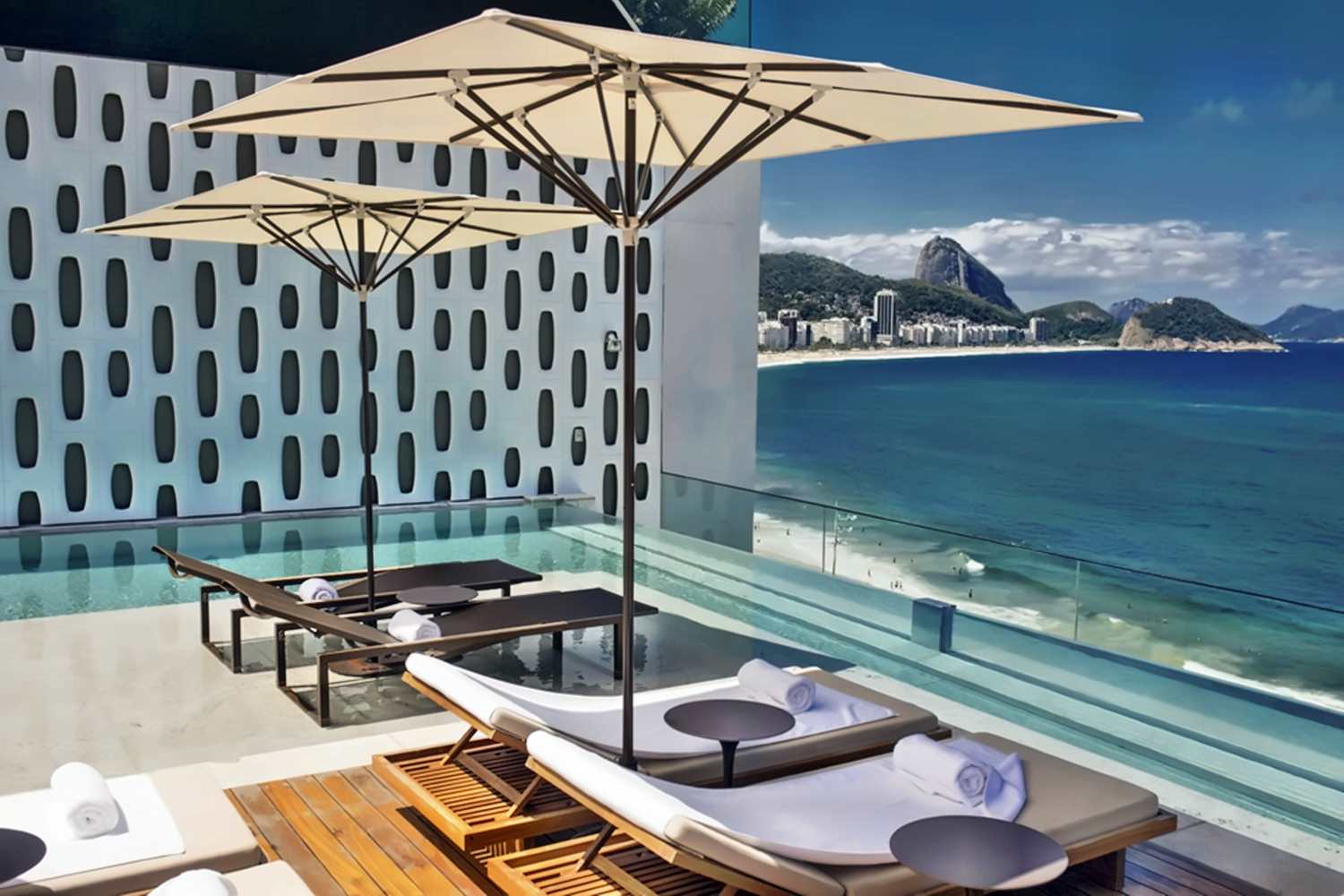 Prepare for the heat
Brazil has a rather hot climate, which can come as a shock to those who are not used to it. Remember to always wear suitable sunscreen!
To avoid dehydration and be safe wherever you go, it is advisable to always take water with you. This is easy to do and requires only a little planning.
You may need a visa
Another thing you should keep in mind is that you may require a tourist visa to travel to Brazil. That, of course, depends on the country you are a resident of.
Covid-19 restrictions in Brazil
Brazil was hit particularly hard by the pandemic. Right now, only fully vaccinated travelers can enter the country, with few exceptions. Here you can find exemptions for the rule. Children under 12 don't have to show proof of vaccination.
There are women-only carriages on the metro
In major cities, there are women-only carriages on the metro, but this rule only applies during rush hours from 6 am to 9 am and 5 pm to 8 pm, Monday to Friday.
If men board one of these cars, they can be fined up to R$ 1 000 or US$ 320. Outside rush hour, both men and women are allowed in these carriages.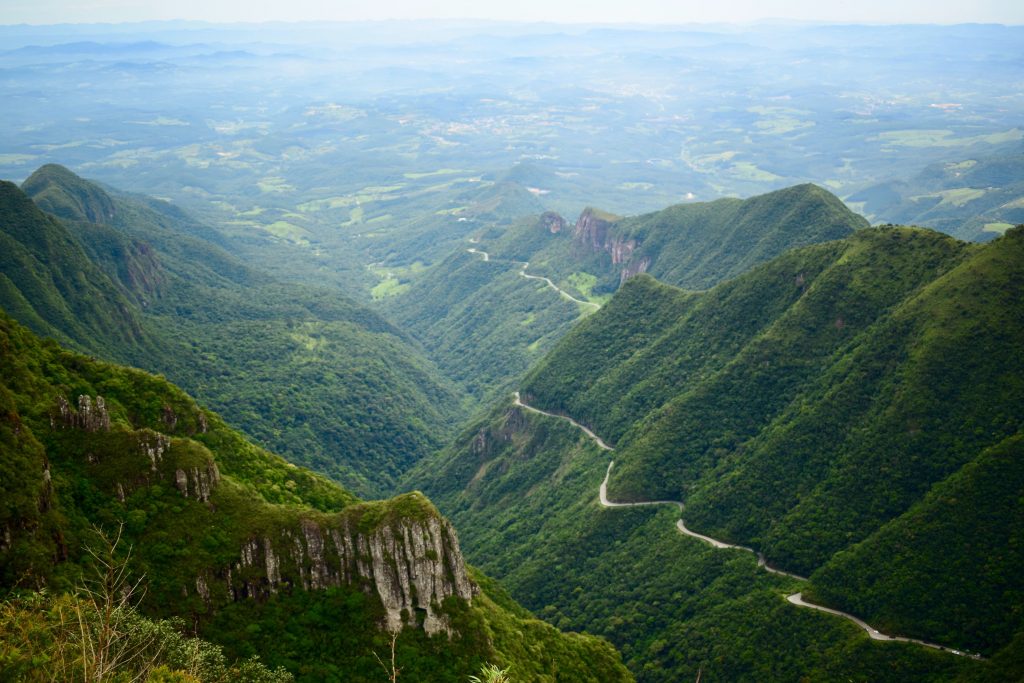 The Amazon is the most incredible habitat in the world, but it is also very vast and hides potential dangers for those who want to explore it alone.
If you want to visit this tropical forest, always use reputable and qualified guides who know the risks and routes in the Amazon. The same rule applies to the Pantanal.
Always stay alert
Brazil is one of the least safe countries in South America, notorious for violence, crime, and high homicide rates. The reality behind these statistics is mainly due to criminal gangs operating far from tourist areas, but despite this, you should always be cautious.
Overall, Brazil is relatively safe for visitors and tourists. Travelers may experience non-violent pickpocketing or robberies, but in most cases, they don't encounter such problems.
Still, in major urban areas such as Salvador, Recife, and Rio de Janeiro, it is worth taking precautions and ensuring the safety of your belongings. Be a little wary of strangers!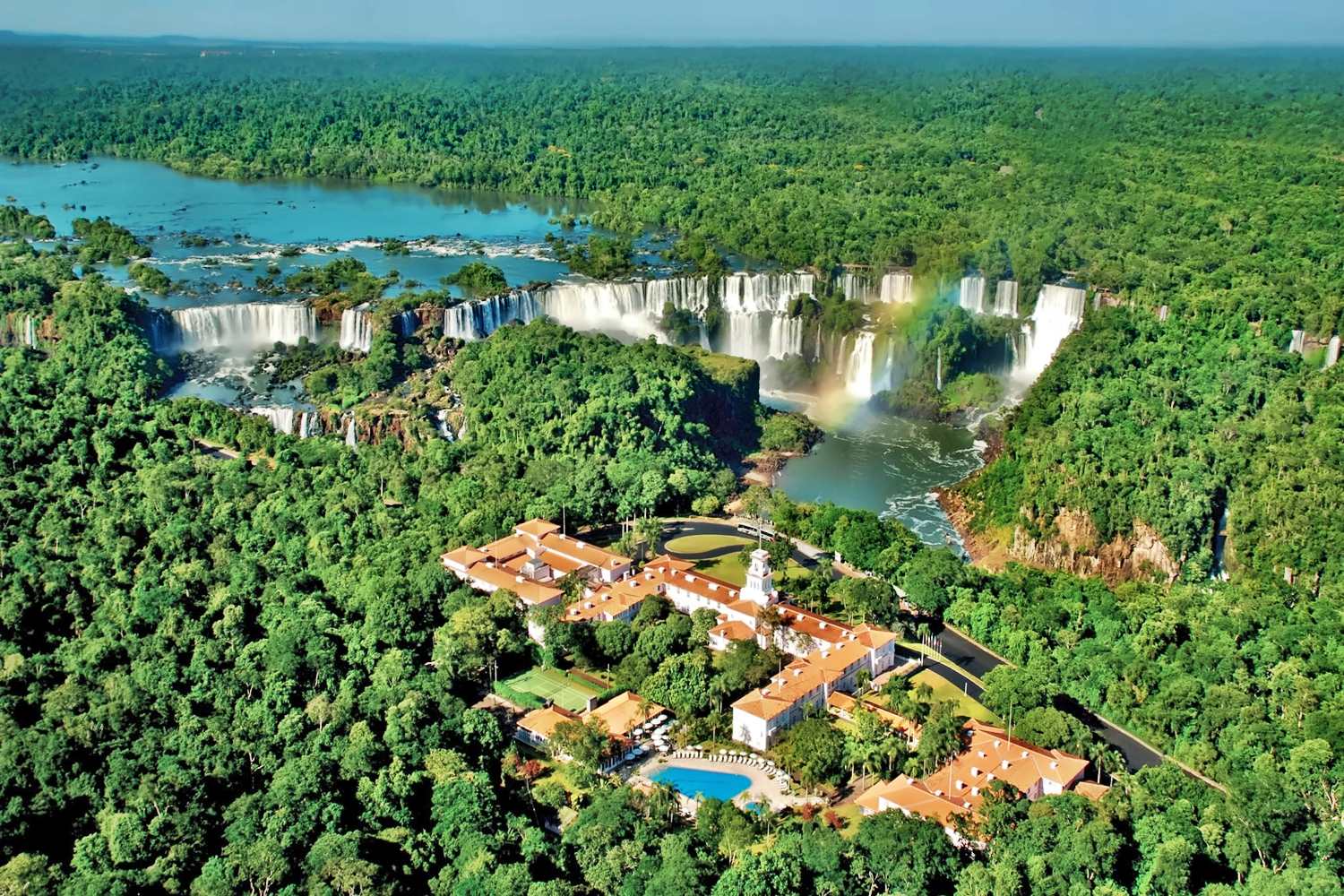 Keep personal belongings close
Although Brazil is considered a safer country than the press portrays, thefts and robberies do occur, and tourists should always bear this in mind.
Do not hang your belongings on the chair, as someone can easily grab them and make a quick getaway. It is much better to keep your bag wrapped around the legs of the table or to keep your belongings closer to your body.
Street food and drinks
Brazilian cuisine is largely shaped by the culture of street food arcades. Most tourists want to try street food when they visit Brazil, and most of the time, it's just as good as the food served in a restaurant.
However, be careful. This is not always the wisest thing to do. You should avoid buying alcohol and wine on the street. It is also best to drink bottled water. Seafood is also a potential problem and should not be purchased from street food vendors.
Yellow Fever
Keep in mind that it is possible to get yellow fever in Brazil. Typically, the increases for the disease occur between December and May. That is why it is best to get yellow fever vaccine, which has proven to be effective and safe.
ATMs do not operate after 10 pm
Local regulations in some parts of the country prohibit ATMs from operating after 10 pm. This may surprise come as a surprise. After all – it's a rare rule that is not respected in most countries.
If you plan to pay in cash, you should always have some money on you. A credit card usually works, but they are not accepted in all establishments, especially in rural areas.
Meeting new people
Brazilians are very friendly and open people. Tourists like this, and it is easy to make friends when you go to a party in Brazil. Moreover, most people speak English there, although the official language is Portuguese.
Nevertheless, it is best to be cautious, as this could lead to you being robbed. Try not to drink too much and maintain common sense.
There are some neighborhoods in big cities you should avoid altogether. Try not to be too friendly with the locals unless you know them personally.
Be culturally sensitive
Brazil is a vast and quite diverse country. It also has a complex history of racial and ethnic relations created by Portuguese colonialism. Therefore, there are many topics that are delicate to discuss, especially as a foreigner who is not familiar with the context.
The best hotels in Brazil
If you decide to travel to this beautiful place, choose a safe and truly unique experience at one of the hotels you can book through PrivateUpgrades. Here are some of the best luxury hotels in Brazil.
Hotel Emiliano Rio
Hotel Emiliano Rio is located in one of Rio de Janeiro's most prestigious areas, close to Copacabana Beach. It is one of Brazil's best luxury hotels.
If you want to enjoy the water without leaving the hotel, it also has an outdoor infinity pool. The rooftop pool offers spectacular views – perfect for those Instagram selfies! The hotel also has a relaxing spa and fitness center where you can work out.
The building's modern architecture floods the rooms with natural light. It allows you to admire the sea, creating a special atmosphere and allowing guests to feel an invisible connection with the city.
The price per night starts from 360 euros.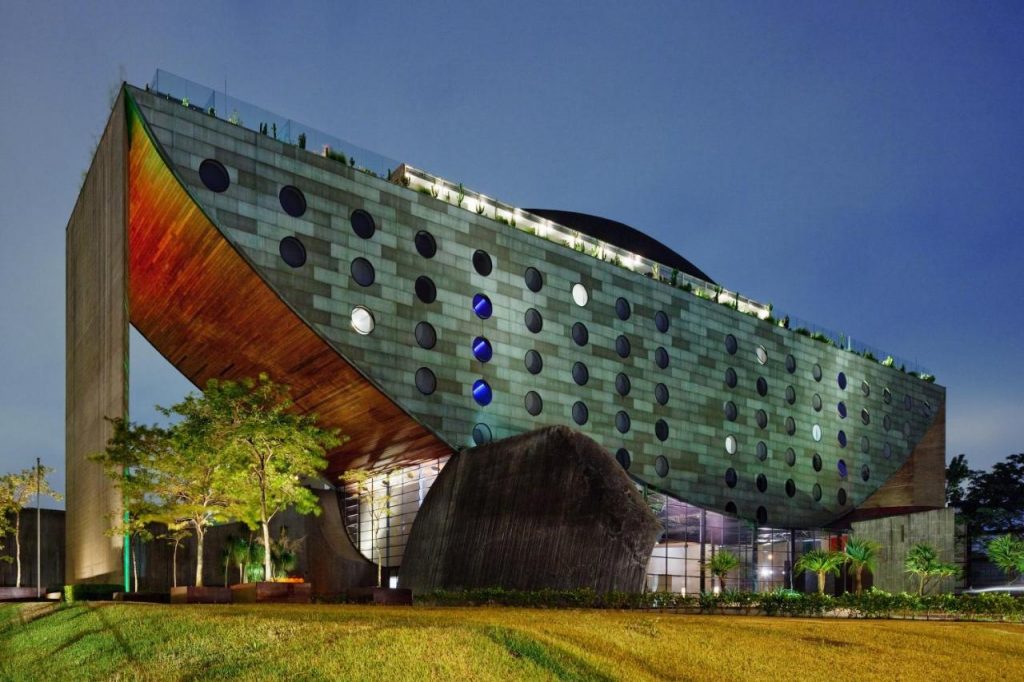 Hotel Unique
This hotel lives up to its name – it is truly unique in every respect. Its owner, Jonas Siaulys, planned to replace it with a shopping center, but it soon became clear that the city needed a hotel that reflected the cosmopolitanism of Sao Paulo.
The hotel's concept was based on the ideas of Ian Schrager, owner of the famous New York club Studio 54.
The grey-blue hotel building with its separate entrances, 180 cm round windows, swimming pool, and the roof terrace was designed by architect Ruy Ohtake as an enormous 100-meter-long arch. It is totally individual, precise, proportionate, and perfectly integrated into the cityscape.
The interior design of Hotel Unique is sophisticated and tasteful. Curved corridors, lots of natural light, elegant furniture in original and classic shapes. Onyx on the walls, modern decor with baroque elements, stylish lighting, a talented palette of turquoise and amber tones. All this gives the hotel charm, depth, and elegance.
The hotel's restaurant and bars offer a superb menu of international cuisine by the chef, complemented by wines, cocktails, and refreshments.
The price per night starts from 416 euros.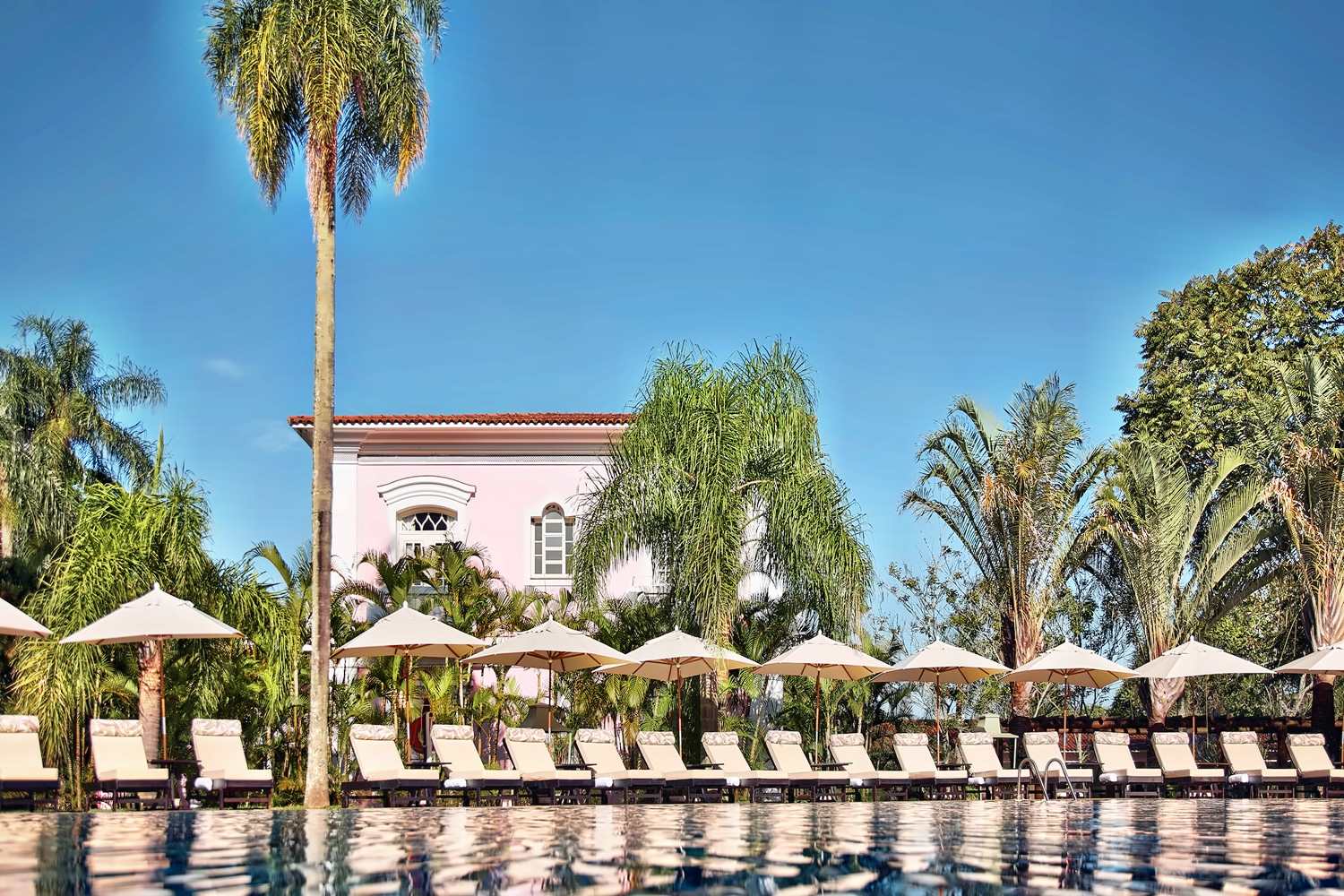 Belmond Hotel das Cataratas
The only hotel in Iguazu National Park, the Belmond Hotel das Cataratas, is in an incomparable location since it is just a short walk from the world-famous waterfalls. Take the exclusive opportunity to discover this fantastic natural setting at sunset, when the park closes for visitors.
This classic luxury hotel is perfect for relaxing on the veranda or in the shade of tropical trees. The effect of the hotel's spa embodies the powerful energy of the Amazon. Its treatments are designed to relax and restore your mental and physical strength.
The rooms and suites of the Belmond Hotel das Cataratas combine elegant classics and modern comfort. The coziness is highlighted by paintings of local flora and fauna, echoing the landscape outside the window. Complemented by dark wood finishes and luxurious queen-size beds, the hotel is a real treat for the eyes.
If you wish to stay at one of Brazil's best luxury hotels, the rooms start at 398 euros.
Brazil can host tourists for 12 months of the year. With endless white beaches, unique architecture, and colorful culture, it is perfect for relaxing.
Take note of all the recommendations and safety tips, and visit this remarkable place at least once in your lifetime! Remember to check PrivateUpgrades to get access to exclusive deals and promotions.