We are all different, and when we go on holiday, we choose a hotel to suit our specific requirements. Some people select accommodation for an active holiday, some are looking for romance and luxury, while others like adrenaline and want the ocean nearby. You just have to decide what you want from your holiday and choose the best hotel for your needs!
Egypt has world-class hotels that offer impeccable service to their guests. If you are a demanding tourist and dream of getting the most out of your vacation, then pay attention to the hotels listed in this article.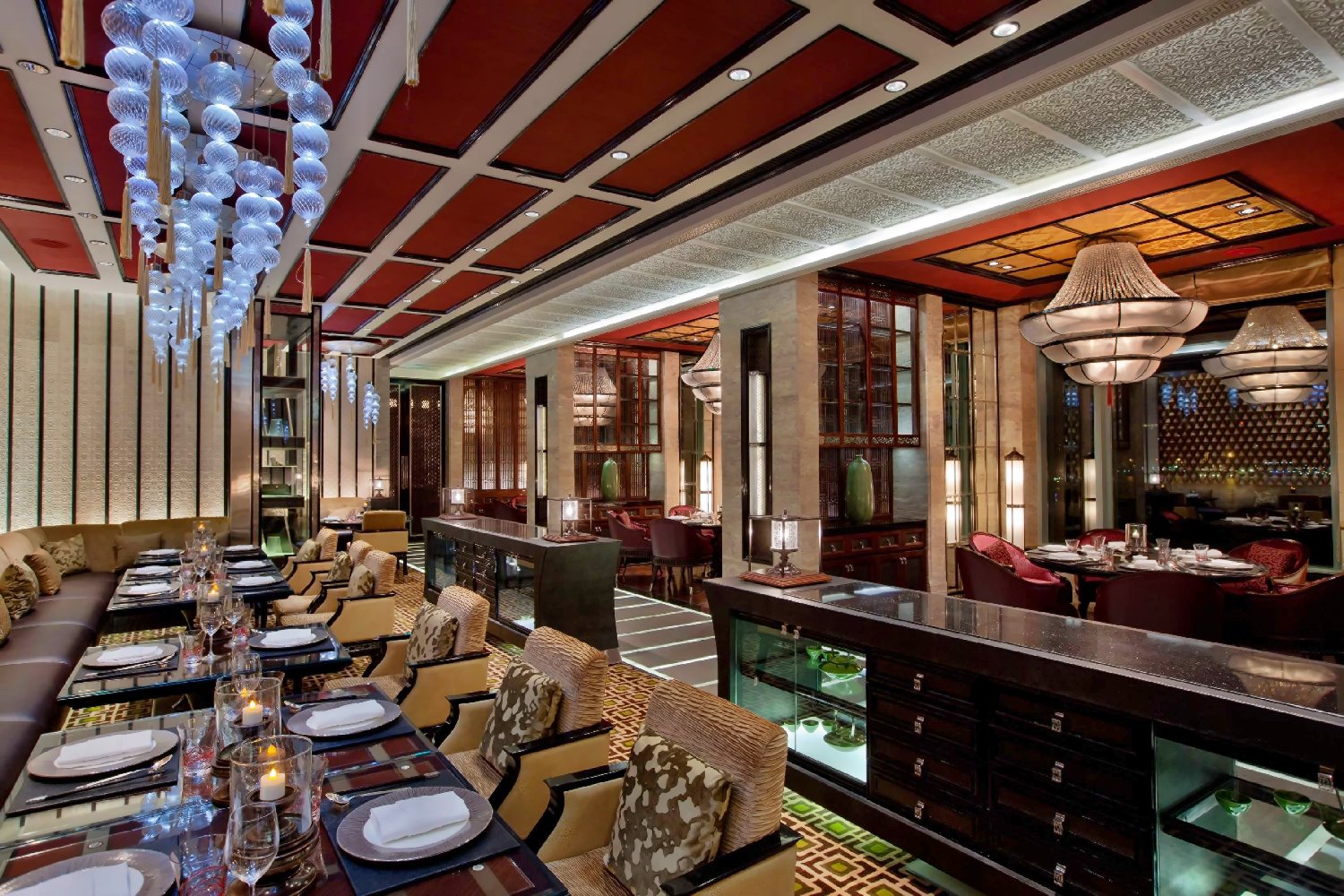 Four Seasons Hotel Cairo at Nile Plaza
The prestigious Four Seasons Hotel Cairo at Nile Plaza is located on the banks of the Nile, just a 15-minute walk from one of Cairo's main attractions, the Egyptian Museum. The rooms of this luxury hotel are spacious in size and elegant in design. Decorated with paintings and natural wood elements, they are truly upper-class.
Most rooms have terraces overlooking the Nile, which is a great benefit of this hotel. The Four Seasons' accommodation has outdoor rooftop pools and a modern spa with a wide range of face and body treatments, ideal after a long day in the city or a very stimulating business trip. In addition, enjoy the jacuzzi, and steam baths and keep in good spirits in the gym.
Moreover, the hotel has not just 1 but 6 restaurants, which means you will not have to wait in long queues to get a table for a romantic evening.
Visitors can make use of babysitting services, which make traveling with children easier. The hotel also has a swimming pool just for children to ensure the safety of young travelers.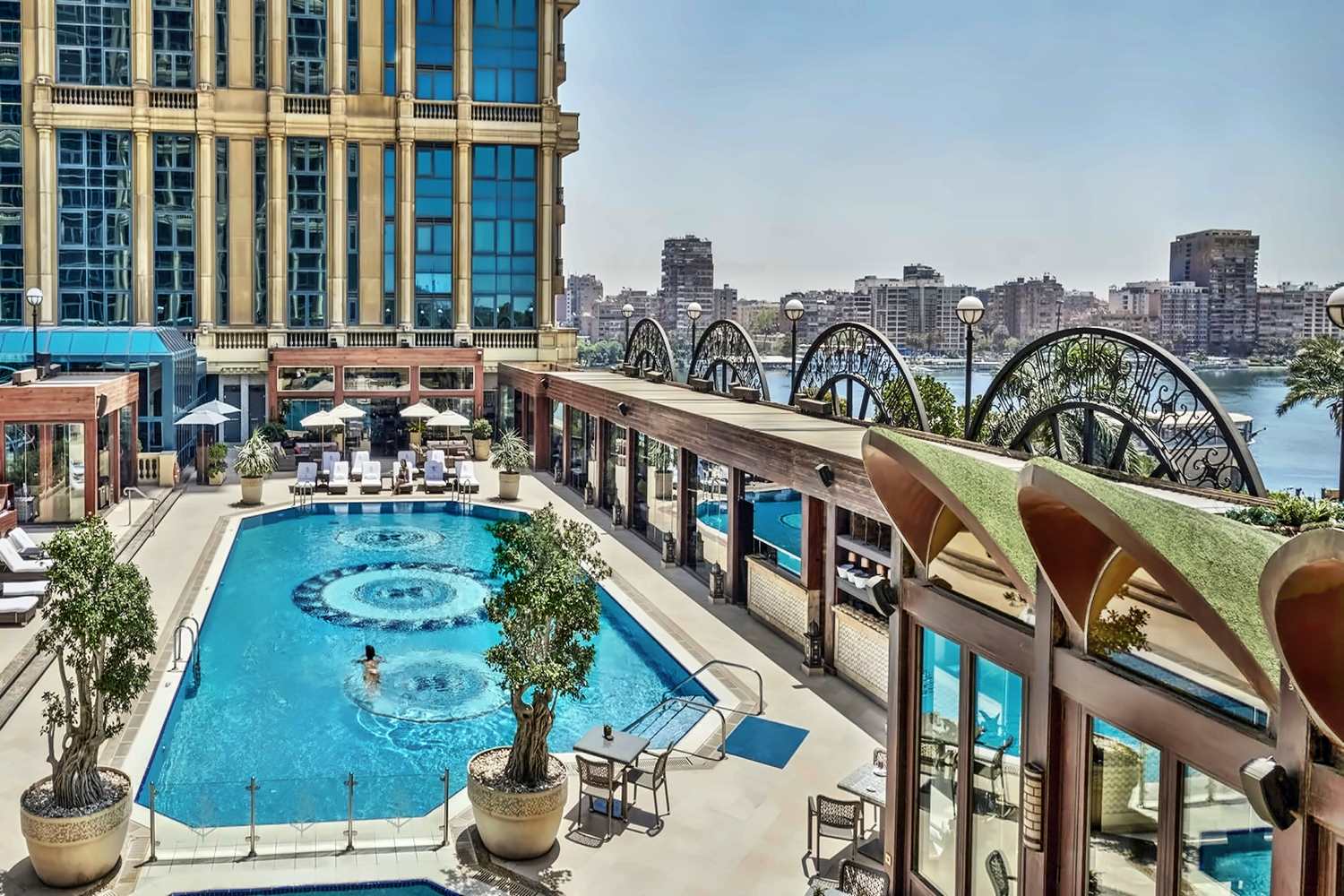 Four Seasons First Residence
Overlooking the Great Pyramids and the Botanical Gardens, Four Seasons First Residence is a 20-story skyscraper in central Cairo with 269 luxurious rooms, 43 of which are suites.
All rooms at First Residence are elegantly decorated in a colonial style, and guests can enjoy a full range of spa services and an outdoor pool. For the curious, there is a casino on-site, where you can have fun late into the evening after a day by the water or exploring.
Enjoy fine dining and hospitality at one of the local restaurants, or head out to explore the surrounding area, as the nearby city of Giza is a cultural and artistic hub and provides fantastic dining options.
Guests can enjoy traditional Syrian-Lebanese cuisine at the poolside Aura restaurant, located right on the hotel grounds. Another place to dine and drink wine is La Gourmandise. It is a modern restaurant in the heart of the Four Seasons First Residence shopping complex.
If you prefer a little walking and activity during the day, especially when traveling with children, the historic Cairo Zoo and Botanical Gardens are just a 2-minute walk from the Four Seasons First Residence. In addition, the river Nile is just 100 meters from the hotel.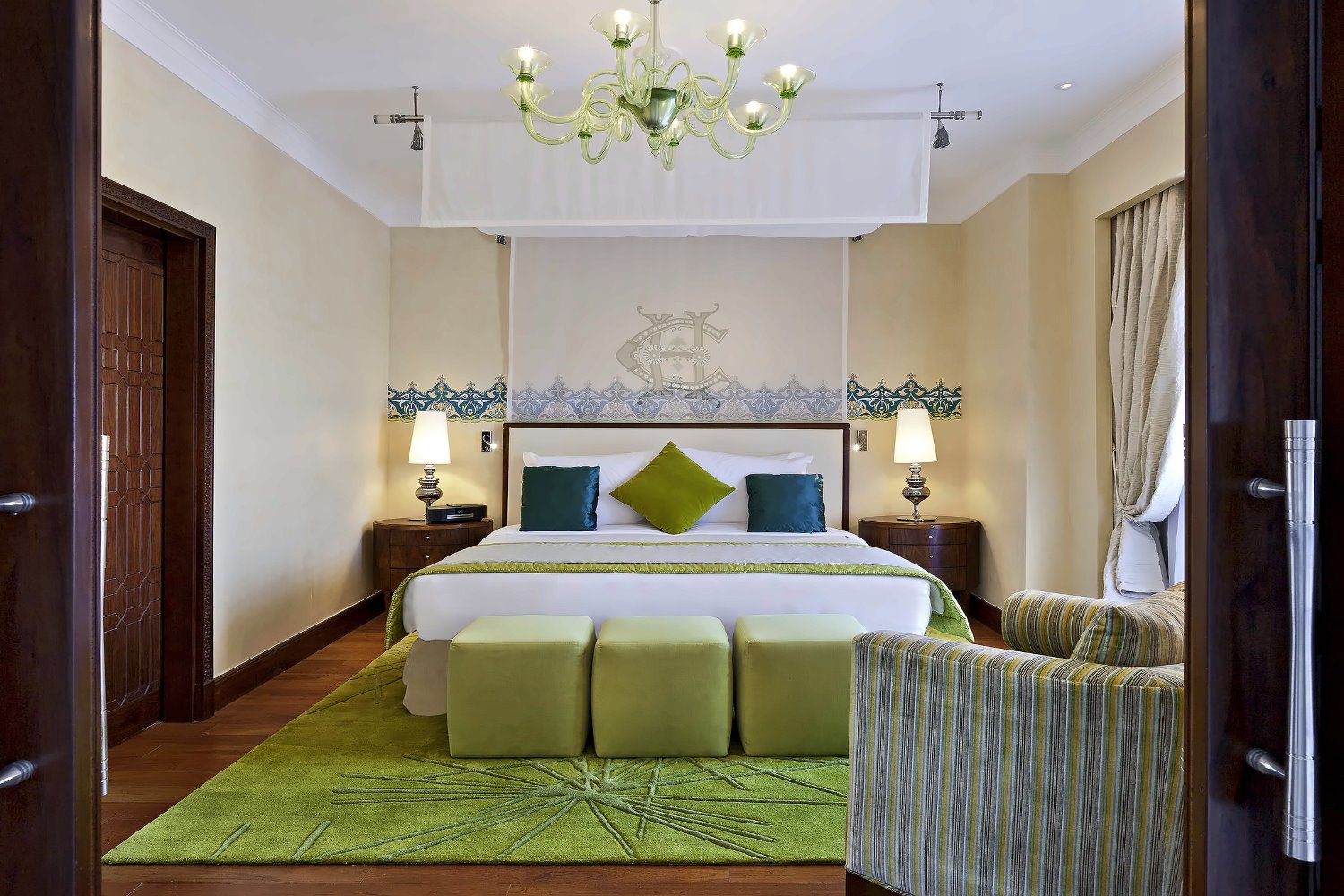 Sofitel Legend Old Cataract
Sofitel Legend Old Cataract is an elegant hotel situated on the banks of the Nile in the Nubian Desert, opposite Elephantine Island. The hotel is set in a Victorian-style building with a pink granite facade. All rooms are air-conditioned and feature wooden furniture for a truly luxurious look. The tastefully decorated rooms and suites also feature an indoor and outdoor swimming pool.
If you like views, the Oriental Kebabgy restaurant has a terrace with panoramic views of the Nile. It can really add to your romantic getaway. Sofitel Legend Old Cataract's four restaurants serve international and oriental cuisine for breakfast, lunch, and dinner – you will feel well fed, and well looked after.
In case you are wondering where to go before your dinner reservation, the hotel's four bars have a range of drinks that will be perfect whatever the occasion. For example, the Promenade Bar overlooks the Elephantine Islands, while the Lounge Bar has live piano music and exquisite decor.
Of course, there is also a spa center with a sauna and a hot tub area. Guests can also visit the fitness center or book massages while enjoying the luxury of this one-of-a-kind hotel.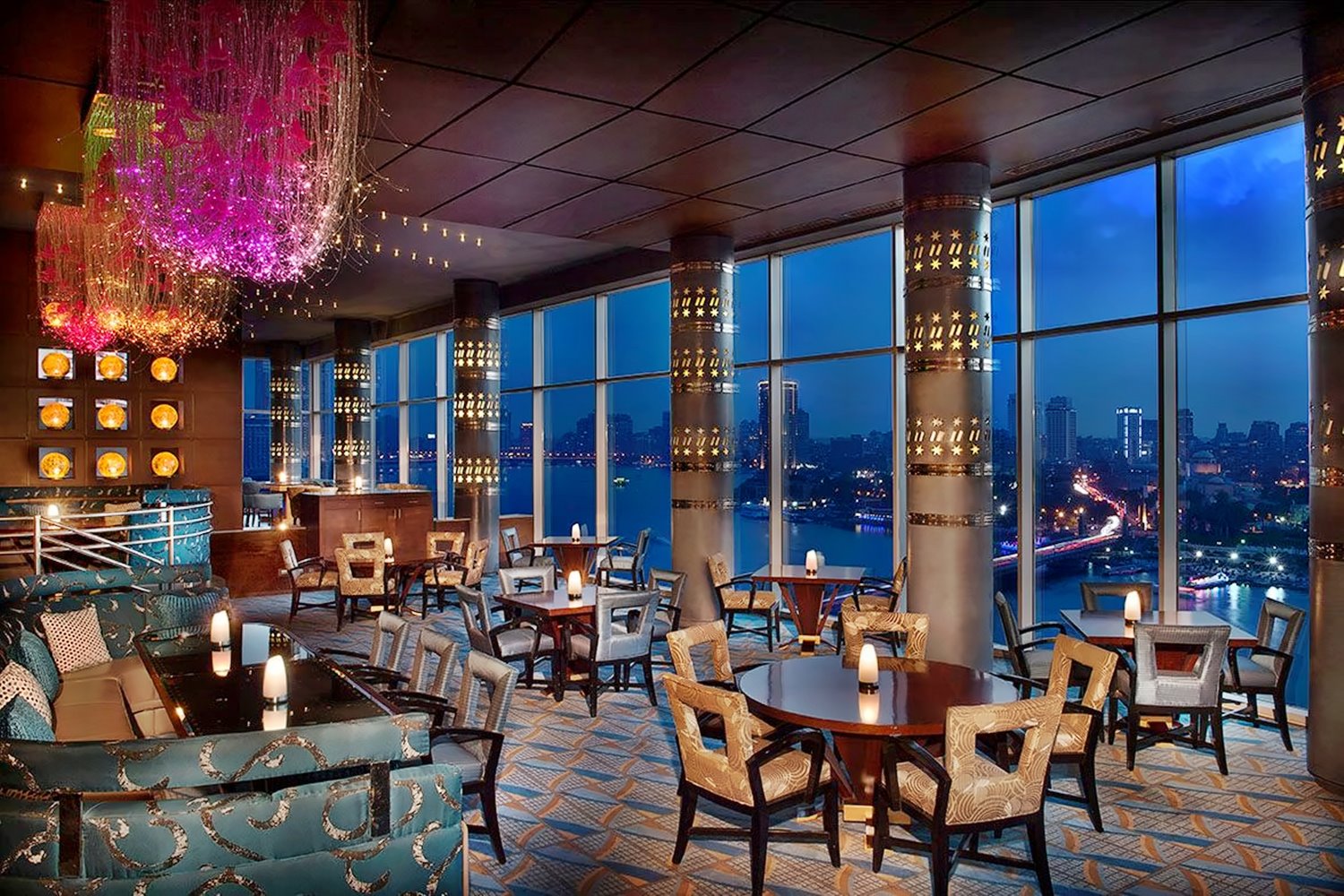 The Nile Ritz Carlton
Wish to be in the center of all action? Then book a stay at the Nile Ritz Carlton Cairo.
Rooms are spacious and stylish and include work desks in case your stay is more for business purposes. All rooms have a coffee maker and a TV for slow, relaxing mornings and a private bathroom with a luxurious bathtub and shower, perfect for romantic and cozy nights in.
The accommodation also includes a casino and evening entertainment options. This means you will not have to worry about activities after a long day exploring the city.
On the premises, there are more than 9 restaurants, and also bars serving special dishes. The Bab El-Sharq Arabic restaurant offers shish kebab and casual entertainment, while the Vivo Italian restaurant overlooks the Nile and Cairo TV Tower. The Nox rooftop restaurant offers views of the whole of Cairo and an evening program.
The famous Nile Ritz Carlton Cairo is located in the heart of Cairo, between the Nile, Tahrir Square, and the Egyptian Museum, and it offers panoramic views of the Nile corridor. For explorers and sightseers, the hotel is within walking distance of Qasr El Nil Bridge and the Cairo Opera House.
In addition, the hotel has a 24-hour fitness center, a luxurious spa, and an outdoor pool open all year round. It sounds like a dream holiday at any time of the year!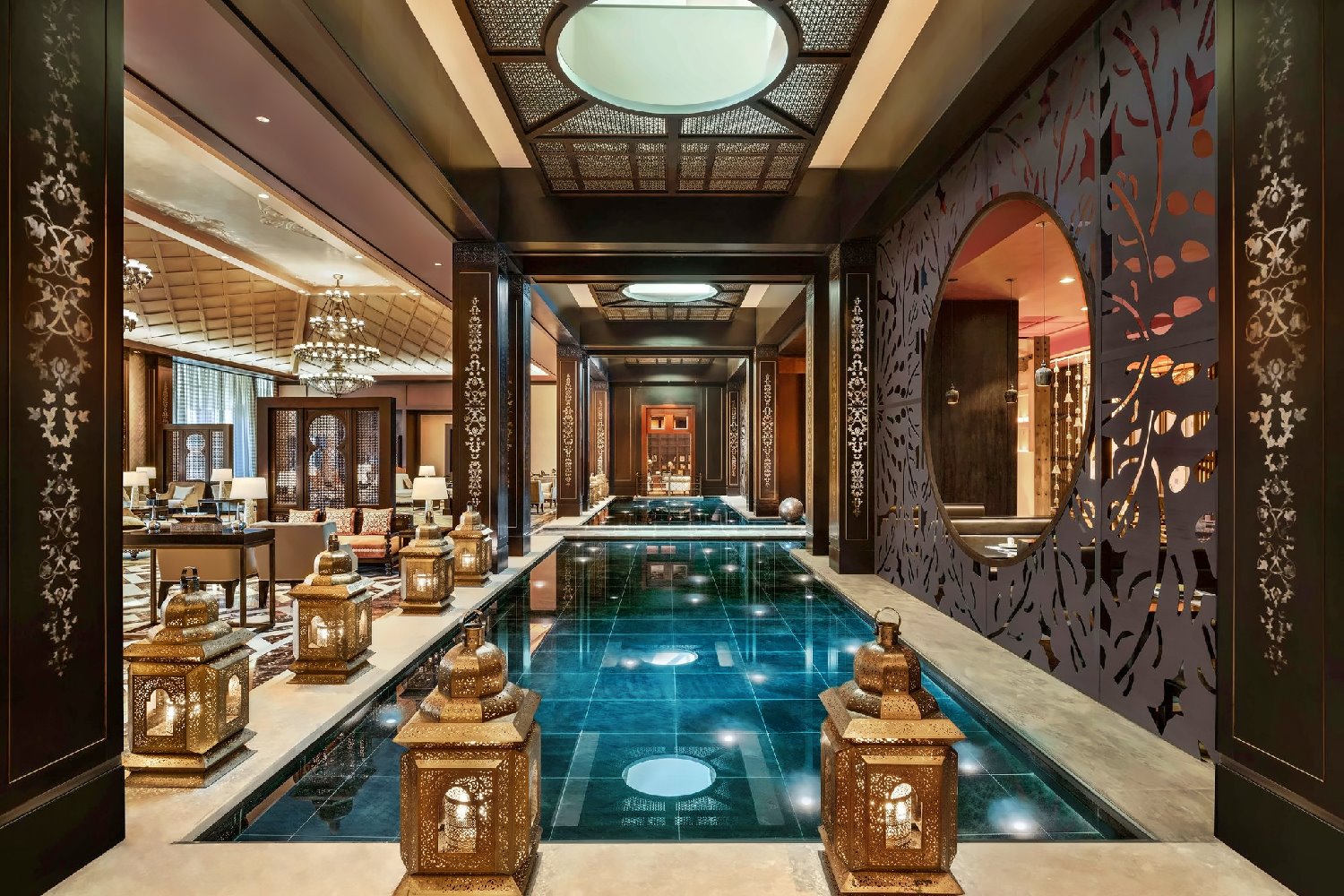 St. Regis Cairo
St. Regis Cairo is an iconic new hotel on the banks of the Nile, an exquisite expression of modern Egyptian glamor and a reflection of the city's historic past.
The accommodation combines world-class service and a convenient location to allow guests to explore Egypt's ancient capital during travel.
Designed by renowned American architect Michael Graves, the hotel offers 36 floors overlooking the picturesque Nile waterfront and Cairo's Old City. Enjoy a luxurious range of services, including not only expansive but also elegant rooms and suites with breathtaking vistas of the Nile and the Cairo Mountains.
In addition to all of this, there are also seven gourmet restaurants and bars, an outdoor terrace with adult and children's pools, a spa with exclusive treatments, and, of course, much, much more.
Great for romantic holidays and family adventures
The hotel's two-story Iridium Spa features a heated indoor pool, hot tub, sauna, ice room, relaxation area, and eight treatment rooms serving a variety of body and facial treatments based on the best Eastern and Western techniques. Doesn't that sound like heaven on earth?
For sports and healthy lifestyle enthusiasts, the hotel has a fitness center equipped with state-of-the-art fitness equipment, tennis, golf, sailing, rafting, boating, and various fun excursions.
For a romantic evening with your partner, babysitting services are available on-site and can be booked in advance.
Last but not least, one of the most exclusive offers of this establishment is its wedding services and special programs for newlyweds.
Centuries of quality service, hotels and resorts with their own unique stories, and locations in the best places in Egypt – you can find all this and much, much more at these luxury hotels. So enjoy your trip to Egypt and make the most of such unbeatable amenities.
At PrivateUpgrades, we offer exclusive promotions and deals for these hotels. You will find this and more information on our website. We are here to assist with anything you may need. Reach out to our team to discuss details.