A futuristic desert metropolis of style and excess, Dubai is the perfect destination for travelers who want to experience luxury living.
From extravagant hotels to world-class shopping and dining – a day in the city won't ever be a bad one. So what should you know as a first-time visitor? Find out what are the top attractions in Dubai in this article!
Burj Khalifa
Of course, your trip to Dubai would not be complete without a visit to the famous Burj Khalifa. The tallest building in the world is an incredible landmark where you can not only stay but also enjoy the best panoramic views and take the most incredible Instagram pics.
Climb up to the 124th floor and enjoy the view of the Dubai skyline. The vistas from there are even better at sunset! No wonder Burj Khalifa is part of every traveler's bucket list.
Music Fountain in Dubai
Even in prohibitively expensive Dubai, you can find free entertainment. One of the most interesting places to see for $0 is the dancing and singing fountain next to the Burj Khalifa skyscraper.
Every night the fountain's jets are illuminated by lights accompanied by the best classical, national and contemporary music.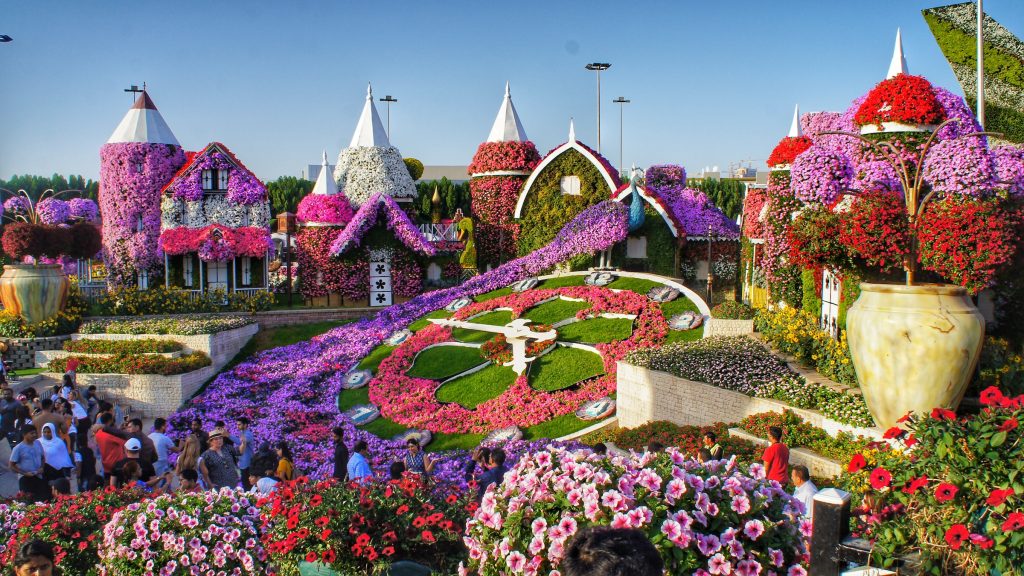 Dubai Miracle Garden
Not sure what to see during your first visit? Head to Dubai Miracle Garden! The park is one of the largest natural flower gardens in the world. It is the perfect place to escape the hustle and bustle of the city and stroll through 100 million flowers and admire the world's largest flower right in the heart of Dubai.
Jumeirah Mosque
Many people come to Dubai for its skyscrapers and glamour, but often people forget that this city is Islamic! Experiencing true Islamic architecture and monuments in Dubai is not easy, but you can do it at the Jumeirah Mosque, which is open to visitors of all religions.
White marble, large domes, tall minarets – this place is a true reflection of Islamic history. Tours are available daily from 10 a.m. except Fridays. Registration begins at 9:30, and no advance reservations are required. Tickets cost AED 25, and children under 12 can enter for free.
Dubai Museum at Al Fahidi Fort
Dubai is not just about ultra-modern hotels, luxury boutiques, and futuristic architecture. Visit the Dubai Museum located in the ancient Al Fahidi Fort and see it for yourself! Learn the history of the country from ancient times to the present.
On display are merchant ships, dhow and shasha boats, and pearl fishermen's tools, including shark protection gear. There are also incredible collections of jewelry, expensive fabrics, and tableware. A tour of the museum takes about an hour, so it will not bore even small children.
The Green Planet Zoological Museum
If you are planning a trip to Dubai with kids, put the Zoological Museum on your travel itinerary. It is a small but impressive indoor complex with over 3,000 plants and animals.
The museum is like a real rainforest under the roof – birds fly right overhead, an iguana wanders underfoot, and a sloth hangs right from the railing! Although touching the plants and feeding the animals is forbidden, admiring these exotics is always welcome.
Creek Channel
Wish to enjoy the city from the water? Then head to Dubai's Creek Channel and take a colorful boat ride! We recommend cruising in the evening when the city is lit up by a million colored lights reflecting in the water.
You can take a leisurely stroll along the waterfront itself during the day to admire the canal, moored ships, and yachts.
Al Mamzar Beach Park
Al Mamzar is the ideal option for those who want to spend a day by the sea. The park's entrance area features five paid beaches, equipped with everything you need for a comfortable holiday. Playgrounds, fitness equipment, and swimming pools are available too.
There is a public beach with a free entrance right in front of the park, but the conditions are simpler.

Palm Jumeirah
This famous man-made island is a must-see for first-time visitors who want to experience life at the highest level.
From five-star hotels and resorts to the picturesque Palm Jumeirah Monorail and The View at The Palm, Palm Jumeirah is a wonderland of stunning architectural wonders and thrilling adventures.
Dubai Spice Souk
For a taste of the orient and the unique atmosphere of a bustling bazaar, head to the Dubai Spice Souk. Here you can buy authentic Arabian spices and sweets – Algerian dates, vanilla, turmeric, saffron, and dried rosebuds – just to name a few!
Zabeel Park
Zabeel Park is a great escape if you get tired of the noise of Dubai's capital city. Not only can you stroll along the shady paths or sit under a sprawling palm tree, but you can also ride in a boat or watch a game of cricket. There is also a barbecue area, so feel free to have a picnic.
Luxury hotels
Dubai is the jewel of the Emirates and the epicenter of luxury living with dazzling resorts. This megalopolis has become a playground for the rich and those with refined tastes. These top-class hotels in Dubai will change your idea of luxury forever.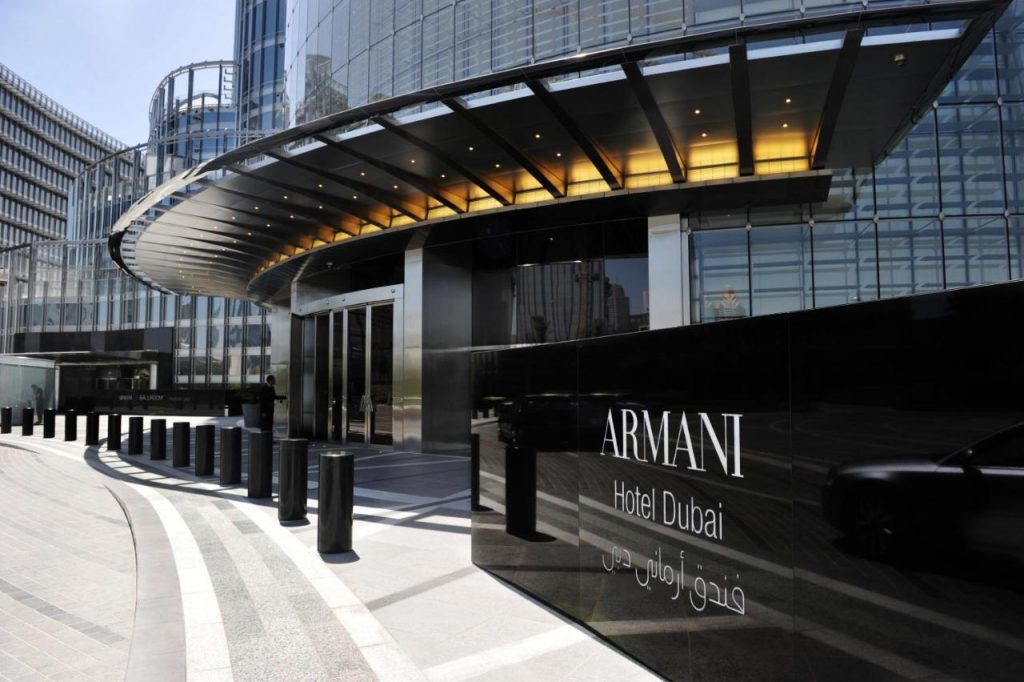 Armani Hotel Dubai
Welcome to a place where every detail embodies Armani's style and design philosophy. The world's first hotel designed by fashion icon Giorgio Armani typifies his signature minimalism with muted grey interiors, lush fabrics, and Japanese floors.
Moreover, refined and elegant, the rooms are created with flowing lines and luxurious fabrics. Japanese tatami bed linen covers the floors.
The hotel occupies 11 floors of Dubai's famous Burj Khalifa skyscraper. It has a private entrance, a luxurious spa, and direct access to Dubai Mall. Guests can visit the spacious Armani Spa, book personalized treatments and swim.
All 7 Armani Dubai restaurants offer fine dining. The Armani Hashi restaurant serves Japanese cuisine with a modern twist, while the famous Armani Privé Café hosts the city's most popular club nights. You don't want to miss them!
If you choose to book this hotel when you visit Dubai, be sure to book with PrivateUpgrades, as members receive benefits!
Subject to availability, you can upgrade your accommodation on arrival and also receive a free buffet breakfast daily for up to two guests per bedroom.
In addition, you will be able to enjoy a free lunch or dinner for two people per room once during your stay, excluding alcohol, taxes, and gratuities. Rates here start from $1386 per night (for the Armani Deluxe Room).

Park Hyatt Dubai
Located on the grounds of the golf and yacht club by the majestic Dubai Creek, Park Hyatt Dubai delights guests with an idyllic setting for a luxurious vacation.
From the stylish award-winning restaurants to the luxurious spa, every detail at Park Hyatt Dubai is carefully orchestrated to give guests a sophisticated, enriching, and extraordinary vacation experience.
Park Hyatt Dubai was built in the heart of Dubai in September 2005. The ultra-modern hotel is within walking distance of business districts, parks, and beaches. Here are the golf club and Yacht Club Dubai. Surrounded by green gardens, the hotel has all the latest technology.
The national flavor gives the hotel a magical charm. Furthermore, the rooms have a breathtaking panorama of Dubai harbor. Plunge into the world of Arabic fairy tales, try the culinary delights of local cuisine, relax and rejuvenate in a luxurious SPA. All this and much more are offered by the hotel!
As a PrivateUpgrades member, you get many perks.
Free upgrades
Free daily breakfast in the hotel's restaurant for up to 2 guests per room
A hotel $100 hotel credit
Earlier check-in
The price per night at this hotel starts from $762.
No matter what part of the world you go to, nothing compares to Dubai. It remains an unprecedentedly glamorous, chic, and futuristic city with dozens of landmarks.
With the world's tallest building dominating its skyline, its streets dotted with skyscrapers, its beaches stretching across the city, and its shopping malls offering an unforgettable experience, Dubai is a place in which you will never be bored!
Wish to experience the magic yourself? We would love to plan your Dubai getaway! Reach out to the team of PrivateUpgrades here.