South America is one of the most diverse continents in the world. You will be enchanted by beautiful mountains, volcanoes, and glaciers. See the famous Amazon rainforest, breathtaking beaches, Indian culture, and magnificent colonial architecture.
In this article, we will introduce you to beautiful hotels where you can stay during your trip to South America. We've also gathered exclusive offers and opportunities provided by PrivateUpgrades. Become our travel club member and get VIP access to them!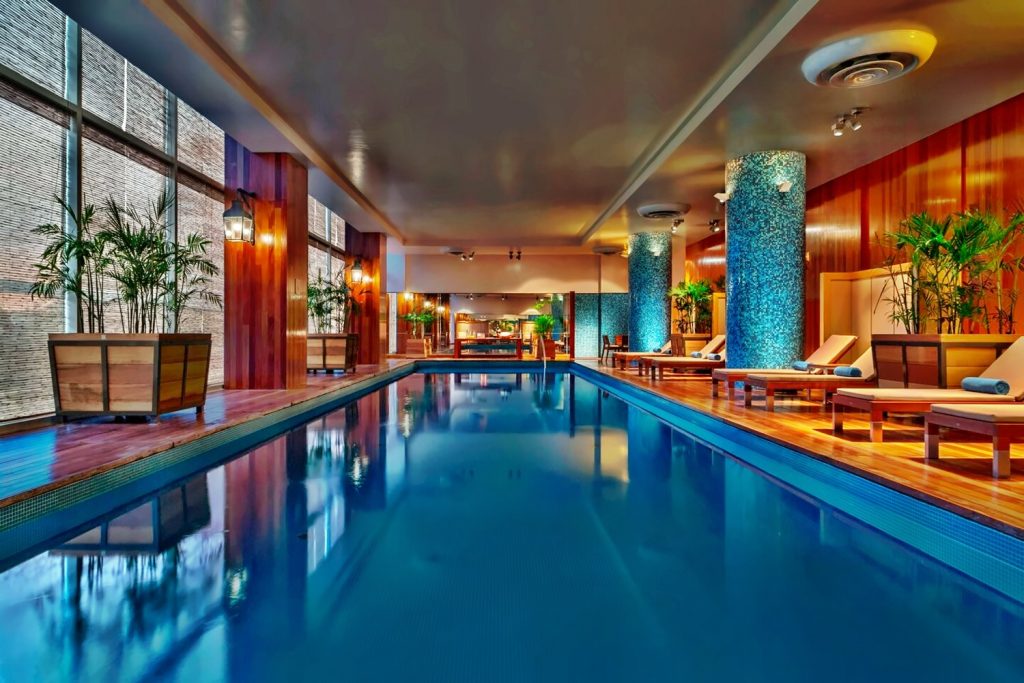 The Westin Lima
For your next adventure in Peru, stay at the Westin Lima. The hotel is located in Lima's most exclusive and sophisticated neighborhood. Many world-class restaurants, shopping galleries, and beautiful parks surround it.
The Westin Lima's spacious rooms are the perfect place to enjoy the breathtaking views of the city. Here, you can recharge your batteries for exploring the surrounding area.
If you are looking to celebrate a special occasion in your life, the exquisite Maras™ Peruvian restaurant is the place to be. Treat yourselves and your loved ones!
When staying at this hotel, we suggest visiting the Heavenly Spa by Westin™. Interestingly, it is South America's largest urban spa. It has an indoor pool, thermal water circulation, and an excellent fitness center.
Enjoy the local culture
The central location is ideal for travelers who want to explore the surrounding area. Many unique restaurants, cultural galleries, and beautiful parks are nearby.
Here, you have the chance to Immerse yourself in local culture. Stroll through the quiet streets of Parque el Olivar. Admire its centuries-old olive trees and beautiful German villas.
Another option is to visit the ancient clay pyramid of Huaca Puclana, the center of a vanished civilization. Furthermore, there are also historic sites nearby, including the Museo Larco. There you can see an impressive collection of pre-Columbian Peruvian gold and silverware.
Benefits for PrivateUpgrades' members
As a PrivateUpgrades member, you will get access to many benefits. Stay 3 or 4 nights at The Westin Lima and get 1 night free! Subject to availability at the time of booking, you will have the option to spend an extra night in luxury at no additional cost.
This offer applies to all room and suite categories
Prices at the hotel start at 240 euros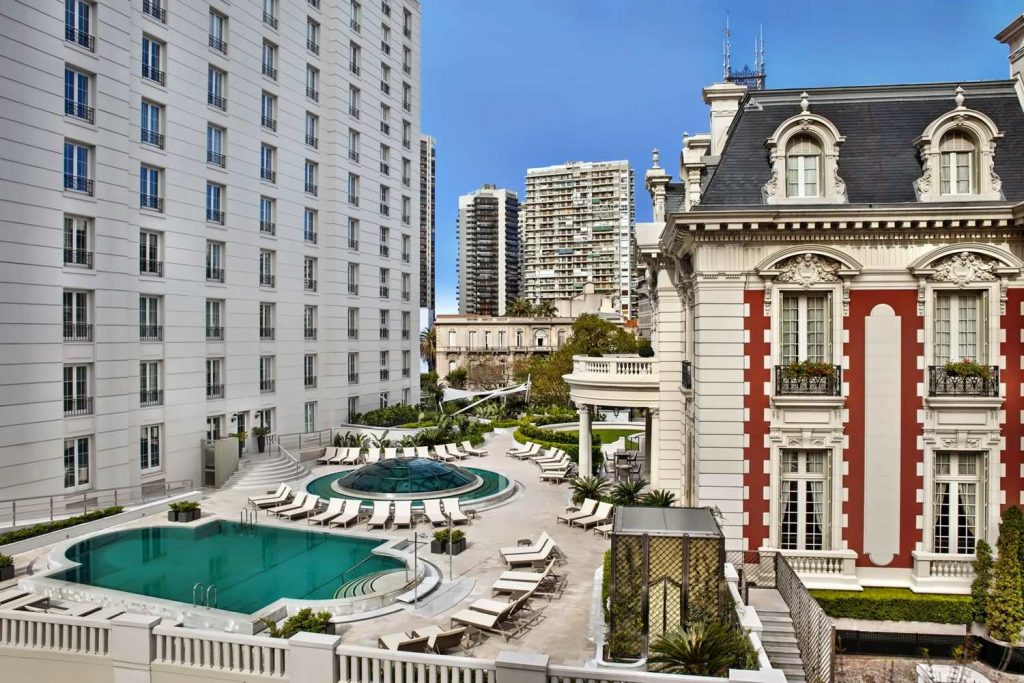 Four Seasons Buenos Aires
Four Seasons Hotel Buenos Aires combines history with modernity and tradition with innovation. It will please even the most demanding guests.
The magnificent Four Seasons Hotel Buenos Aires is located in the trendy La Recoleta neighborhood. The area is known for its luxury boutiques and gourmet restaurants.
The hotel consists of two completely different buildings. A modern tower, and La Mansion, a historic low-rise building built in 1916 and modeled after French Belle Epoque architecture.
The accommodation's restaurants and bar offer local and international cuisine. Enjoy meals complemented by the best Argentine wines and drinks of all kinds.
If you are traveling with your family, this is the hotel for you. The accommodation is suitable for children. Cribs, high chairs, and kids' tables are available for guests. There are even Sony PlayStation games, board games, crayons, and toys to keep the little ones entertained.
If you and your partner want to spend a romantic evening together, babysitting services are available upon request.
Benefits for PrivateUpgrades' members
But what are the member benefits when booking Four Seasons Buenos Aires? Subject to availability, as a member, you will be able to upgrade your room on arrival.
In addition, when booking your stay with PrivateUpgrades, you also receive daily breakfast for two guests per room and a $100 Spa Credit to use during the stay.
Prices per night start at 775 euros
Buenos Aires is a modern metropolis with the charm of old Europe. The hotel staff wants you to get to know the Argentine capital like a local, with unique shops and activities waiting for you at every turn.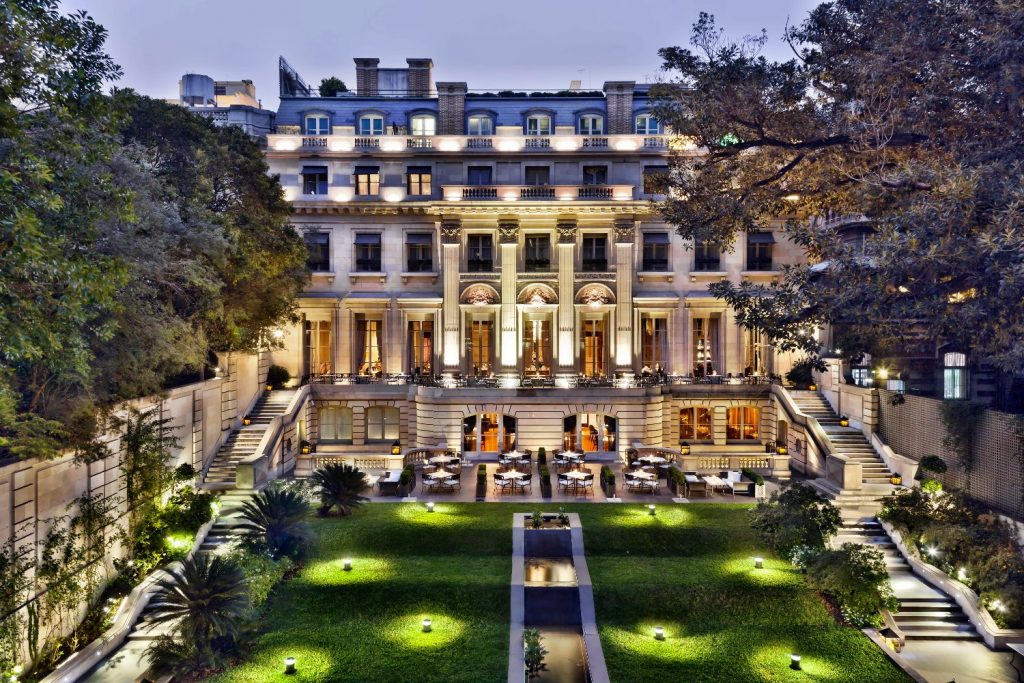 Palacio Duhau Park Hyatt
Another excellent hotel luxury lovers will enjoy is The Palacio Duhau Park Hyatt. You will find the accommodation in the traditional Recoleta district. The complex, consisting of two buildings, combines the splendor of an aristocratic palace with modern design.
The spacious rooms and suites include magnificent garden and city views. At all times, you will be surrounded by exquisite architecture. The elegant decor is in vanilla and coffee tones. Particularly noteworthy are the Alvear Suite and the Duhau Suite. Their fireplaces are truly magnificent!
If you value wellness and relaxation on your next trip, you should come here because this hotel has one of the best spas in Buenos Aires. It offers various wellness programs based on lavender, cinnamon, and healing sea mud.
Here you can enjoy haute cuisine prepared by talented chefs. Oh, and don't forget to admire the wonders of nature in the incredible gardens.
Guests can relax on the terraces, in the courtyards, and in the expansive gardens. In addition, visitors can enjoy Five O'Clock Tea on the Piano Nobile balcony or al fresco dining at Gioia Restaurante & Terrazas.
Here, you can indulge in a book while listening to the fountains or walk among the flowers in the unique garden.
Benefits for PrivateUpgrades' members
Booking Palacio Duhau Park Hyatt through PrivateUpgrades has excellent advantages. You will be given the opportunity to upgrade your accommodation, subject to availability.
Moreover, your stay also includes a daily buffet breakfast in the Gioia restaurant and terraces for two guests. Lastly, a wine and cheese tasting for two will be offered at Palacio Duhau Vinoteca. Great deals to take advantage of!
Prices per night start at 480 euros
Tourism is heating up in South America. Travelers come to the equator to see a stunning array of beautiful landscapes. From snow-capped mountains to spectacular jungles – there is so much to enjoy.
Whether you are planning to embark on an adventure or a more relaxing holiday, South America will not disappoint. The spirit of this continent is infectious. No matter where you go, the fierce Latin passion will sweep you away.