Wish to forget about all the worries in the world? A luxury hotel spa is an excellent option if you are considering treating yourself to a relaxing experience. When our bodies and minds feel drained, a rejuvenating spa treatment would be beneficial.
Switzerland is the perfect place to go on a wellness vacation. This is because of the stunning views, natural mineral springs, and incredibly clean air the country is so known for.
We've selected some of the world's best luxury spa destinations so that you can relax, reconnect with your loved ones, and enjoy exceptional face and body treatments.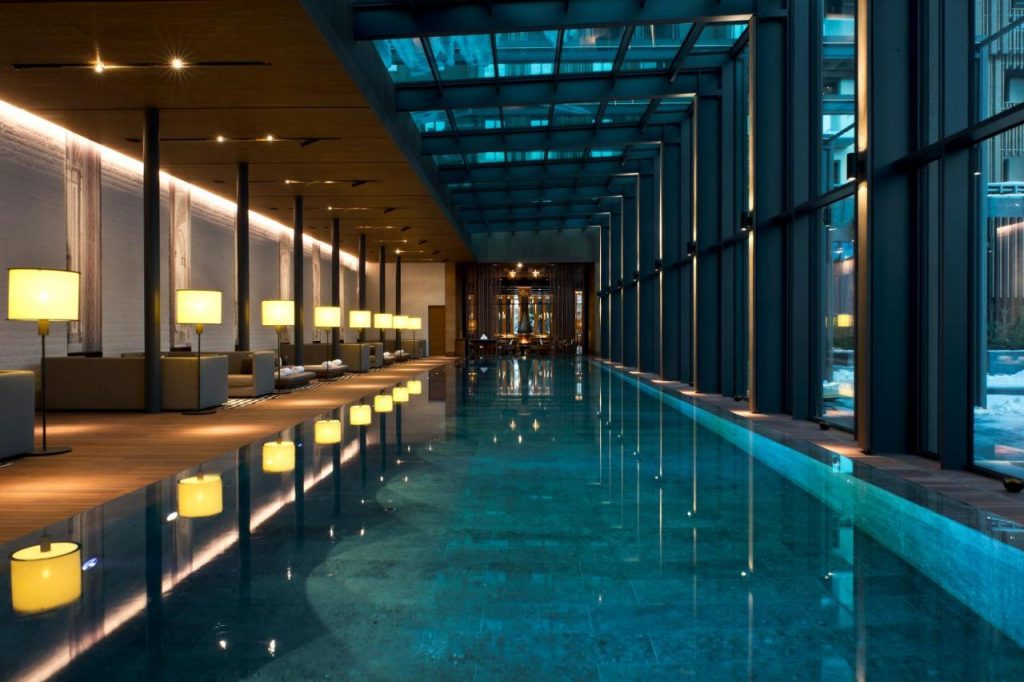 The Chedi Andermatt
First on our list is Chedi Andermatt, also known as the "Jewel of the Alps". The hotel has 104 different lodging options, some of which include apartments, duplex penthouses, lofted homes, and rooms with exclusive amenities. The accommodation is near the majestic mountains in the peaceful village of Andermatt.
Furthermore, the hotel's two gourmet restaurants provide culinary pleasures for their lucky guests. But the accommodation's most impressive feature is its wellness facilities. This 2,400-square-meter spa and wellness center offers its guests world-class amenities and luxuries, including a large pool, two types of saunas, and a modern fitness room.
As a guest, you can enroll in various courses offered by on-site personal trainers in the fitness area. Additionally, The Chedi Andermatt Hotel guests can select from a wide range of spa treatments, massages, and therapies. Furthermore, here, they use only the best health and beauty products from REN and Alpienne for all spa services.
A trip to the hotel's hairdresser and beauty salon is another option for those looking to relax and unwind. As you can see, options are nearly endless, so we highly recommend this romantic luxury spa hotel for your next relaxing trip to Europe.
Benefits for members include:
Possible to upgrade on arrival
Daily breakfast
100 USD food & beverage credit
Early check-in / late check-out
Prices per night here start from 616 USD.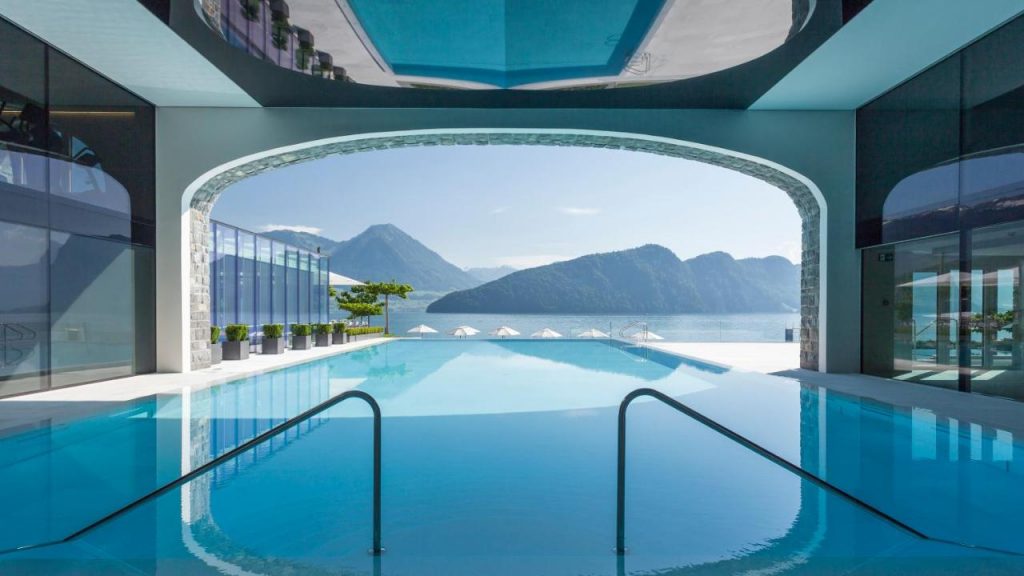 Park Hotel Vitznau
Staying at Park Hotel Vitznau is a great way to begin an excellent vacation. The hotel is a piece of heaven, with stunning rooms and suites, large lobbies, and unrestricted access to services and amenities. The 47 residences, suites, and junior suites at the Park Hotel Vitznau beautify a posh living space.
Guests can unwind and have a wonderful time during their stay, thanks to the paradisiacal atmosphere of every room. The hotel's many appealing features draw guests from all walks of life. If you want to chill out in the most spacious and comfortable setting, the Park Hotel Vitznau is the best option.
Another great thing about the hotel? Its exceptional spa. Thirty different fish are swirling and moving through a 12-meter-long saltwater aquarium in the spacious spa area.
The wellness zone has an artistic atmosphere, with black-and-white color schemes that make it feel more peaceful and relaxing. Kneipp footbaths and an ice cave provide guests with a cozy haven for extended periods. You can rest in quiet melodic rooms after a massage or spa treatment.
Additionally, the resort offers exceptional beauty and health facilities. Take advantage of the best skin peels and manicures. Relax by swimming in the outdoor hot pools and jacuzzis. Calm down by receiving massages in the Finnish sauna. The service here is truly exceptional!
Benefits for members include:
Upgrade on arrival
Daily full breakfast
100 USD equivalent resort/hotel credit
Early check-in/late check-out
Prices per night here start from 887 USD.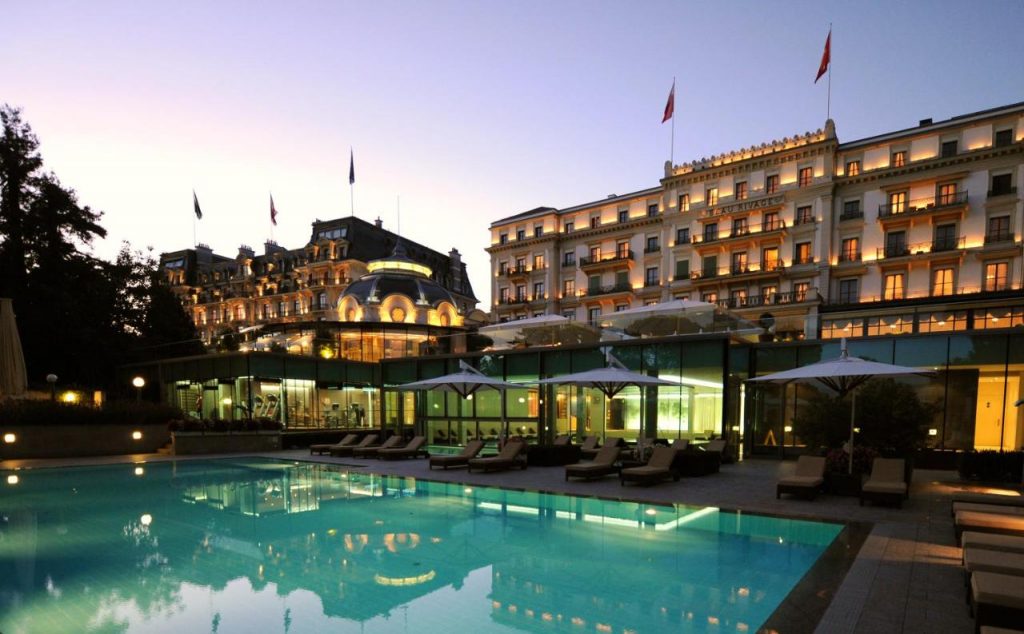 Beau-Rivage Palace
The luxurious and sophisticated hotel is located in the Olympic city, on Lake Geneva, in Switzerland's French-speaking region. The five-star Hotel Beau-Rivage Palace is nestled within a four-hectare park directly on the lake's shores.
Lausanne's downtown is just 5 minutes away, and the airport in Geneva can be reached within 35 minutes. The accommodation is a great place to start excursions to Waadtland and Lake Geneva. In fact, it is now one of the Leading Hotels of the World.
The Beau-Rivage Palace will be the ideal hotel for your stay in Lausanne, Switzerland, if you're looking for a hotel with a classical, traditional design. Each of the 168 individually decorated guestrooms at the five-star hotel has a distinct atmosphere and character.
Spa La Suite Beaute Bellefontaine is a magical place where stress melts away. Deep cleansing, massages, and hydration are offered using premier skincare ingredients from Switzerland.
The hotel focuses on natural and effective anti-aging properties. Some of the most unusual options include the Anti-Jet Lag Treatment, an Energizing Massage, and a Luxurious Caviar Treatment.
Benefits for members include:
Upgrade on arrival
Daily American breakfast
100 USD equivalent food & beverage credit
Early check-in/late check-out
Prices per night here start from 649 USD.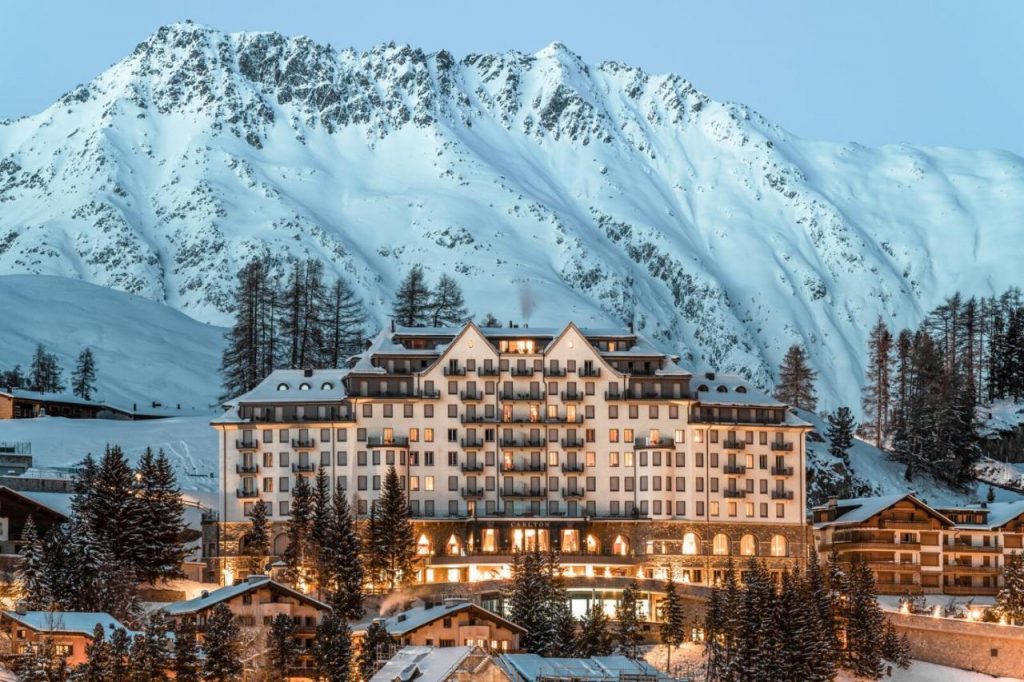 Carlton Hotel St Moritz
Finally, you can't go wrong by choosing the Carlton Hotel St. Moritz for a skiing or spa vacation. The hotel features artifacts and paintings inspired by items that the Tsars once owned. Each of the 60 suites faces south and includes stunning lake views.
While staying at the Carlton, you should use the spa area. It has six treatment rooms to get you completely relaxed and pampered. Those who want can also enjoy a couple's massage. In addition, hydro massage showers, saunas, ice fountains, and steam baths are available.
The hotel's wellness area has three floors and offers a full range of services. You can quickly achieve your fitness goals in the sports pool and fitness center. A sun terrace, relaxation zones, indoor and outdoor pools, and an outdoor jacuzzi are also available.
This resort indeed prioritizes health and wellness. If your New Year's resolution is to take care of your body, here is the place to be.
Benefits for members include:
Upgrade on arrival
Daily buffet breakfast
100 USD hotel credit
100 USD spa credit
Early check-In / Late check-out
Prices per night here start from 1,227 USD.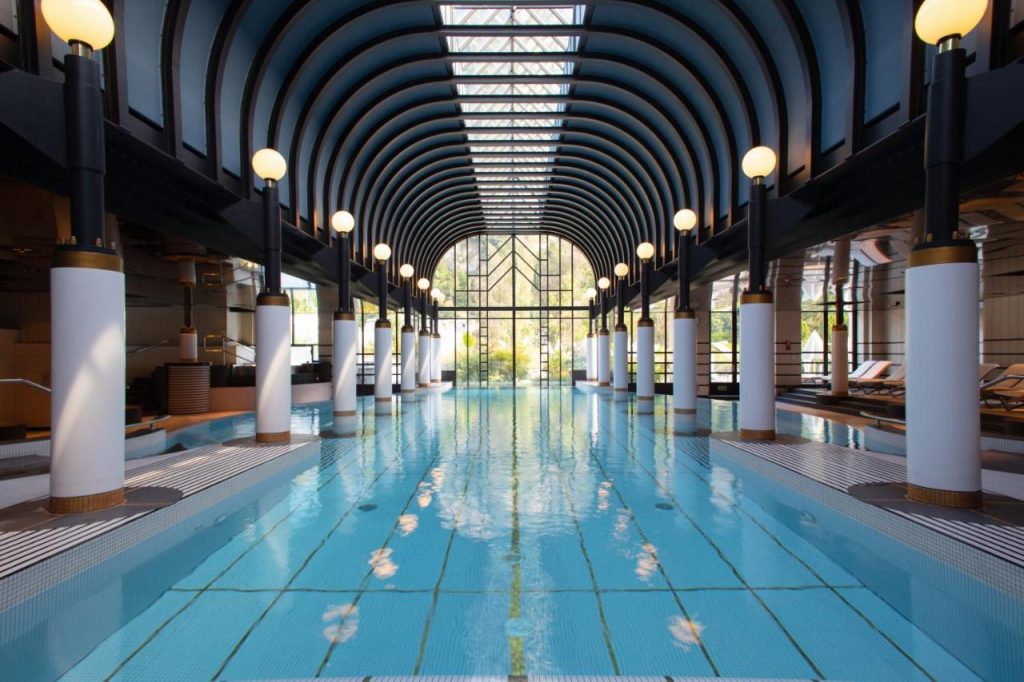 Victoria Jungfrau Grand Hotel & Spa
The five-star Grand Hotel Victoria-Jungfrau is ideal for vacationers visiting Switzerland. Its impeccable service, subtle luxury, elegant design, and extensive spa and dining options won't disappoint.
We guarantee – the Victoria Jungfrau Grand Hotel meets all of your spa needs. It has swimming pools, saunas, and steam baths to get you in a zen mode. On-site, there's also a cosmetics center where the visitors get spoiled with fabulous beauty sessions.
Benefits for members include:
Upgrade on arrival
Daily breakfast
100 USD food & beverage credit
Early check-in/late check-out
Prices per night here start from 659 USD.
End notes
A spa day can help you de-stress and enhance your sleep quality. Give yourself a rare and treasured moment of relaxation in the best destination hotel spas in Switzerland. Reach out to us for more helpful tips.