It would be difficult to find a more diverse country than Mexico. Within its borders, you can admire the beauty of Caribbean waters, have vivid cultural experiences, and learn more about ancient civilizations.
Of course, the beautiful country has been blessed with fantastic weather, which is why it has become such an attractive winter destination for many. To get your dose of vitamin D, plan a visit to Mexico and stay at these amazing resorts!
Viceroy Riviera Maya
For those prioritizing space, staying at the 41-villa property – Viceroy Riviera Maya – will be a true dream. Villas start at 1000 square feet. Each one has everything you might need for a luxurious stay.
An outdoor shower to have the ultimate tropical experience, a private patio that features a heated pool, and a hammock to relax in after a long day of having one. What else could you need?
Playa del Carmen is known for its bustling energy. That is one of the reasons why so many fall in love with the beach destination. However, sometimes it can be too much. While staying at Viceroy Riviera Maya, you get the privilege of privacy and intimacy.
Although the hotel has easy access to all key points of interest, it will feel like you are on a private island. Plus – there are plenty of exciting bucket-list-worthy activities to try.
Join tamale-making lessons, explore remote caves and see the nearby cenotes – the choice is endless! And the beach… There are no words to describe it, you will have to see it for yourself!
Ritz Carlton Cancun
Frequent travelers already know – Ritz Carlton has some of the best hotels in the world. So wherever you decide to go, you may expect exceptional service in grand style.
Ritz Carlton Cancun is no exception – right next to a pristine beach and turquoise Caribbean waters, you are bound to have the holiday of your life.
Like the other chain hotels, rooms are furnished elegantly and traditionally. The highlight of the accommodation is its breathtaking ocean views. All of Ritz-Carlton's rooms are blessed with fantastic views.
Although the hotel will be an excellent choice for families, thanks to its romantic vibe, it will be a wonderful place to stay for couples wishing for some well-needed intimacy. The resort embodies the grandiosity you may expect from Ritz-Carlton. However, it remains cozy and personal.
The resort is renowned for its impeccable service. Therefore you will have a hassle-free experience, simply enjoying magic Mexico has got to offer.
Banyan Tree Mayakoba
When searching for the ultimate tropical getaway destination, you can't go wrong by booking a stay at one of Playa Del Carmen's most sought-after resorts – Banyan Tree Mayakoba.
With its high-end spa, a number of activities available (including golf, snorkeling, and eco-tours), and grand interior, it would be hard to find better accommodation.
Every villa has its own private pool. The company has furnished it with Asian-inspired decor and Mexican textiles. Luxury doesn't always go hand in hand with comfort. But – when it comes to Banyan Tree Mayakoba – what you see feels as good as it looks.
Expect a powdery white sand beach and breathtaking views on every corner. The lush mangrove forests will make you feel like in an exotic movie.
The hotel is situated along the coast, home to the world's second-largest coral reef. Preserving the ecosystem of dunes and the rich flora and fauna is of high importance for Mayakoba.
That is why it is still possible to enjoy the beauty of unspoiled nature, unlike other parts of the area, which have been affected by climate change and other factors.
Andaz Mayakoba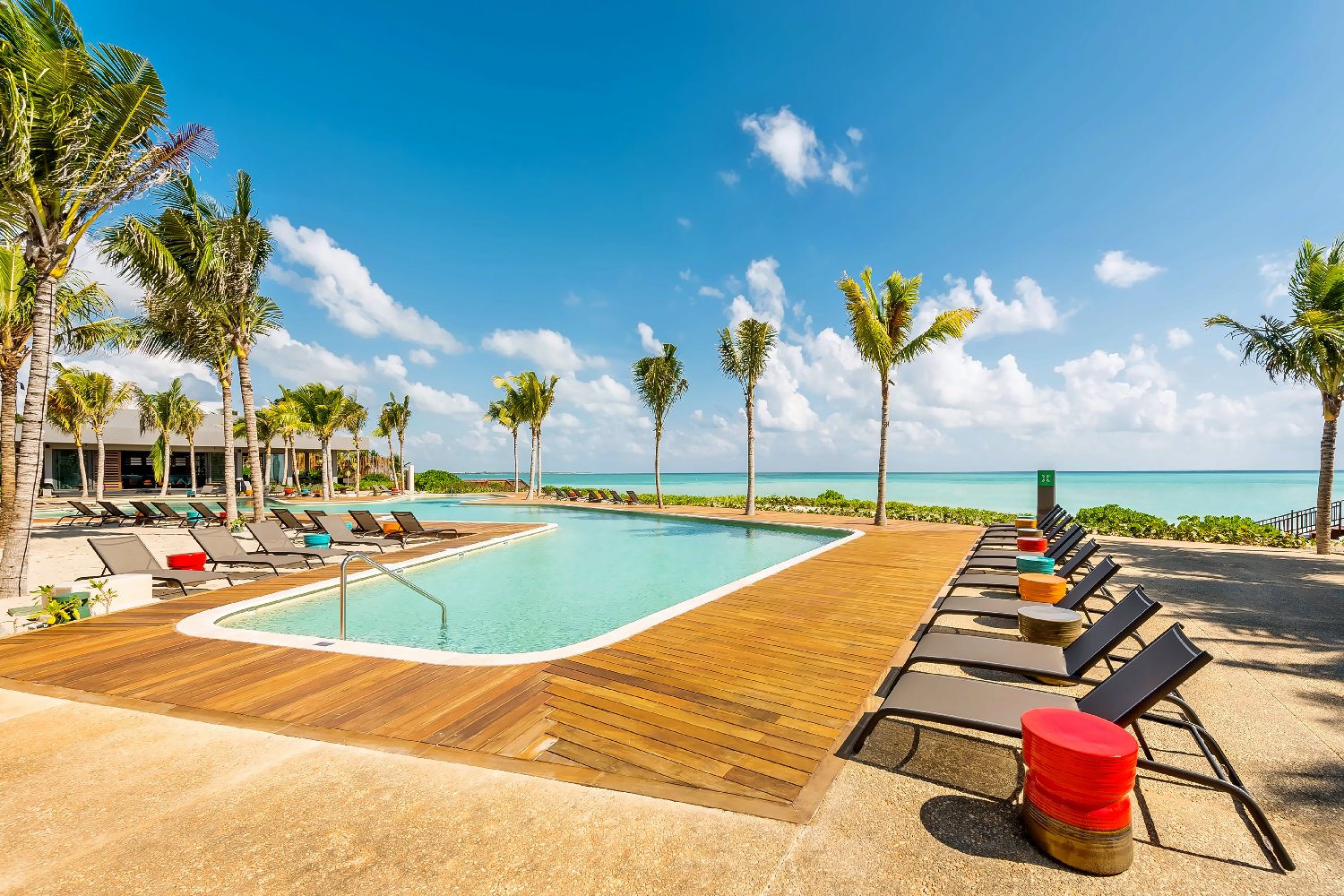 Just imagine waking up in the morning and looking out over the turquoise waters of the Caribbean. This is how your day will start when staying at Andaz Mayakoba. Unlike other hotels in Mayakoba, the resort is famed for its sophisticated atmosphere yet playful vibe.
Whatever room you stay at, expect a minimalist style, which has a little twist of Mexico. Colorful tiles, beautiful handicrafts, and spacious terraces to enjoy the magnificent surroundings – it is no surprise Andaz Maya Koba is on the list of the best luxurious stays in Mexico.
On-site foodies and gourmands alike may enjoy four different restaurants and bars. They all feature a fantastic view of the ocean, lagoon, or pools.
Mexico is well-known for its incredible cuisine. Tacos, tamales, and guacamole are just a few examples of what one should try at this tropical destination. If you wish to learn more about the country's cuisine, the on-site restaurants are the perfect place to taste Latin American flavors and have a mouthwatering meal.
Kimpton Aluna
Untamed jungle and miles of pristine beaches – when it comes to tropical destinations, it is hard to beat Tulum. After a night of enjoying Tulum's bustling nightlife, you will wish to have a peaceful stay. The best place for an intimate and bohemian escape is indeed Kimpton Aluna.
The stunning hotel features everything that you need for a good rest. Don't miss out on the opportunity to try new activities.
In Kimpton Aluna, guests may join yoga and meditation sessions, participate in fun cocktail classes, dance their worries away at DJ nights, and have many other incredible experiences, which sets it apart from other accommodations in the area.
Designers have decorated rooms with natural materials – wood, fibers, and stone elements, creating a free and pleasant atmosphere. Sometimes, luxurious interiors can be overwhelming, but in Kimpton Aluna, you are sure to have a good rest.
Whether you are looking for a peaceful vacation or an adventure-filled holiday, there is no doubt you will have a fantastic time at the sanctuary, which seems to be a wonderful mix of spirituality and modernity.
Mexico – the ultimate beach destination
Sure, winters are great. But there comes a time when a tropical getaway becomes not only a desire but also a necessity. Whatever part of Mexico you decide to explore, we assure you will have a great time staying at our carefully selected resorts and hotels.
Book your stay through PrivateUpgrades and have the vacation of your dreams!