There's something magical about visiting a castle. It could be the feeling of traveling back in time or the opportunity to put yourself in the shoes of former royalty. Either way – it's an experience that doesn't leave you indifferent.
Nowadays, you don't have to compromise with just a single visit. Some of the world's best hotels are in former castles and palaces, so you can spend an entire vacation there. While they may boast classist styles, they don't lack modern amenities. With unmatched hospitality and incredible design, these luxury hotels will let you know what a royal vacation is like.
Here are our favorite accommodations for your next adventure.
Hotel de La Cite, France
France has a long and fascinating history, so it only makes sense that it has plenty of castles. This particular castle is part of a medieval city. It boasts 52 traditionally-designed rooms, a spectacular heated outdoor pool, awe-inspiring gardens, and even its own Michelin-starred restaurant. Safe to say – you are in for a treat!
What's impressive, Hotel de La Cite features a 12th-century tower with a stone staircase. On-site, there is also a charming library bar. Its floor-to-ceiling cabinets are full of ancient, fascinating reads.
Book your stay at the 1909 hotel through PrivateUpgrades and get access to these benefits:
Daily buffet breakfast
Upgrade on arrival
$100 food & beverage credit
Early check-in/ late check-out
Prices start at 224 euros per night.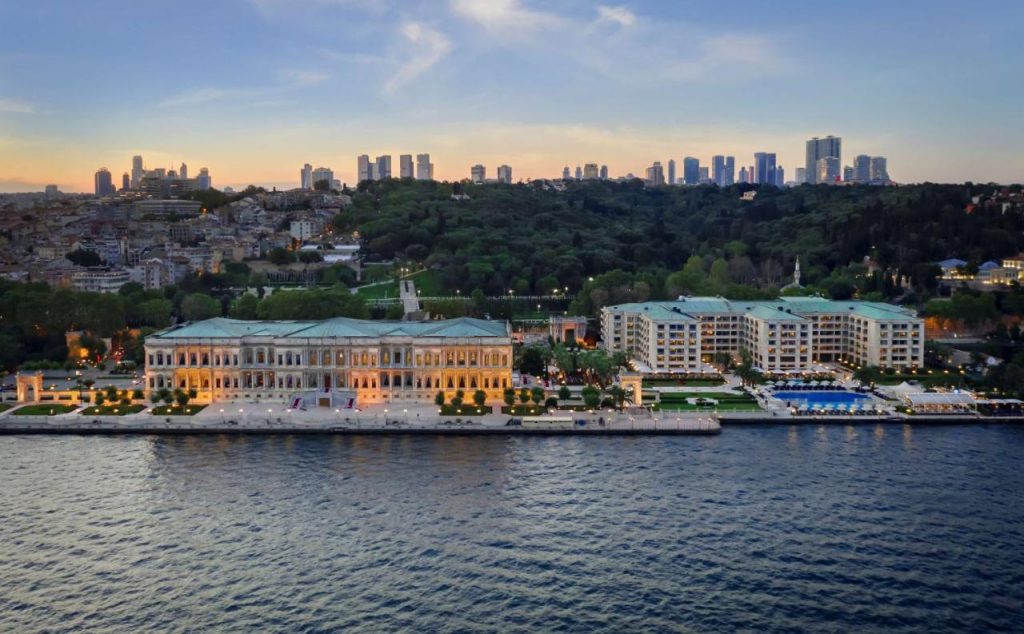 Ciragan Palace Kempinski, Turkey
Istanbul is full of old palaces and castles, and each seems more impressive than the one before. Ciragan Palace Kempinski is set in a formerly known Ottoman residence. Many travelers agree that the 19th-century palace is the most luxurious and glorious hotel in the whole city and, perhaps, even the country.
If you book a stay here, you can expect stunning, opulent public spaces, a magnificent infinity pool, and, of course, Ottoman-inspired decor and furnishings. Another great aspect of the accommodation is the fact most rooms come with balconies. You can enjoy your morning coffee overlooking the Bosporus! It sounds great, doesn't it?
Those craving an even more luxurious experience can book the phenomenal Sultan's Suite, which costs 30 000 euros per night. At this suite, you are sure to feel like true royalty! Of course, the hotel also has less expensive options.
Our members at PrivateUpgrades enjoy these benefits:
Upgrade on arrival
Daily buffet breakfast
$100 hotel credit
Early check-in/late check-out
The price per night starts at 553 euros.
Ashford Castle, Ireland
Ireland is known for its immense beauty and dramatic landscapes, and it certainly has a captivating feeling. Many adventurers head there to explore its impressive castles. In fact, it is one of the best places to go to experience mysterious underground caves, stunning views, and spectacular gardens.
Among our list of favorite castle hotels is Ashford Castle. As you can expect, it is set in the midst of nature, amid tall trees, a beautiful lake, and grasslands. Wherever you look, you are enchanted by magnificent vistas. But wonderful surroundings aren't the only good thing about the accommodation.
Although the hotel is resorted by the Red Carnation Hotels, it still feels authentic. In fact, gorgeous antiques, crystal chandeliers, and impressive old master artworks decorate the hotel. On-site, you will find a spa, cinema, tennis court, several restaurants, a gold course, and even a children's game room.
The service is top-notch too. Here, you can enjoy warm Irish hospitality.
Wish to stay at the hotel? Book your vacation through PrivateUpgrades and get access to:
Upgrade on arrival
Full Irish breakfast
$100 food & beverage credit
Early check-in/late check-out
Prices per night start at 474 euros.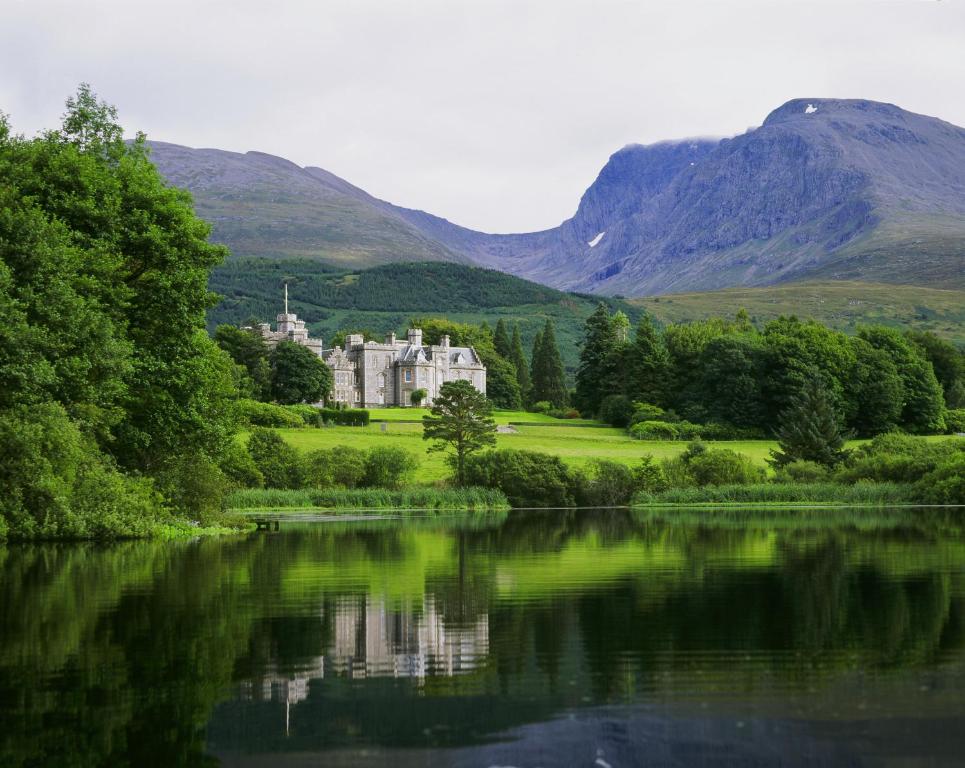 Inverlochy Castle Hotel, Scotland
Another great example of castle hotels is this gem in Scotland. You may have heard about it before – the castle was mentioned in Queen Victoria's diary. She described it as the most romantic place to be! It's hard to disagree. The Inverlochy hotel is as splendid today as it was hundreds of years ago.
The 19th-century highland castle features magnificent views. A wonderful lake, beautiful meadows, and vibrant grasslands – don't forget to bring your camera to capture the magic! The castle was built already in 1863. It includes 17 boudoirs, which, nowadays, are decorated in a quite contemporary style.
Still, that doesn't take away from the hotel's unique vibe. With its huge chandeliers and impressive painted ceilings, you will feel like you've traveled back in time.
PrivateUpgrades benefits include:
Upgrade on arrival
Daily full breakfast
Champagne, afternoon tea, or a picnic basket with half a bottle of wine
Early check-in/late check-out
Prices per night start at 434 euros.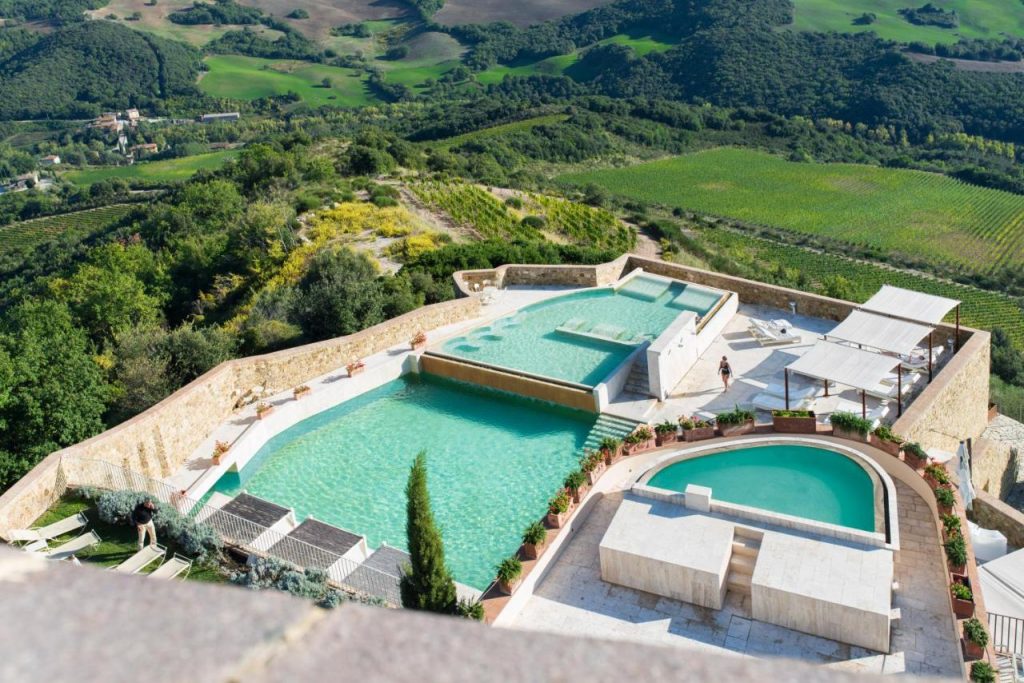 Castello di Velona, Italy
Those heading to Italy should consider staying at this exceptional castle with 360-degree views of Val d'Orcia. What was originally an 11th-century fortress has now become a fantastic hotel, considered one of Tuscany's best. Beautiful interiors, an impressive pool, and fine cuisine – it offers everything you could wish for!
In Castello di Velona, you will find 46 rooms, which all feature period furniture, rich fabrics, and splendid antiques. Large fireplaces, vaulted ceilings, and tile floors make it cozy all year round.
If you are a foodie, rest assured you will have a great time here. The castle includes two restaurants, which offer regional Tuscan and Mediterranean Italian cuisine specialties. Also, don't forget to taste the local vines – the hotel produces them in its 5 hectares of vineyards. Your taste buds are in for a treat!
Here are the member benefits at Castello di Velona:
Upgrade on arrival
Daily buffet breakfast
$100 credit for food & beverages, SPA treatments, and cooking classes
For stays of 4 nights and more, receive one complimentary 3 courses lunch
Early check-in/late check-out
Prices per night start at 747 euros.
End notes
As you can see, many places in Europe offer the unique opportunity to stay in a castle hotel. So whether you choose to discover the beauty of Tuscany or the romantic charm of Ireland, you are guaranteed to have a royal experience.
If you still need help deciding where to go, our team can assist! Reach out to us here.