Are you a nature lover? Do you wish to explore the world's beautiful jungles and rainforests? Or perhaps you just to relax by the pool or on the beach? One of these wonderful lodges is sure to make your dreams come true.
All you have to decide is when and where you want to indulge in luxury. Let us explore some of the top jungle lodge hotels!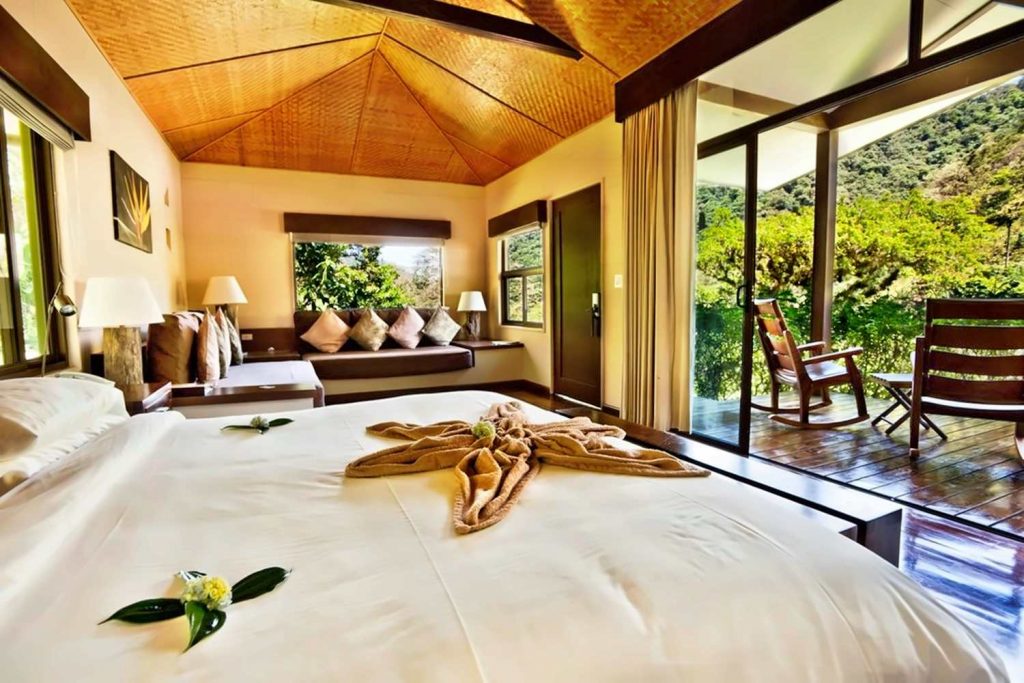 El Silencio Lodge & Spa, Costa Rica
First, we invite you to discover the ecotourism paradise of Costa Rica. With its evergreen rainforests, diverse wildlife, and endlessly beautiful, unprecedented views, it's a place unlike any other.
With a quarter of the country covered by national parks, there's an adventure at every turn! For an even more exciting journey, stay at El Silencio Lodge & Spa.
Nestled in the central mountains of Costa Rica, this exquisite eco-lodge invites you to experience the splendor of a misty rainforest.
Through the huge windows, the magnificent nature appears like an artist's canvas wrapped in fog. The apartments also seem to blend into the surrounding landscape. The terraces with rocking chairs offer spectacular views of the river or the mountains. This is truly one of the top jungle lodge hotels.
The lodges are spacious, natural-colored, and have an outdoor jacuzzi. All of this creates an atmosphere of quiet comfort in perfect harmony with the stunning natural surroundings. A small organic farm provides the produce for the restaurant, which serves dishes based on Costa Rican culinary traditions.
Prices at this incredible jungle lodge start at 564 euros
PrivateUpgrades' members currently have a special offer – you can get the 3d night for free, get 15% off spa treatments, and 25% off the entire price. Just remember to book your stay until November 20!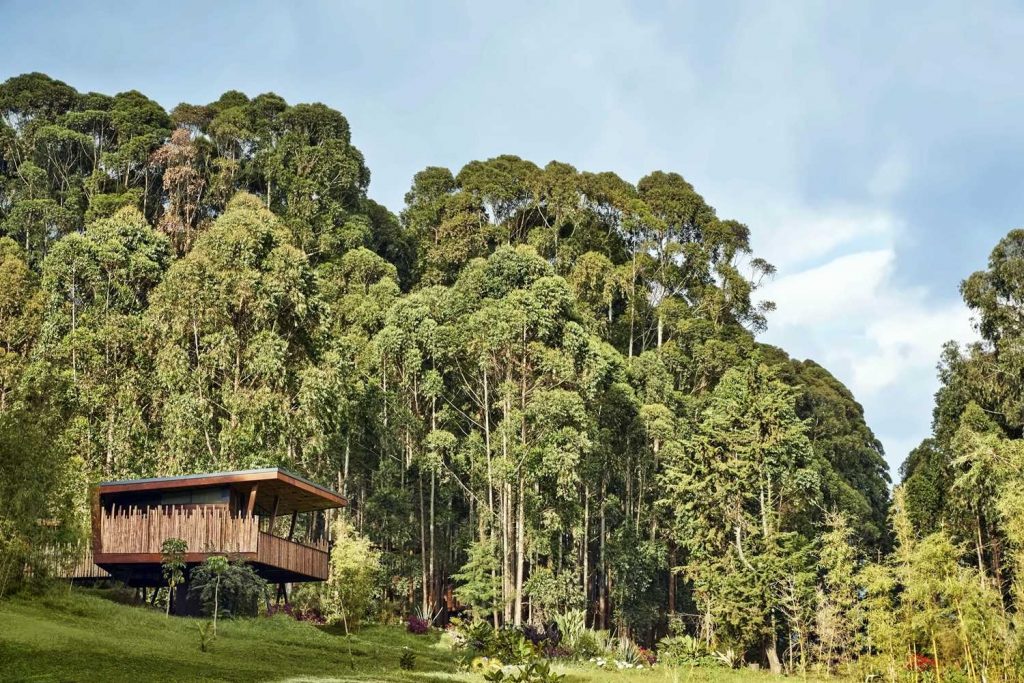 One & Only Gorillas Nest, Rwanda
The main attraction in Rwanda is the Volcanoes National Park, where visitors can see gorillas, golden monkeys, and other primates. Did you know that Rwanda is also Africa's environmental leader? That's right. Do not pack plastic bags in your luggage! They are banned in the country and will be confiscated by customs.
When visiting this incredible place, book your stay at One & Only Gorilla's Nest, hidden in the stunningly beautiful foothills of the Virunga volcanic mountain range. This allows you to get up close and personal with rare and majestic species of mountain gorillas in their natural habitat.
Take an exclusive front-row seat to the world's most popular mountain gorilla sanctuary. You will be captivated by exotic, colorful birds and stunning fauna. Furthermore, one of the planet's greatest primate species will appear before your eyes and welcome you into their world.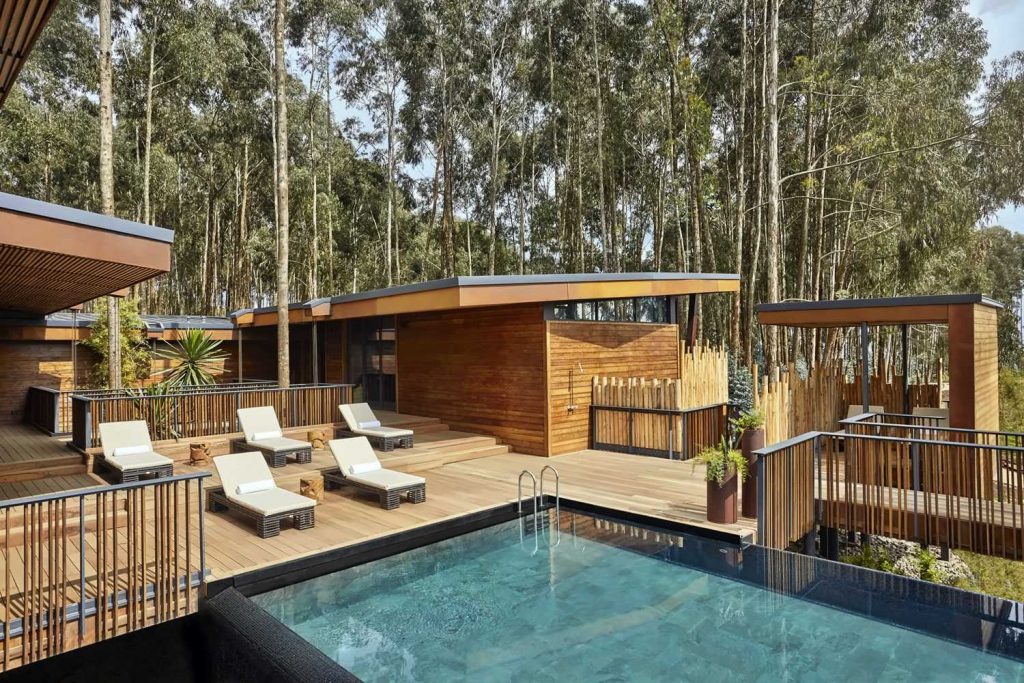 After exploring the park, you will be back in your own home away from home – an exciting modern paradise where top-class amenities are at your disposal. No surprise that this is one of the best jungle lodge hotels.
Prices at the hotel start at 4080 euros per night
Become our member and get a $100 hotel credit, daily farm-to-table breakfast, and other benefits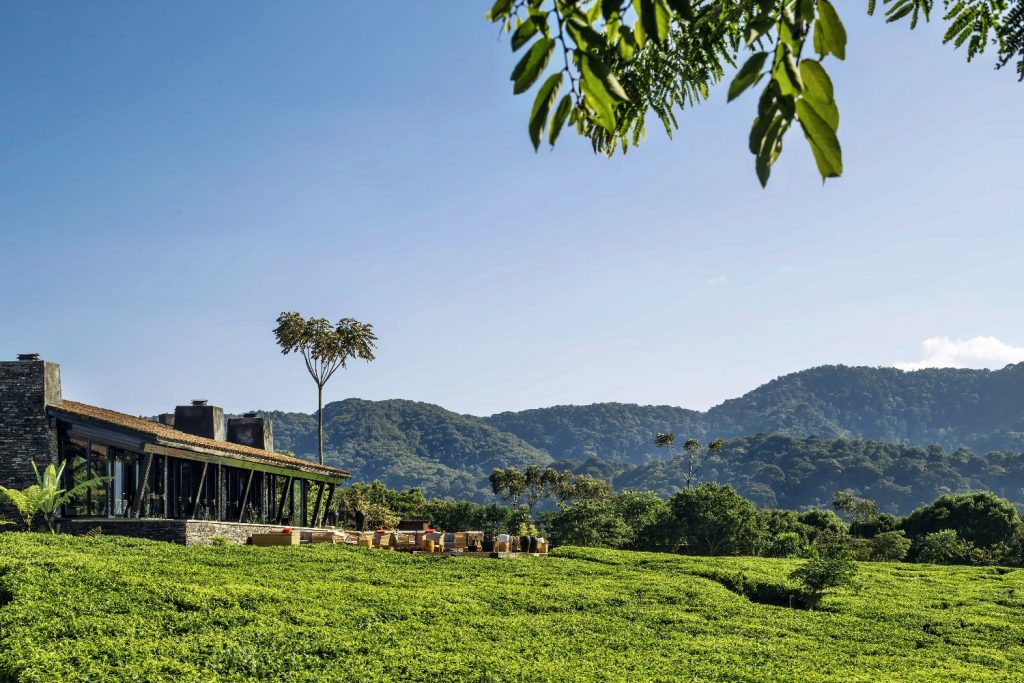 One & Only Nyungwe House, Rwanda
You will never want to leave a hotel like this! One & Only Nyungwe House is located in Nyungwe Forest Reserve, and it is truly spectacular.
Visitors will find the accommodation on the edge of Nyungwe National Park, among tea plantations and ancient mountain forests that are home to 85 species of animals.
The hotel itself is a complex of lodges built in the traditional Rwandan style using natural local wood and stone. Moreover, it is decorated in an elegant contemporary style.
Guests can admire the stunning scenery from the terraces of their comfortable rooms, swim in the panoramic pool, relax in the spa, and exercise in the fitness center.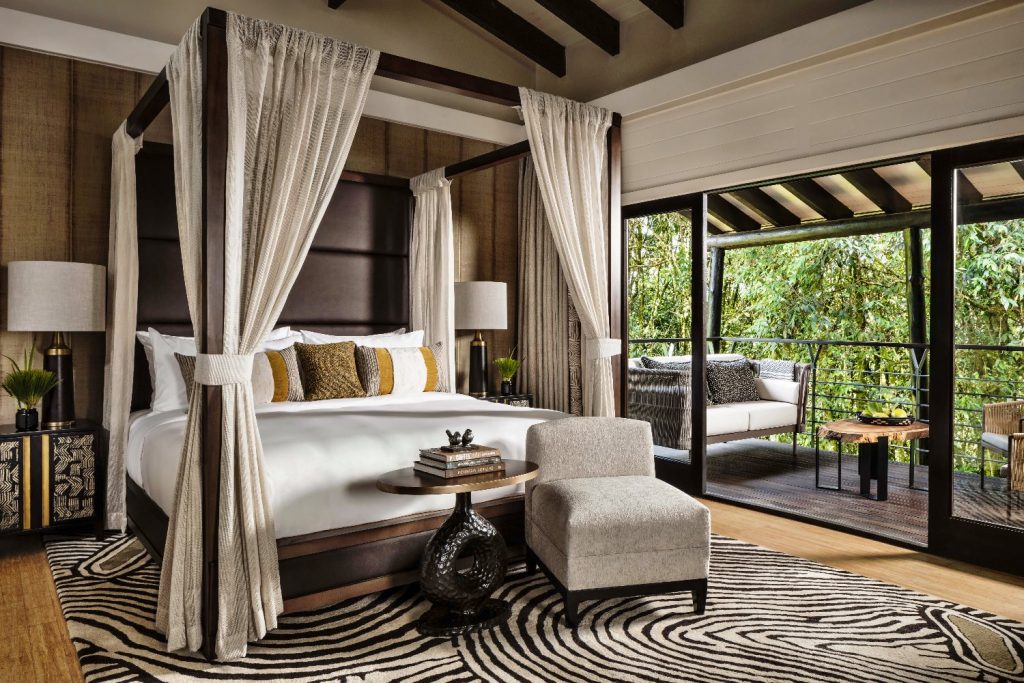 Visitors are invited to enjoy delicious organic dishes in the restaurant and relax with a cocktail or cup of tea in the cozy bars. One & Only Nyungwe House is a paradise in the middle of African wildlife.
Prices start at 2142 euros
Our members have many advantages. $100 resort credit, two complimentary activities per day, and more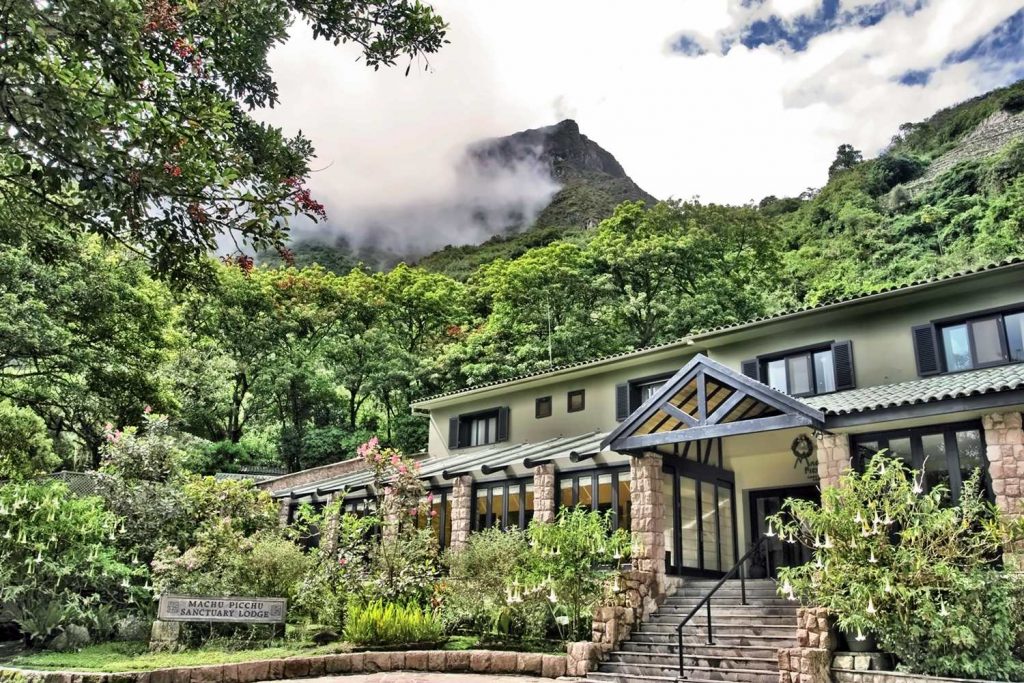 Belmond Sanctuary Lodge, Peru
The 5-star Belmond Sanctuary Lodge Hotel awaits its guests near the center of Machu Picchu. This place is one of the best jungle lodge hotels for romantic and luxury holidays. The hotel offers a unique opportunity to see the "lost city of the Incas", a UNESCO World Heritage Site.
The stylish accommodation features 30 rooms, 12 of which have breathtaking views of mountains and rainforests, and the interior design makes you feel right at home.
Behind the main hotel building, there are luxurious gardens where you can enjoy gorgeous flowers, among which the delightful orchids are the special pride of Machu Picchu.
The "city in the sky" or "city among the clouds" is famous for its amazing sunrises and sunsets. Using a telescope equipped with a mini-computer, you can view the stars shining in the night sky.
Prices start at 1340 euros
Join our travel club and $90 credit for room bookings or $200 for suite bookings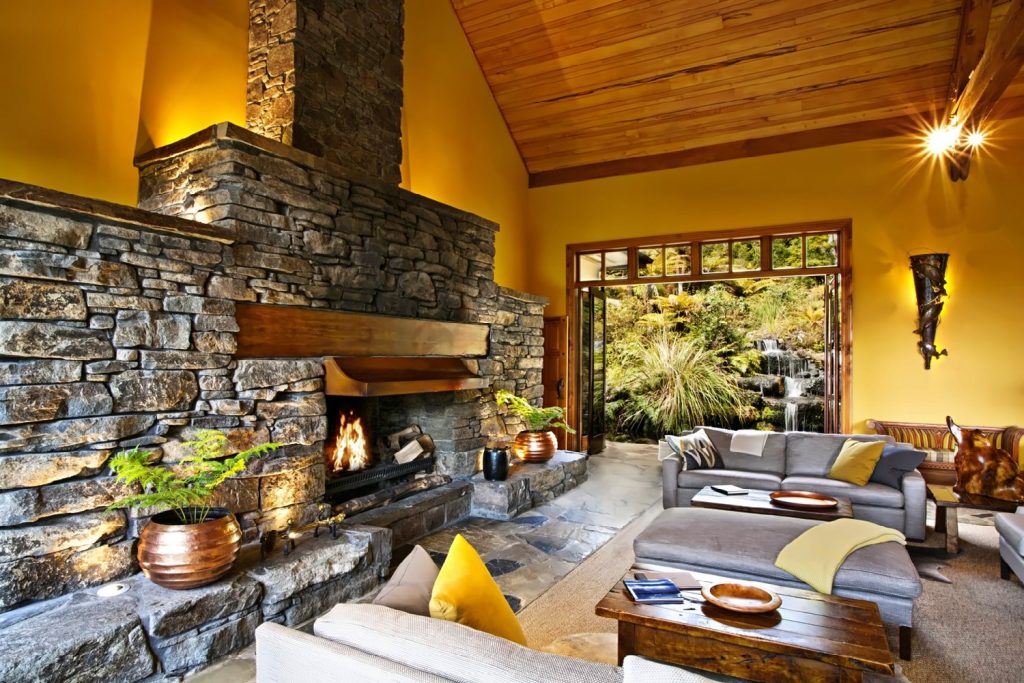 Treetops Lodge & Estates, New Zealand
There are so many incredible things to do in New Zealand and so much natural beauty and culture to explore. Whether you are a hiker, a history buff, or a foodie, New Zealand is the place for you. Whatever your reason for visiting, you need to book your stay at Treetops Lodge & Estates.
You cannot go wrong if you choose this wonderful hotel. Here you can fully enjoy the splendor of quaint New Zealand nature. Treetops Luxury Lodge stands in the middle of 1335 hectares of forested land, where 7 clear rivers, 4 lakes, and more than 70 kilometers of scenic trails await you.
The hotel is built with natural materials and has an elegant style, which perfectly harmonizes with the surrounding nature. It offers a living room with an open fireplace, library, restaurant, and conference room.
In addition, you can also enjoy various activities, such as horseback riding, mountain biking, fishing, and thermal springs.
Prices per night start at 1159 euros
Our members can enjoy a complimentary gourmet picnic and other fantastic advantages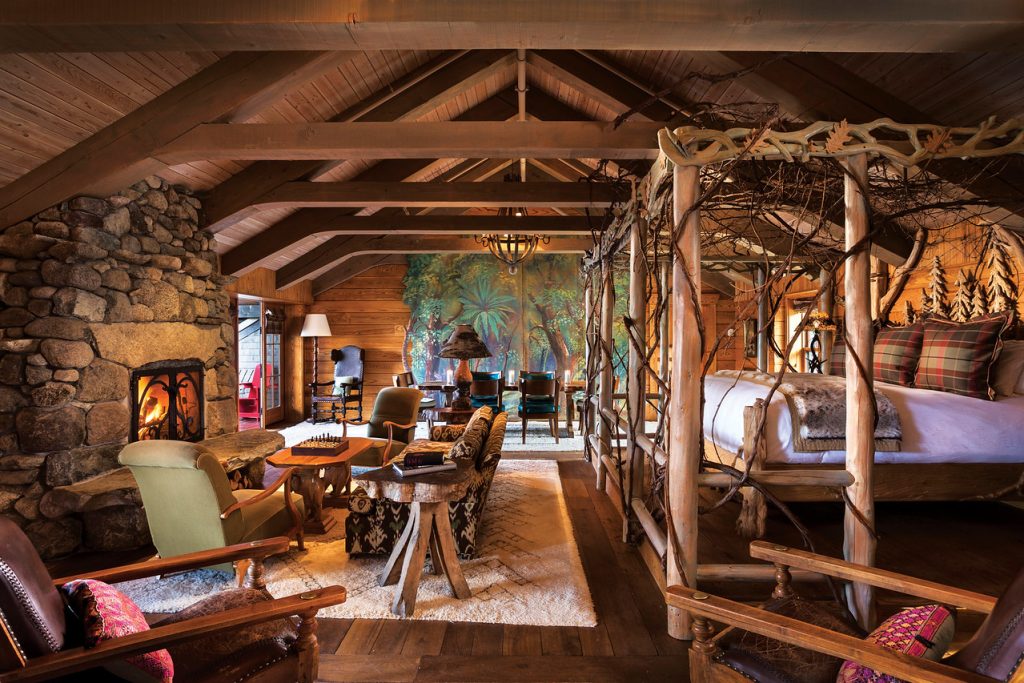 Lake Placid Lodge, United States
While this isn't specifically a jungle lodge, it is also a great place to enjoy the beauty of nature. On the shores of dazzling Lake Placid, where the mirror-like water reflects the majestic Adirondack Mountains, sits Lake Placid Lodge.
It enchants with its distinctive style, combining art and craftsmanship in every detail. Everything from the beds to the large stone fireplaces is handmade by local craftsmen.
From the spacious verandas and wide lawns, you can enjoy the magnificent sight of nature. Staying at the Lodge is like being immersed in font of greenery and fresh air.
You can completely forget your worries and enjoy excellent farm-to-table cuisine. Dinners on the terrace take on a special flavor thanks to the stunning view of the lake and mountains.
The prices at the lodge start at 859 euros
Become our member and have access to various benefits, like private airport transfer, $100 hotel credit, and more
Cabin and lodge rentals offer peace and quiet while traveling. Located away from busy roads and highways, they all include a tranquil atmosphere. If you are unsure how to spend your vacation, staying at one of these jungle lodge hotels is a great option! Contact our team to learn more.