Did you know that autumn is the best time for beach holidays? Resorts and travel agencies call this period the "golden season". Many popular beaches are not only less crowded in autumn but also more accessible.
It is no secret that in most European resorts, autumn begins in September, bringing rainfall, gusty winds, and cooler air temperatures. But that does not mean you have to give up swimming in turquoise waters and sunbathing on white-sand beaches.
Here are the best summer holiday destinations in Europe to soak in those last rays of sunshine!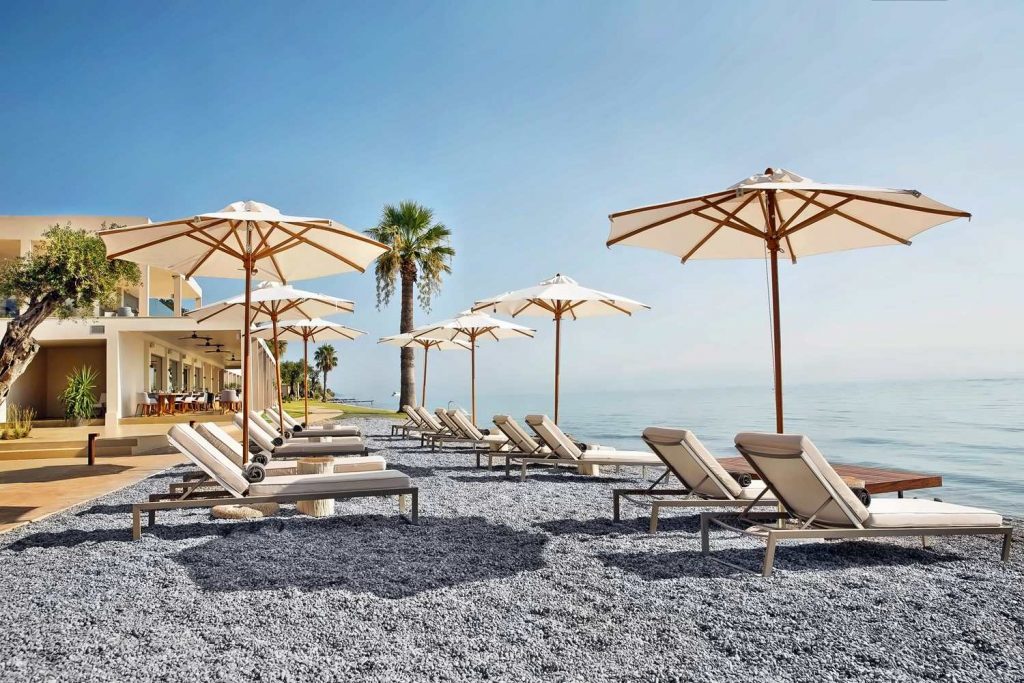 Corfu
As far as best October vacations go, Greece will be an excellent pick. But why choose Corfu in northeastern Greece for a beach holiday? Because Corfu is one of the greenest Greek islands, with thousands of olive trees carpeting the landscape.
Corfu is also less known and has a special charm. There are villas, hotels, and guesthouses catering to the needs of many tourists.
For example, the southern part of the island offers mainly loud leisure facilities for young people. In the middle and northern mountains, however, you can still see authentic Greek villages and natural landscapes.
In Corfu, the average temperature in October is between 23 and 27 degrees Celsius, so summer will definitely not be over if you travel here in autumn.
Domes Miramare Corfu
If you are heading to Corfu, consider staying at Domes Miramare Corfu. The hotel is by the sea and surrounded by centuries-old olive trees. Guests can rejuvenate with a beach yoga class, relax with a wellness treatment or take a tour of the UNESCO World Heritage-listed Old Town.
Built-in the late 1960s on Greece's most popular coastline, the hotel underwent an extensive renovation to restore it to its former grandeur from the time of Aristotle Onassis.
Domes Miramare Corfu consists of 3 main buildings and 11 bungalows. The hotel is for adults over 16 years of age only.
Prices start at 266 euros per night
Our members can enjoy 100 USD hotel credit, complimentary breakfast, and other benefits

Santorini
Wondering about the best places to vacation in October? Santorini is a well-known island off the Greek coast, famous for its beautiful sunsets and picturesque architecture.
As you might expect, this destination is very popular during the summer months. For those craving a more peaceful experience, autumn is the best time to plan a visit. In late September and October, temperatures will be around 21-24 degrees Celsius.
Andronis Arcadia
One of the best hotels in Santorini is Andronis Arcadia Hotel. The family-run luxury hotel is located on the outskirts of the picturesque town of Oia.
Each luxury room has its own private pool with spectacular views of the Aegean Sea and unforgettable island sunsets. The Evexia Spa offers personalized treatments and traditional massage techniques using luxurious products and soothing rituals.
The on-site restaurants provide a new gastronomic experience. Just imagine – cuisine inspired by the flavors and ingredients of classical Greece, combined with the aromas of ancient times. The restaurant uses fresh vegetables from its own garden and local delicacies.
In the evenings, guests can enjoy live music concerts by well-known musicians and DJs as they soak up the magical sunset atmosphere.
Prices start at 896 euros per night
As our member, enjoy 100 USD hotel credit, daily breakfast, upgrade upon arrival, and other advantages

Madeira
Thanks to its unique climate, Madeira is known as the island of eternal spring. Green all year round, with stunning landscapes, and ideal for relaxing on the beach. Moreover, it is among the best places to visit in Europe in summer and excellent for fall vacations.
The spring weather here lasts throughout the seasons. Not too hot, but not too cold either. The average annual temperature is around +22 degrees Celsius. Even in the coldest months, it never drops below +16 degrees.
In Madeira, travelers will find beautiful natural parks, spectacular mountains, valleys, and reserves with rare animals and plants. It also boasts a pleasant climate, delicious wine, tropical fruits, and the hospitality of the local people.
Two-thirds of the island is a nature reserve, most of which is covered by laurel forests, rich in diversity of flora and fauna. Madeira is popular with outdoor enthusiasts who want to enjoy the untouched beauty of nature and throw themselves into new adventures.
In Madeira, a visit to Funchal, the island's capital and largest city, is recommended. It is a port town where cruise ships regularly dock, and its coastline is full of excellent restaurants and hotels.
As well as the island's historical heritage, the capital offers plenty of water activities. Surfing, diving, swimming in mountain streams, and even dolphin and whale watching – pick your favorite.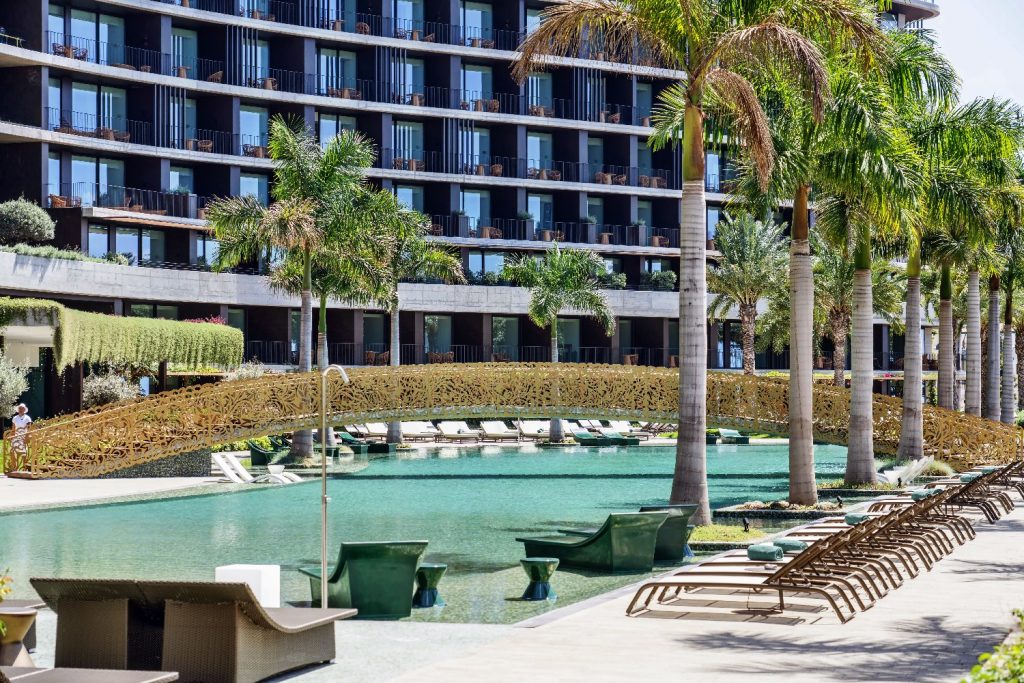 Savoy Palace
When visiting Madeira, we suggest staying at Savoy Palace. The 5-star hotel in Madeira offers a relaxing stay complete with a restaurant, fitness center, and beautiful garden.
Savoy Palace is ideal for families with children, who can spend time in the mini club, while adults can relax in the spa or swim in the outdoor pool.
In the evenings, the hotel provides entertainment, and for exploring the surroundings, Funchal Marina, Madeira Casino, and Avenida do Mar are nearby.
Prices start at 225 euros per night
PrivateUpgrades' members get access to 100 USD food & beverage credit, special VIP amenity in the room, and other benefits
Barcelona
If you have a fun holiday under the autumn Mediterranean sun in mind, the needle of your compass should point in the direction of Barcelona. It is one of Spain's most vibrant and enticing cities, where lively culture, world-class cuisine, elegant architecture, and a laid-back lifestyle collide.
In autumn, Barcelona seems to breathe a sigh of relief since the tourist crowds that occupied it in summer are gone. During this period, locals are slowly returning from their holidays.
Autumn is one of the best times of the year to visit Barcelona, as even in October and November, the weather is warm and pleasant. The city's beaches are still a pure treat!
The decline in tourist numbers means Barcelona's main attractions are a little easier to visit. Calmer temperatures allow you to take it all in as you wander the shady streets of the Gothic Quarter and the elegant alleys of the Eixample.
The city is like a big open-air museum, mixing Romanesque, medieval and Catalan modernist architectural styles. At the same time, autumn in Barcelona is the time to relax, unwind and enjoy the city's flavors.
Seafood on the beach, nights spent walking from bar to bar looking for tapas, and sun-drenched afternoons with a glass of vermouth and a bowl of olives will make your holiday unforgettable.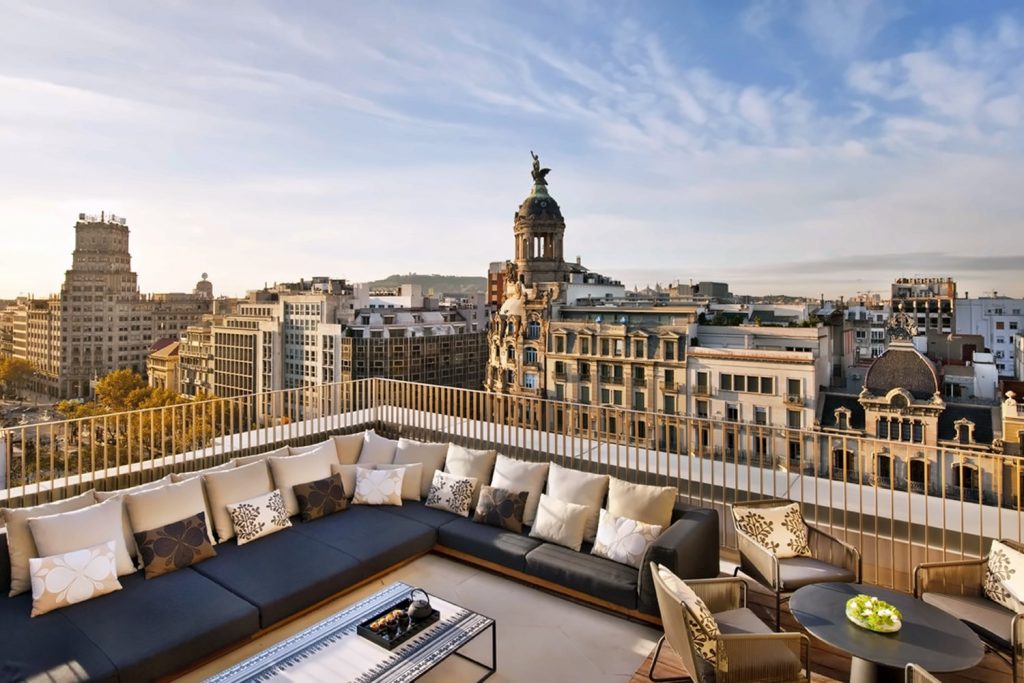 Mandarin Oriental Barcelona
If you are looking for luxury hotels in Barcelona, pick the stylish Mandarin Oriental. The hotel is located in Barcelona's most prestigious area, Passeig de Gracia. Staying there, you will be close to fashion boutiques, fine restaurants, and stunning buildings.
Foodies can enjoy high-quality, delicious meals all day long. The hotel itself has restaurants and bars serving a menu of Catalan and Mediterranean cuisine On-site, there is also a spa, fitness center, and a beautiful swimming pool.
Those who crave a particularly luxurious experience will be glad to hear each suite has the services of a butler. They will be pleased to cater to your needs 24/7.
Prices at the hotel start at 589 euros per night
Become our member and get 100 USD food and beverage credit, daily breakfast, and other advantages.
As the summer days are passing, we dream of lazing on faraway beaches, admiring golden sunsets, and swimming in the ocean.
Fortunately, not all countries suddenly plunge into darkness at the end of August. Choose one of these European destinations for a vacation or short weekend break. Summer doesn't have to end yet!