Not sure where to go for your next trip? Napa Valley is the perfect place for wine lovers. With idyllic scenery and more vineyards than anyone could visit in one trip, it's truly spectacular.
This part of Northern California is also excellent for outdoor fun and tasting great food prepared by top-notch chefs.
But all these activities will be much better if you have a great place to stay. So here are our top suggestions for hotels and resorts for your Napa Valley wine country vacation. Immerse yourself in the local culture and have the time of your life!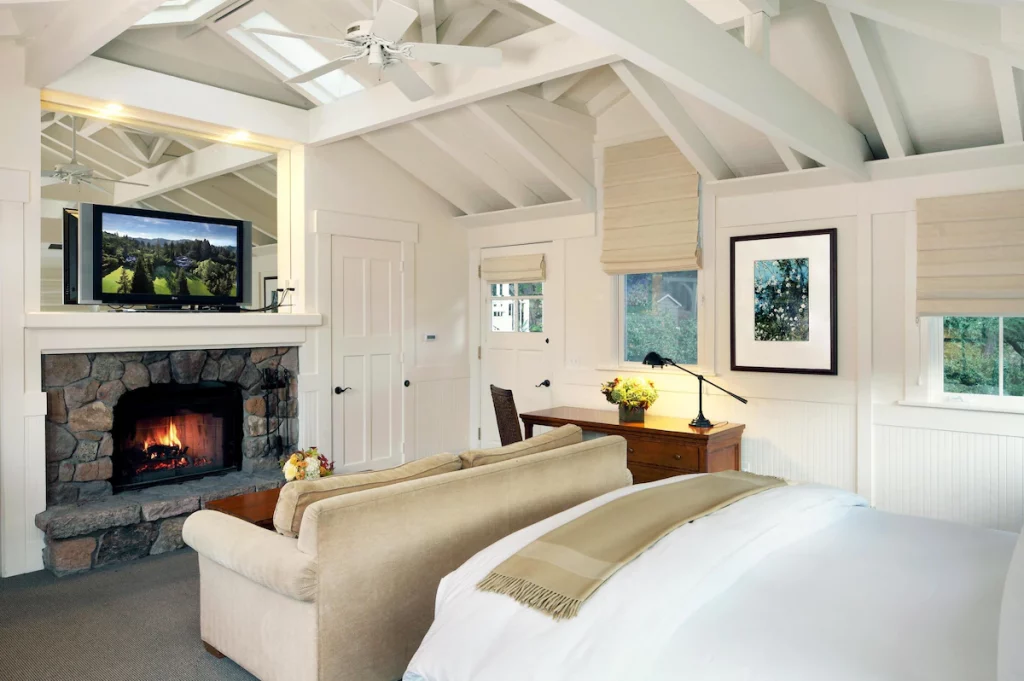 Meadowood Napa Valley
First on our list is Meadowood Napa Valley. Deeply rooted in the history and cultural heritage of Napa Valley, it will be a great pick for any traveler.
Simultaneously wild and sophisticated, the property glides from the surrounding mountain ranges through forested canyons and rows of vineyards to the Napa River.
Enjoying fine wines is an essential part of your stay at Meadowood Napa Valley. In fact, the hotel provides daily tastings. In addition, the property has fully refurbished pools and a fitness center. Make sure you enjoy them, too, when you visit.
The Wine Centre at Meadowood Estate provides a unique opportunity to immerse yourself in wine culture. Their team of renowned and published educators allows guests to participate in various courses and activities. Moreover, they can be tailored to your specific desires.
Here you can experience all that wine country has to offer. Wine tasting, cooking classes, hiking, biking, tennis, and golf – it sounds great, doesn't it?
What about PrivateUpgrades member benefits?
You can stay Sunday to Wednesday and receive an additional $75 daily property credit at the time of booking

In addition, the hotel offers the option to upgrade your room on arrival, subject to availability, and receive daily continental breakfast for two guests per bedroom
Guests will also have the option to use the equivalent of a $100 resort or hotel credit
Prices here start at $1,049 per night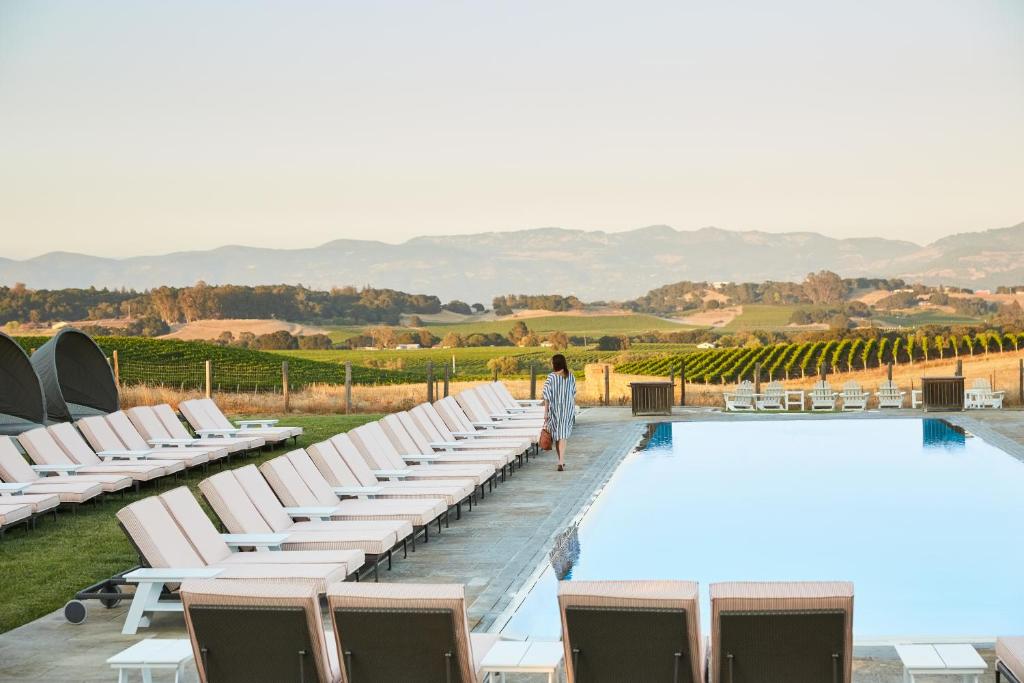 Carneros Resort & Spa
Located in California's famed Napa Valley, the Carneros Resort & Spa is set amid 27 acres of vines and apple trees that seem to stretch to infinity.
The hotel combines country style with luxury elements. Barns, silos, and cottages blend with modern, comfortable interiors and amenities.
Free fitness jogging and vineyard walks. Pool, spa treatments, manicures, and pedicures using natural grape seed-based cosmetics and more are available during your stay.
Book your stay through PrivateUpgrades and get an upgrade on arrival

As a PrivateUpgrades member, you will also receive a full American breakfast for two daily in the Hilltop Dining Room with a credit of up to $60 per day per bedroom
If that is not enough, the good news is that you will also get the equivalent of a $100 resort or hotel credit to use during your stay
Prices per night at this hotel start from $2,028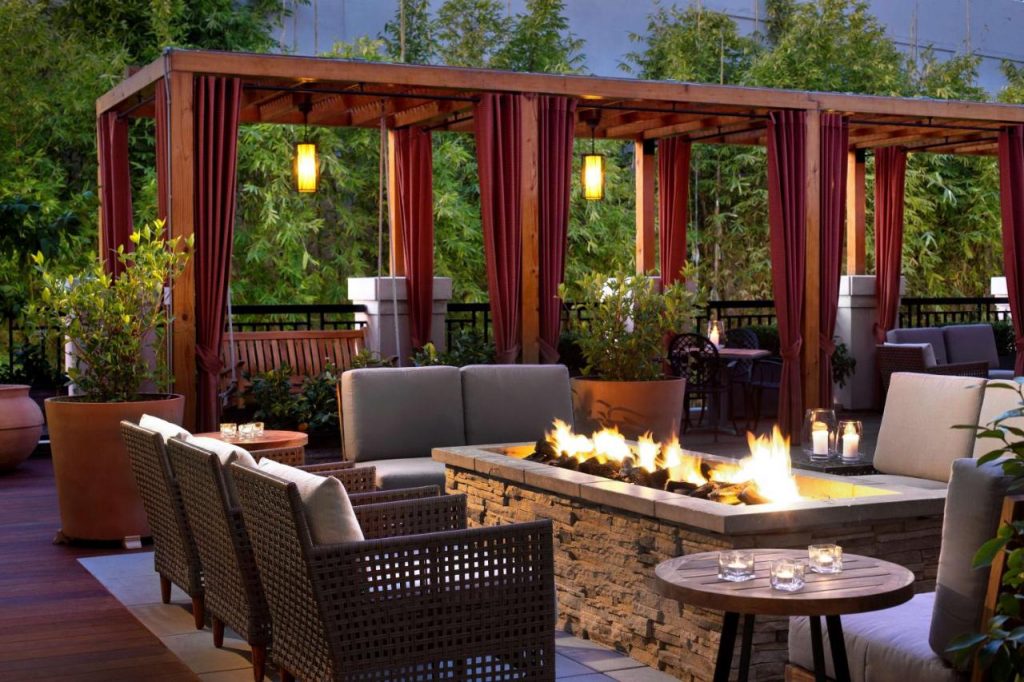 Andaz Napa
Another excellent luxury hotel in Napa Valley is Andaz Napa. It's a 141-room boutique hotel in the bustling West End, which is perfect for discovering the fabulous region.
Here, a fresh, relaxed approach to modern travel meets the art of living well. You can expect authentic local experiences, inspiring design, and first-class service.
The hotel is a minute's drive from a range of fine restaurants, galleries, and shops. Moreover, 19 tasting rooms serving some of California's finest wines are close, too.
Enjoy artisan cocktails or fine wines at Shopping Social. Try the meal made with farm ingredients at Andaz Farmers Table. Explore art, wine, and culinary culture at the hotel's exclusive events, tasting room, and world-class restaurants.
Also, explore Napa's main attractions, including the Oxbow Community Market and the Napa Valley Wine Train, which are within walking distance.
As a PrivateUpgrades member, take the opportunity to upgrade your accommodation at the time of booking

Enjoy daily full breakfast for up to two room guests

Get a hotel credit of $50 that can also be used during your stay

Take advantage of early check-in (earliest 09:00) and late check-out (latest 16:00).
Rates at this hotel start from $928 per night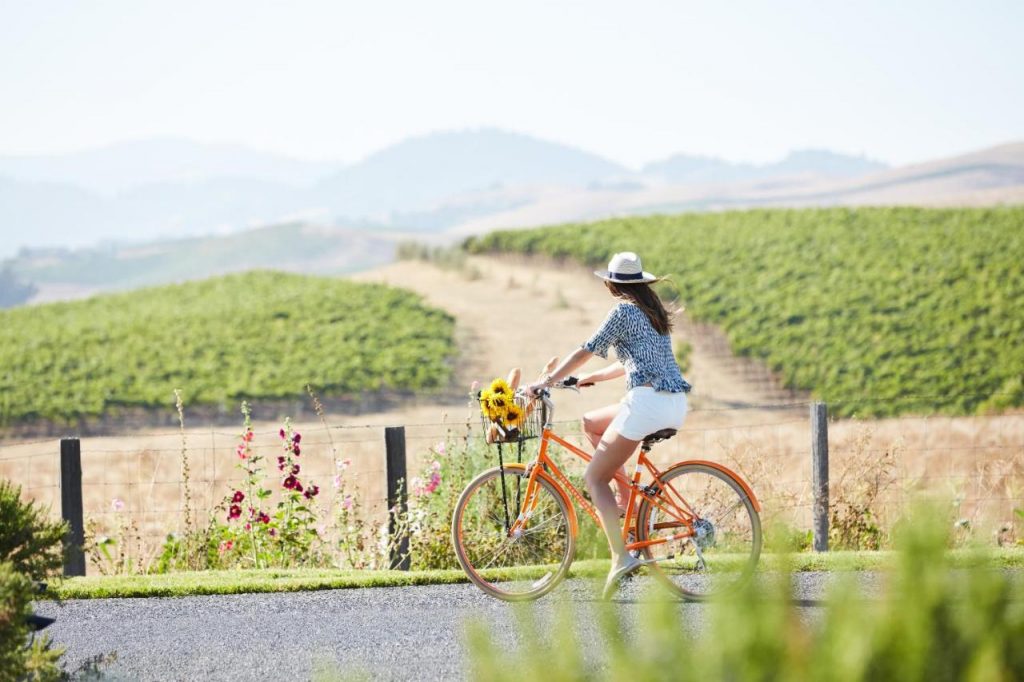 Napa Valley's wine tours
The history of winemaking in America dates back to the 17th century. Interestingly, already by the 19th century, vineyards had almost doubled in size. 
Thanks to its unique climate, the United States is one of the leaders in table wine production. Most of the vineyards in the United States are in California. As a result, California wines account for 90% of total production. The quality and variety of flavors have made the state famous throughout the world.
If you are planning a trip there, don't forget about Napa Valley. During your adventure, you will not only learn about the history of California wines, their origins, and production methods, but you will also have the opportunity to taste them. We have described some of the best places below to give you some inspiration!
Opus One Winery
One of the most famous wine-growing dynasties in the world is the Rothschild family. The most known member of this legendary family is Baron Philippe de Rothschild, who took over his father's business, Château Mouton Rothschild, at the age of 20.
Together with the equally famous Robert Mondavi, they created Opus One in 1979. As you may already know, they completely changed the world of wine.
The pair made numerous discoveries and inventions in both the production process and the presentation of wine. Through their work, they expanded American cultural traditions and revitalized the beautiful California wine.
Daily tasting tours start at 13.30 and 14.30, and advance booking is required.
Sterling Vineyards
When planning your Napa travel itinerary, make sure to include Sterling Vineyards in it. Situated in a picturesque location almost 100 meters above the town of Calistoga, they were founded in 1964 by Peter Newton.
The winery's architecture is a real treat for the eyes. Unlike what you may expect, it is in the traditional Greek style.
The white color of the winery buildings stands out beautifully against the backdrop of the Mayacamas and Vaca Mountain ranges that surround Napa Valley.
The terraces overlooking the valley and the mountains and elegant tasting rooms create a special atmosphere for tasting fine wines.
Opening hours are Monday to Friday from 10:30 to 16:30. On Saturdays and Sundays, the winery is open from 10:00 to 17:00.
No advance booking is required, so feel free to choose a time that suits you. Plan a visit and enjoy this unique experience!
The Napa Valley is a beautiful landscape of vines and wildflowers scattered over several kilometers of mountains in Napa County. Over the years, this region has become one of the best in the world, especially for wine lovers and gastronomes.
Check out these Napa Valley wine tours and luxury hotels to make the most of your trip!