Raffles Hotels & Resorts is a luxurious place with a rich history and sophisticated hospitality. The journey started in 1887 with the opening of the first Raffles Hotel in Singapore. The Sarkies Brothers, Armenians with a vision, started the hotel during British colonial rule.
The hotel was named after Sir Thomas Stamford Raffles, the founder of Singapore. It began as a small beach house and became a luxurious retreat for famous people and the rich. It became known for its innovative electric lighting.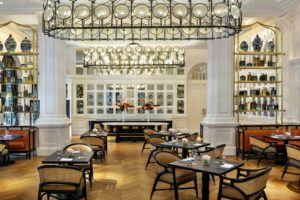 History
In the 1900s, Raffles Hotels & Resorts expanded, adding more fancy buildings and luxurious services. This helped strengthen its reputation for being grand. The journey had hurdles: the Great Depression's financial strains bankrupted the owners.
Yet, the Raffles spirit didn't falter – the hotel stood resilient, and the formation of Raffles Hotel Ltd. emerged as a testament to the enduring legacy of this iconic brand.
During World War II, Raffles' history was briefly interrupted. However, after the war, Singapore was recovered by the British in 1945, and the hotel returned to its former glory. Raffles did well in the years after and started managing other hotels in the 1980s.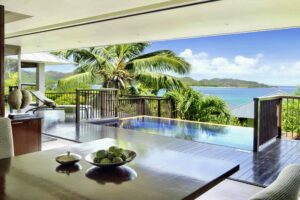 A Legacy Reimagined
The onset of the new millennium marked a bold chapter of growth for Raffles. With the strategic acquisition of Swissôtel in 2001, Raffles's presence spanned 17 countries. Raffles then formed a partnership with Colony Capital. They joined FRHI Hotels & Resorts, along with Fairmont and Swissôtel. In 2015, Raffles became part of Accor, a big hotel company, which was a big deal.
In the 2020s, Raffles plans to expand its presence by doubling its locations. This shows their commitment to combining history and sustainability. Raffles is opening new hotels in beautiful places like Udaipur, Dubai, Bahrain, and Macau.
They also plan to build flagship hotels in major cities around the world. Raffles believes luxury is about the rich guest experience, with excellent service and a personal touch.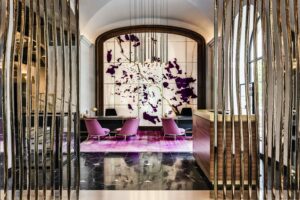 The Saga of Raffles
Today, Raffles is proud. It keeps its traditions but also embraces change. It uses technology to make guests' experiences better. It also actively engages in environmental stewardship. Raffles is not just a luxury hotel. It also cares about the future of the hotel industry.
The saga of Raffles Hotels & Resorts is one of triumph over adversity and constant transformation. From its early days to its modern stature, Raffles reimagines the essence of luxury for the discerning traveler. This story is about surviving tough times and making every guest's stay extraordinary. They strive for the best in hospitality.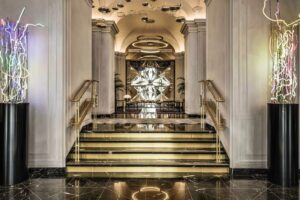 The Best Raffles Hotels
Raffles Hotels currently operates 20 luxury properties, each with its unique allure. The company has ambitious plans to increase its global footprint. Explore the finest offerings of Raffles Hotels, where exceptional service meets classic sophistication.
Raffles Hotel in Singapore is an elegant landmark known for its grand colonial style. Opened in 1887 by the Armenian Sarkies Brothers, it's named after Sir Thomas Stamford Raffles, the founder of Singapore. The hotel is famous for its heritage and has been carefully updated to offer modern comforts to today's guests.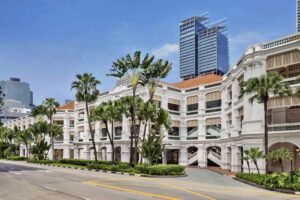 Located in the city center, the Raffles Hotel is a peaceful retreat from the busy city life, famous for its beautiful interiors and live music. Guests love its luxury, cleanliness, and many features.
Champalimaud, a New York design firm, beautifully restored the hotel in 2019. The hotel has timeless white colonial architecture. The history of this place is full of memorable moments. In 1915, the Singapore Sling cocktail was invented here. It has also welcomed famous guests like Ava Gardner and Elizabeth Taylor.
Raffles Hotel is a famous symbol of Singapore's history and luxury. It's an excellent choice for people who want to experience historical elegance and modern luxury.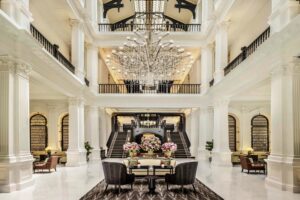 Raffles Bali emerges as a haven of sophistication and calm within Bali's verdant scenery. This hidden treasure was created in 2020 and is rich with the island's ancient legends and spiritual traditions. It provides a peaceful escape in a beautiful location. The resort covers 23 hectares and has 32 villas. They were built to blend in with nature and provide a calm, relaxing place.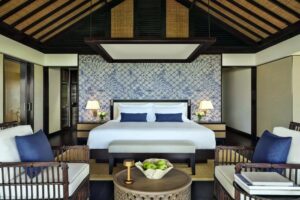 Bella is a wellness butler who gives guests personal attention and makes custom schedules for them. The ocean pool villas are luxurious and eco-friendly, with yoga essentials and natural sounds. They also serve delicious local dishes.
Raffles Bali offers many delicious foods. Rumari is a restaurant with Chef Gaetan Biesuz. He combines Southeast Asian flavors with a modern touch. They also have a good wine selection. The food tastes good and suits you, balancing health and enjoyment.
The resort has many things to do, such as learning about the local culture and relaxing at a wellness retreat. There is also a peaceful spa journey. Guests can also partake in Balinese dance, Canang Sari crafting, and even mixology classes.
Raffles Bali is not just a retreat but also an experience that stimulates all the senses. It tells a story of well-being, sensory pleasure, and cultural connection for each visitor.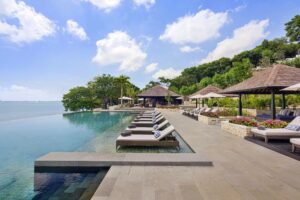 Le Royal Monceau Raffles Paris, situated on the grand Avenue Hoche, is an emblem of luxury in the city's heart. The hotel, steeped in history, has been boldly reimagined by renowned French architect Philippe Starck. While preserving its storied past, Starck has infused the hotel with a modern elegance. The 5-star hotel is close to the Champs-Elysées. It has beautiful views of the Arc de Triomphe. The hotel is famous for hosting many essential guests.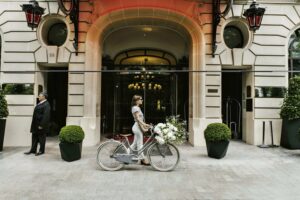 The hotel's design reflects Starck's innovative vision. The Clarins & myBlend Spa is serene and white, promising relaxation and rejuvenation. At the spa's core is a magnificent 23-meter pool bathed in sunlight. The hotel has 149 rooms and suites that are very comfortable. They have modern amenities like flat-screen TVs and personal minibars.
Le Royal Monceau Raffles Paris is more than just a place to stay; it's a cultural venue, too. It features a 99-seat cinema, an art gallery, and a unique Art Concierge service alongside its private art collection. The hotel is a luxurious and artistic place that offers an exceptional experience for sophisticated guests.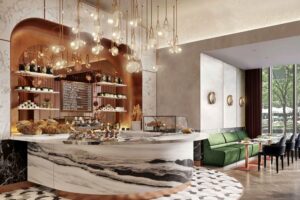 The grand opening of Raffles Boston on September 15, 2023, is a big step for luxury hotels in North America. This is the first Raffles brand establishment in North America. It is also their first mixed-use project in the area. This is a big moment for the hotel group, which has been around for 136 years.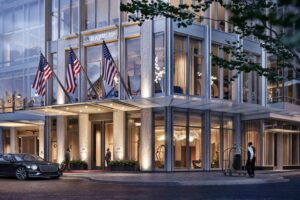 Raffles started in Singapore in 1887. It is famous for its unmatched luxury. This tradition carries on at its Boston location. With a $400 million investment, Raffles Boston towers have 35 stories, housing 146 residences and 147 hotel rooms. Remarkably, 85% of the condos were sold by June of the opening year, outperforming a sluggish Boston luxury condo market.
The hotel is located at 430 Stuart Street. It provides over $22 million in public benefits to the community. In Boston, there are benefits like improved streets, cheaper housing on-site, and money for affordable housing. Local structural engineers came up with the design for Raffles Boston. It has a unique cantilever structure, which combines visual appeal and sustainable construction.
Guests are taken to the stunning Sky Lobby on the 17th floor, which has beautiful views of the city and represents the luxurious style of Raffles. The brand's iconic Grand Stair cascades through this space, amplifying the elegant atmosphere.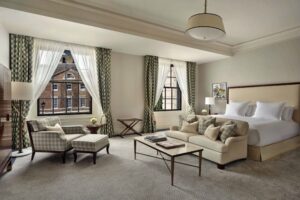 The accommodations at Raffles Boston combine classic charm and modern style. They capture Boston's rich history and vibrant culture. The hotel combines East and West, as it has always been a place for travelers and intellectuals. The new location has the same Raffles charm. It will tell stories that connect different cultures, like other Raffles properties.
Raffles Boston is more than just a fancy hotel. It combines Raffles' heritage with Boston's essence.
Raffles London at The OWO merges luxury, historic grandeur, and modern elegance in London's vibrant heart. Guests can explore 20th-century history in a beautifully updated place for modern travelers. The hotel has 120 rooms and suites. It also has 85 exclusive OWO Residences by Raffles. The hotel combines history and luxury.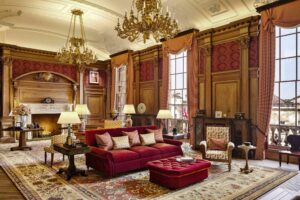 More than a hotel, The OWO is a cultural landmark for those who appreciate heritage combined with contemporary indulgence. It opened on September 29, 2023. The Old War Office in Whitehall is where it is located. The building has been impressively transformed. It now houses nine unique restaurants, three stylish bars, and Raffles' signature residences.
The hotel's walls have seen influential politicians and famous spies like Winston Churchill. It even inspired Ian Fleming, the creator of James Bond. Its Edwardian Baroque architecture, a Grade II* listed heritage, invites guests to a stay that's rich in historical allure.
Raffles London at The OWO symbolizes sophistication and charm, offering a unique experience in an exciting city.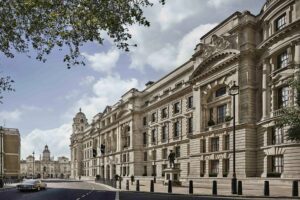 Benefit from your Stay at Raffles
PrivateUpgrades gives its members special treatment at Raffles Hotels. If you join, you get nice extras like the chance for a better room, early check-in, and late check-out, which make your stay more pleasant and easy.
Becoming a member of PrivateUpgrades means you'll travel in style for free. You'll get special services and perks at luxury hotels worldwide. This is great for people who travel a lot and like luxury because it makes your hotel stays better without extra costs.
Joining PrivateUpgrades is brilliant if you want to save money but enjoy luxury. You can get better rooms and exclusive services without paying extra. This not only improves your trip but also makes you feel unique and recognized.
In short, if you love traveling with a touch of luxury and ease, consider PrivateUpgrades. It's particularly good at Raffles Hotels, where being a VIP adds to the experience.