Forget about vacationing by the sea! This time, we want to offer you something different.
The pools that are built in hotels have changed greatly in the last couple of decades. For some luxury accommodations, they are the center of all attention. Some are big, some are small, but they are equally stunning. Now it is time to take a look at some of the best of them.
So pay attention to this list of hotels with the most fabulous swimming pools! It might come in handy when planning your summer vacation. Among them, you are sure to find one that fits your idea of the perfect holiday spot.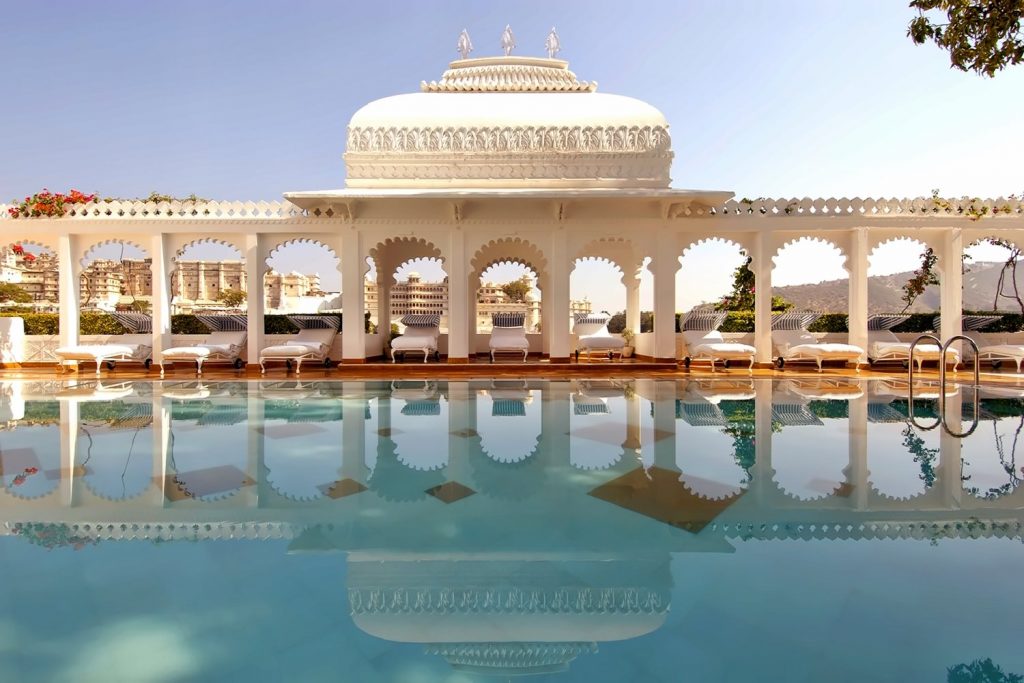 Taj Lake Palace
Imagine an ancient castle standing on an island in the middle of a lake, like something from an Eastern fairy tale. This is Taj Lake Palace.
Snow-white marble walls, delicate carvings, stained glass windows, and even a pond with lilies in the courtyard – it's truly magical. The palace was built 250 years ago and served as the summer residence of the Maharajas of the Mewar dynasty.
The hotel pool was once the private bath of one of the princesses. Now, you can experience what it's like to be one too! Guests can take a traditional ceremonial boat trip on the lake and enjoy folklore performances.
Visitors can also stroll through the ancient city of Udaipur with its colorful narrow streets, mysterious temples, and majestic palaces. All this together will help you to fully enjoy the exotic nature of India.
Prices at the hotel start from 815 euros per night
Become our member and get complimentary lunch or dinner, a full daily breakfast, and other fantastic benefits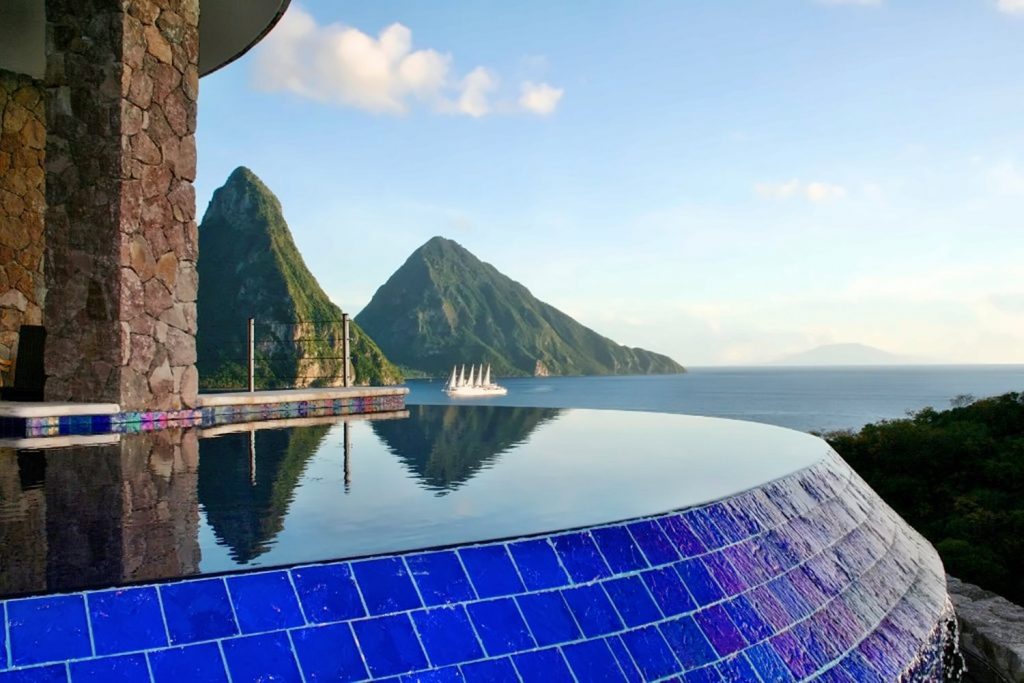 Jade Mountain
In the warm waters of the Caribbean and the Atlantic Ocean lies the small island nation of Saint Lucia. Thanks to its year-round tropical climate, the island has become a tourist paradise.
Jade Mountain is designed to make dreams come true. Each room at this stunning resort has its own private infinity pool.
Here at Jade Mountain, you can escape the realities of modern life and immerse yourself in the beauty of tropical nature. In this hotel, you will surely get a lot of unforgettable impressions.
Guests are invited to discover a stunning hotel that harmoniously combines bold architectural forms with comfort, hospitality, and discreet staff.
The prices start from 2301 euros per night
As a PrivateUpgrades member, get a $100 hotel credit, upgrade on arrival, and other perks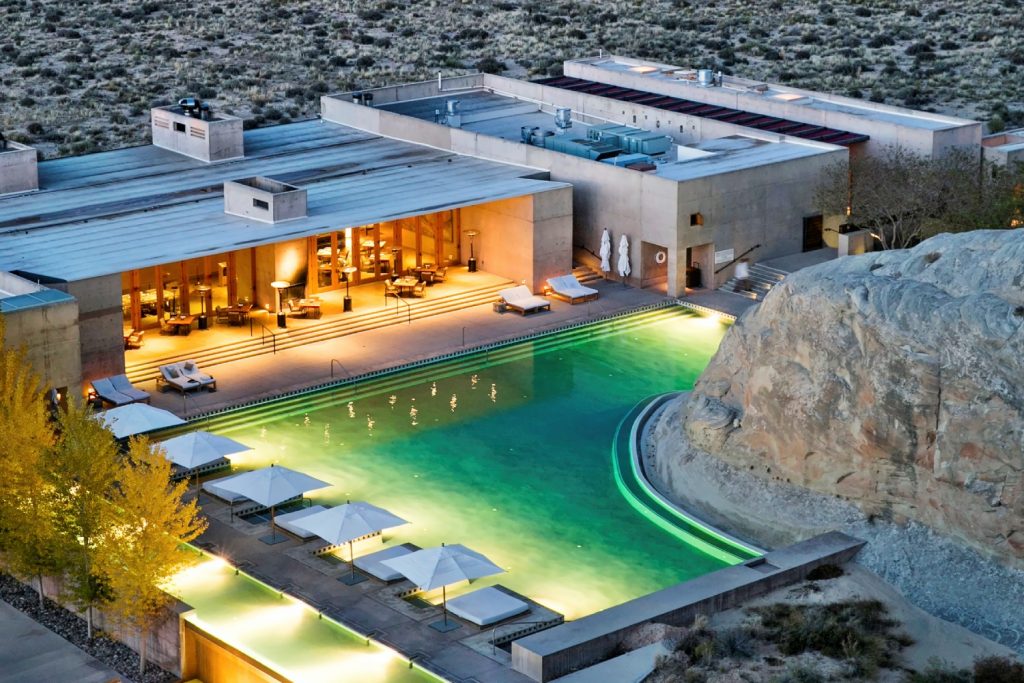 Amangiri
Located in southern Utah, the luxurious Amangiri Resort feels like an oasis lost in the desert. It's where you will find some of the most beautiful pools in the world. Built using natural materials and textures, the hotel blends seamlessly into the desert scenery of the Grand Staircase-Escalante National Monument.
The project's architectural details were designed considering the surrounding mountainous landscape. The villas, with their golden sand and yellow tones, appear as an extension of the desert scenery.
The interior, like everything else around, is simple and does not shine in bright colors. The floors in the hotel are stone, the walls are concrete, and the furniture is made of natural wood.
Moreover, Amangiri Resort has several types of rooms, and almost every room has its own outdoor pool and terrace. But the desert or the cliffs can be seen from every room of this hotel.
The prices for a stay start at 4744 euros per night
By becoming our member, you get access to a $100 hotel credit, daily continental breakfast, and other benefits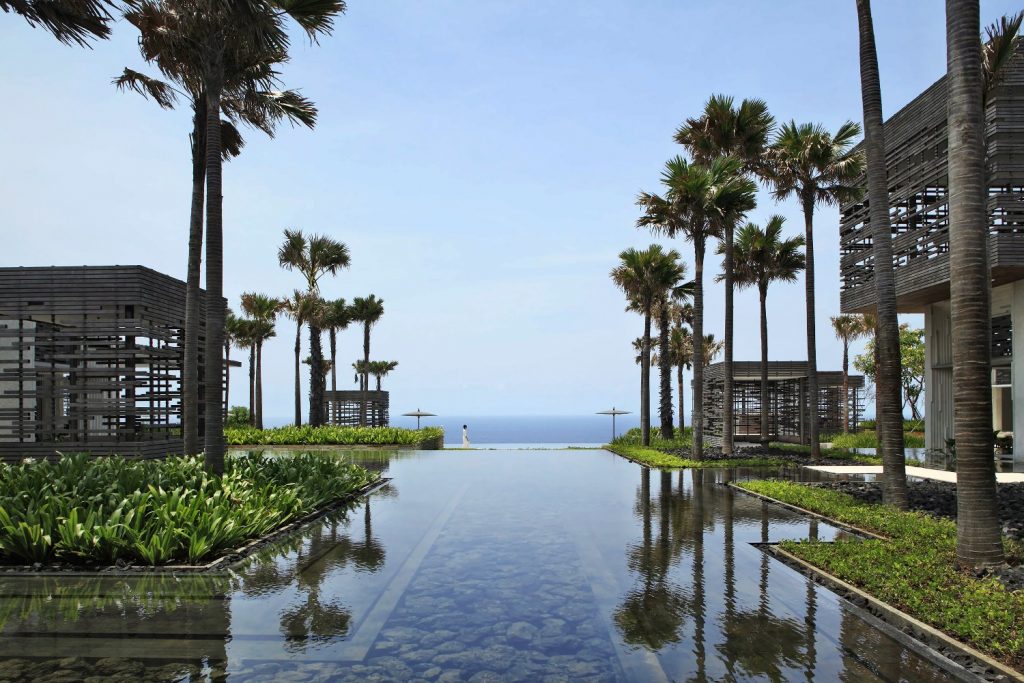 Alila Villas Uluwatu
The view from Alila Villas Uluwatu is truly spectacular, thanks to its location on an elevated plateau on a limestone cliff that stretches out to the ocean.
Discover complete relaxation in unrivaled luxury with a private butler service to meet all your needs. Rejuvenate at the Alila Spa or visit the restaurants to pamper your body and soul.
The complex, which includes this magnificent pool, is built on a limestone cliff 100 meters above sea level. There is no doubt that everything in this hotel looks just as spectacular.
The hotel consists of 84 villas with private pools and views of the Indian Ocean. It features a modern interior with traditional Balinese elements. The interior includes elements such as wood, stone, water, and rattan. The existing flat roofs and bamboo ceilings allow a light sea breeze to circulate through the rooms.
Rooms and suites start at 1132 euros
Join our travel club and get a $100 hotel credit, VIP fast track in the airport, resort sustainability tour, and other cool advantages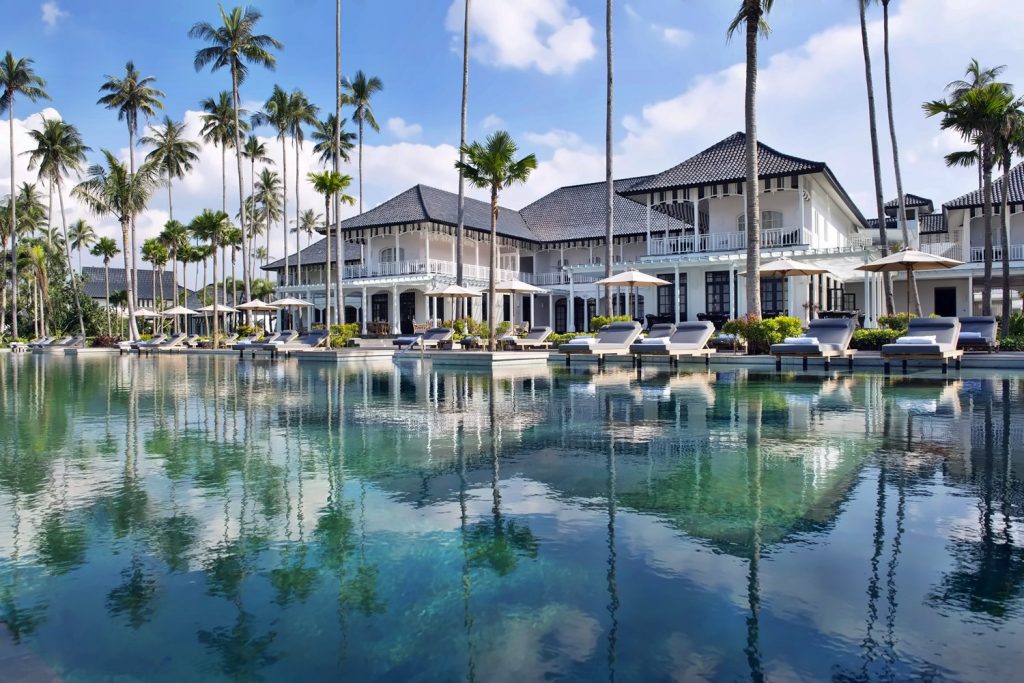 The Sanchaya
One of the best hotel pools can be found in Sanchaya. The stylish design hotel is located on Bintan Island, on the pristine sandy beach of Lagoy Bay. It offers 21 tastefully decorated villas and 30 comfortably furnished rooms.
Guests can relax in the Balinese-inspired spa, which offers four treatment rooms and outdoor cabanas in their lush gardens.
You also get access to a private beach and a picturesque outdoor pool. Visitors can keep active by exploring the extensive surroundings on foot or by bicycle.
If you are more into water activities, enjoy the Olympic-sized infinity pool provided by this charming farmhouse.
The prices for a room start at 610 euros
Our members have many advantages – daily a la carte breakfast, complimentary transfer, $100 hotel credit, and more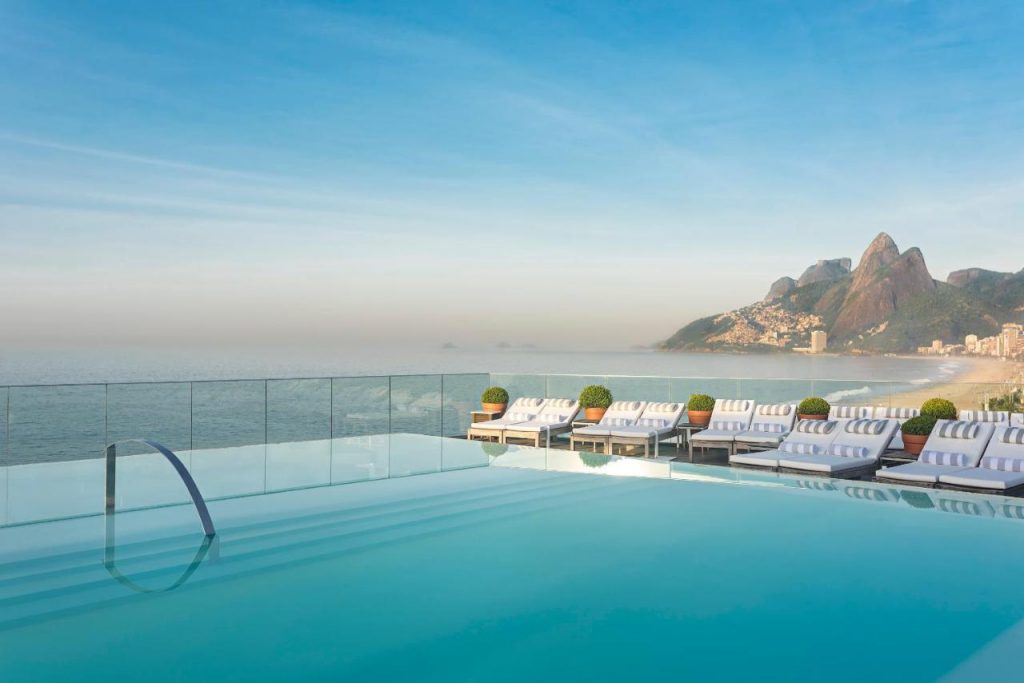 Fasano Rio de Janeiro
When searching for spectacular hotels with swimming pools in Brazil, we suggest the luxurious Fasano Rio de Janeiro. It has a rooftop pool with stunning ocean views. The double hill in the distance literally forms this terraced swimming pool. This, in particular, creates the feeling of being "above the world".
The hotel also has a wellness and spa area, as well as a sauna. Guests have access to a massage room and solarium.
Rooms at this 5-star hotel feature elegant decor, and each has a balcony and minibar. The spacious rooms are fitted with high-quality wood and leather furniture. They are decorated with parquet floors.
The elegant on-site Gero Rio restaurant serves modern Italian cuisine. However, if you prefer to dine out, there are several other restaurants within a 5-minute walk of the hotel. They serve both local and international dishes.
Prices start at 414 euros
Join PrivateUpgrades' travel club and enjoy upgrades on arrival, daily breakfast, complimentary massage, etc.
Swimming is not just about soaking in the water. It is healthy, fun, exciting, and the best way to relax any time of the year.
In this extravagant world, some hotels do not limit themselves to creating clean and tidy swimming pools. They focus on providing a great experience unlike any other. The hotels on this list are luxurious, so their pools also exceed expectations and provide lasting memories for their guests.
If you wish to book a luxurious vacation, we'd love to help you! Whether you head to Brazil or Bali, you will have an adventure unlike any other. Reach out to our team here.