Cannes, the sparkling gem of the French Riviera, conjures up images of bustling beach clubs, A-list celebrities walking the red carpet at the renowned Cannes Film Festival, and the luxurious lifestyle that comes with it.
This stunning destination is nestled between the charming Saint Tropez and the dazzling Nice. Every year, it draws thousands of tourists from all corners of the globe with its dazzling glamour, high-end boutiques, mouth-watering gastronomy, and breathtaking beaches. It's no wonder that Cannes is a bucket-list destination for many!
If you'd like to experience the beauty of Cannes, we've listed our favorite hotels.
The best time to visit Cannes
May is when the town gears up for the Cannes Film Festival, which attracts A-listers from around the world. The festivities go on until mid-June. However, if you're not interested in the glitz and glamour of the festival, you might want to avoid Cannes during this time.
But fret not! The French Riviera has plenty to offer throughout the year. Moreover, with almost 300 days of sunshine, it's always a great time to visit. For those who prefer a quieter atmosphere, the best times to visit are late April to early May and September to October.
During these periods, there are fewer crowds, perfect weather, and ample time to explore all the sights without the rush.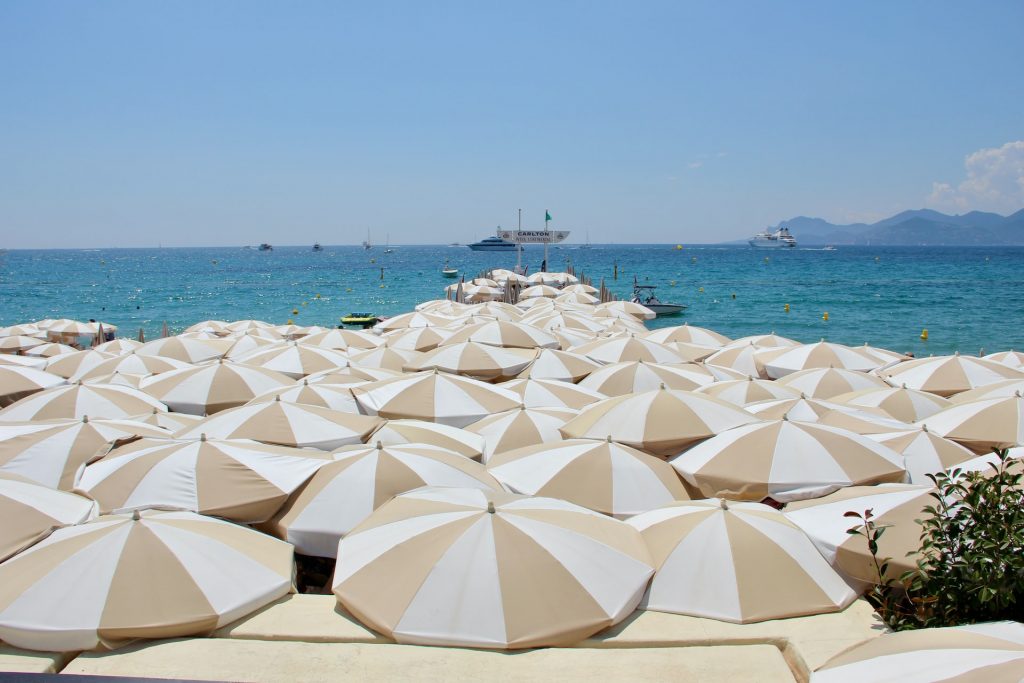 How many days should you spend in Cannes?
​​While many visitors swoop in and out of this stunning town in just one day, it's highly recommended that you spend a luxurious two days here to fully indulge in everything Cannes offers.
Furthermore, by giving yourself ample time to explore at your own leisurely pace, you'll be able to soak up the sun, stroll the picturesque streets, and relish all the splendid sights and sounds that Cannes has in store for you.
How to get to Cannes
To get to this alluring destination from another country, the easiest route is to fly into the Nice Côte d'Azur Airport. It's just a breezy 20 miles away from the heart of Cannes.
But if you happen to be already within the scenic borders of France, there are other options. For example, the SNCF train network offers direct access to Cannes, with the TGV train conveniently departing from Paris and reaching Cannes in just about 5 hours.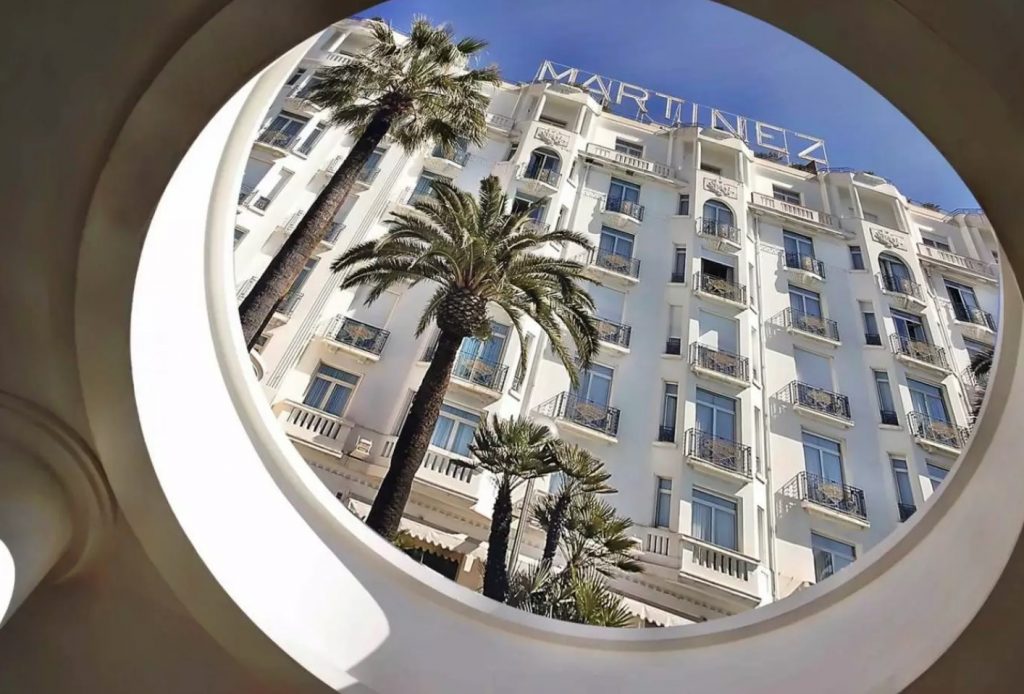 Hôtel Martinez by Hyatt
Picture this: A stunning art deco masterpiece that has stood tall since the roaring twenties.  This is none other than Hôtel Martinez by Hyatt – the crown jewel of the French Riviera. It's no secret that this opulent abode is the crème de la crème for the world's A-listers. They flock here to its lavish halls during the famed film festival.
But it's not just its prime location that draws in the elite. With breathtaking views of the Bay of Cannes and one of the largest penthouses in all of Europe, it's no wonder that stars like Rihanna, Bruce Willis, and Robert Pattinson have made this their home away from home.
In 2018, the hotel underwent a remarkable transformation. Thanks to a series of renovations, a new life was breathed into the establishment. Pierre-Yves Rochon, a Parisian architect, was instrumental in the hotel's modern-day facelift while honoring its distinguished history.
PrivateUpgrades members enjoy exclusive benefits, like:
Upgrade at the time of booking, subject to availability
Full daily breakfast for two guests per room
100 USD food & beverage credit
Early check-in/late check-out
Hôtel Barrière Le Majestic
Indulge in a touch of glamour and luxury at the Hôtel Barrière Le Majestic! It's a favorite amongst film stars seeking a chic retreat on the exclusive Croisette. This elegant establishment boasts its own private beach and an elite Clefs d'Or concierge – always ready to impart insider knowledge on the most coveted celebrity hotspots for dining.
If you're looking for a place to tantalize your taste buds, look no further than Fouquet's. The southern sibling of the renowned Parisian brasserie has been delighting diners for over a century. Furthermore, the culinary creations are masterminded by acclaimed chef Pierre Gagnaire. That makes it an ideal spot to indulge in some star-worthy dining.
And for those who seek the ultimate relaxation, the spa offers an array of lavish treatments by top-notch brands such as Biologique Recherche and Ligne St Barth. With such opulent amenities, it's not surprising that the Hôtel Barrière Le Majestic is fit for Hollywood royalty.
Our members enjoy:
Upgrade on arrival, subject to availability
Daily buffet breakfast for two guests per bedroom
100 USD food & beverage credit
Early check-in/late check out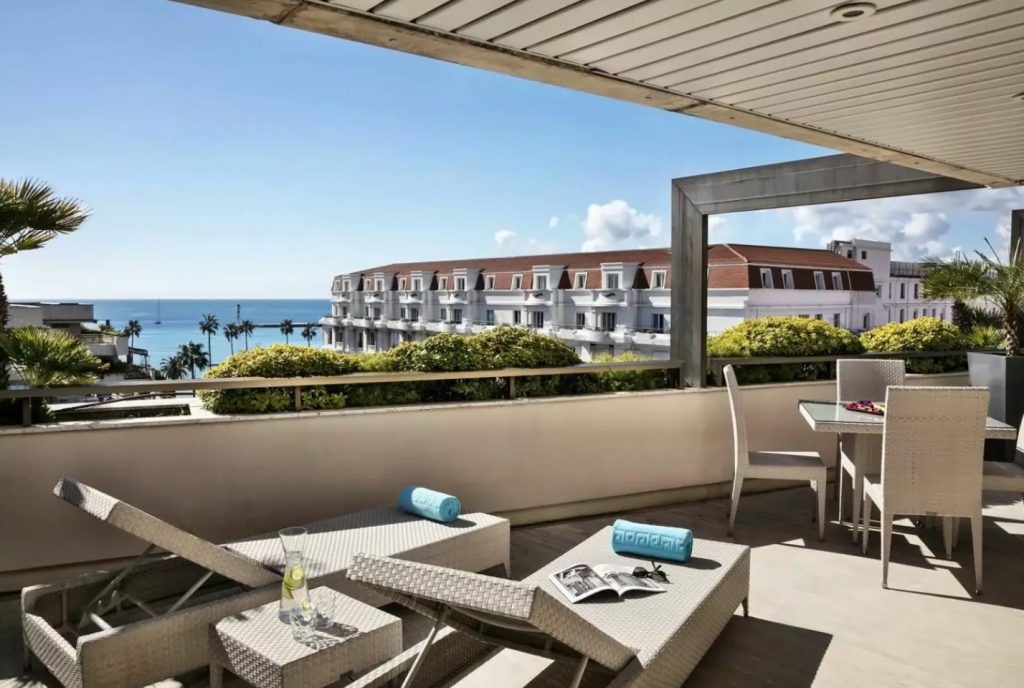 Hotel Barriere Le Gray D'Albion
Step into the world of glamour and indulgence at the Hotel Barriere Le Gray D'Albion, where privacy and celebration blend seamlessly in a bright and modern atmosphere. Here, refinement is delicately woven into every aspect of your stay. From the fine Starck furniture to the soft king-size bed, you will be transported to a world of entertainment and luxury.
But that's not it! Outside your door lies a whirlwind of pleasures. From waterskiing on the private beach to enjoying colorful cocktails on sultry summer nights. Explore the wonderment of La Croisette or try your luck at the casino, all just steps away from the serene haven of the hotel.
In the heart of Cannes, yet away from the noise and bustle of the city, Hotel Barriere Le Gray D'Albion offers a stimulating and relaxing stay. In fact, this elegant cocoon with refined and understated decor is a secret refuge for celebrities seeking to recharge their batteries in complete privacy.
Wish to experience the magic yourself? As a PrivateUpgrades member, it will be a pure pleasure! Our member benefits include:
Upgrade on arrival, subject to availability
Daily breakfast for two guests per bedroom
100 USD hotel credit
Early check-in/late check-out
End notes
Ready to discover the luxury of Cannes? Reach out to our team to plan the perfect getaway.