The Sahara desert, mouthwatering food, bustling souks, and grand design – it is hard to name just a few reasons why Marrakech has become such a loved holiday destination for many.
There is something mysterious about the Red City – the smell of fresh citruses, mint tea, and pastries will enchant you as soon as you arrive at the magical destination. There is no doubt Marrakech is worth a visit. With our help, find your dream North African city break.
Fairmont Royal Palm
To get the best views on Atlas mountains and enjoy Moroccan nature to its fullest, book a stay at the luxurious country estate in Tameslouht – Fairmont Royal Palm. The elegant resort is set just 20 minutes away from the center of Marrakech yet feels like a hidden oasis.
Whether you decide to stay at the suites or hotel's villas, you will have a ton of space. Furthermore, suites seem more like small villas since they feature living rooms, a number of bathrooms, and private gardens.
What sets the resort apart from other accommodations in Marrakech is its incredible 18-hole golf course – the perfect place to exercise after eating all that delicious Moroccan food.
The course was designed by the famous American architect Cabell Robinson. Like everything else in the hotel, you may expect high quality and great design.
Mandarin Marrakech
No matter the occasion, the Mandarin Oriental Marrakech is the perfect holiday destination. The 5-star hotel offers an authentic Moroccan atmosphere. Whether you decide to stay at the panoramic suite, breathtaking villa, or an eight-bedroom penthouse, you can expect exceptional service.
Treat yourself at one of the onsite restaurants that offer an insight into the delicious Moroccan cuisine.
Perhaps the most impressive part of Mandarin Oriental is its spa center – the perfect place to wind down after a long day. With its unique design (a sun-bathed ornamental pool), his and her steam rooms, and incredibly high ceilings, you will feel like an exotic dream.
Nestled just a few minutes from the heart of Marrakech, right next to the Museum of African Contemporary Art, Mandarin Oriental will be a pleasant surprise whether it's your first or hundredth time visiting the splendid city.
In the hotel, the luxury gets a whole new meaning. So, expect silver-leaved olive trees, grand villas, beautiful pools, and stunning views of the Atlas Mountains.
Royal Mansour
Marrakech has its fair share of legendary hotels that have gathered a-list celebrities and royalties. However, Royal Monsour might just be the city's most famous accommodation. The history behind it is fascinating.
According to archives, Royal Mansour was commissioned by Mohammed VI. He wanted a hotel that would be "a medina within a medina".
Encapsulating the essence of Morocco, the accommodation includes 53 exclusive riad-style villas, each decorated with elegant tilework, silk carpets, wooden furniture, and, of course, marble bathrooms. There is no doubt that staying at the impressive hotel will be a treat for the eyes.
But the picturesque interior isn't the only great thing about the hotel. The smallest room in Royal Mansour has three floors. Let that soak in.
What is more, guests may enjoy stunning roof terraces that include heated plunge pools. In fact, water is a focus in the hotel. All around the property, you may spot a number of waterfalls, fountains, and ponds. The surrounding labyrinthine gardens are incredible, too – soak in the beautiful smell of citruses and exotic flowers and admire the beauty of flora and fauna.
Gourmands will surely enjoy the three mouthwatering on-site restaurants. One of them, Le Jardin, even has a Michelin star. If you decide to book an airport pick-up, you will be able to have a ride in the resort's Bentley.
Above all – there are plenty of other luxurious activities that don't include eating. So, hop on a helicopter flight across the Atlas mountains, have a hot air balloon ride, or head on the Sahara Desert excursion – staying at Rolay Mansour will feel like an unbelievable movie.
Oberoi Marrakech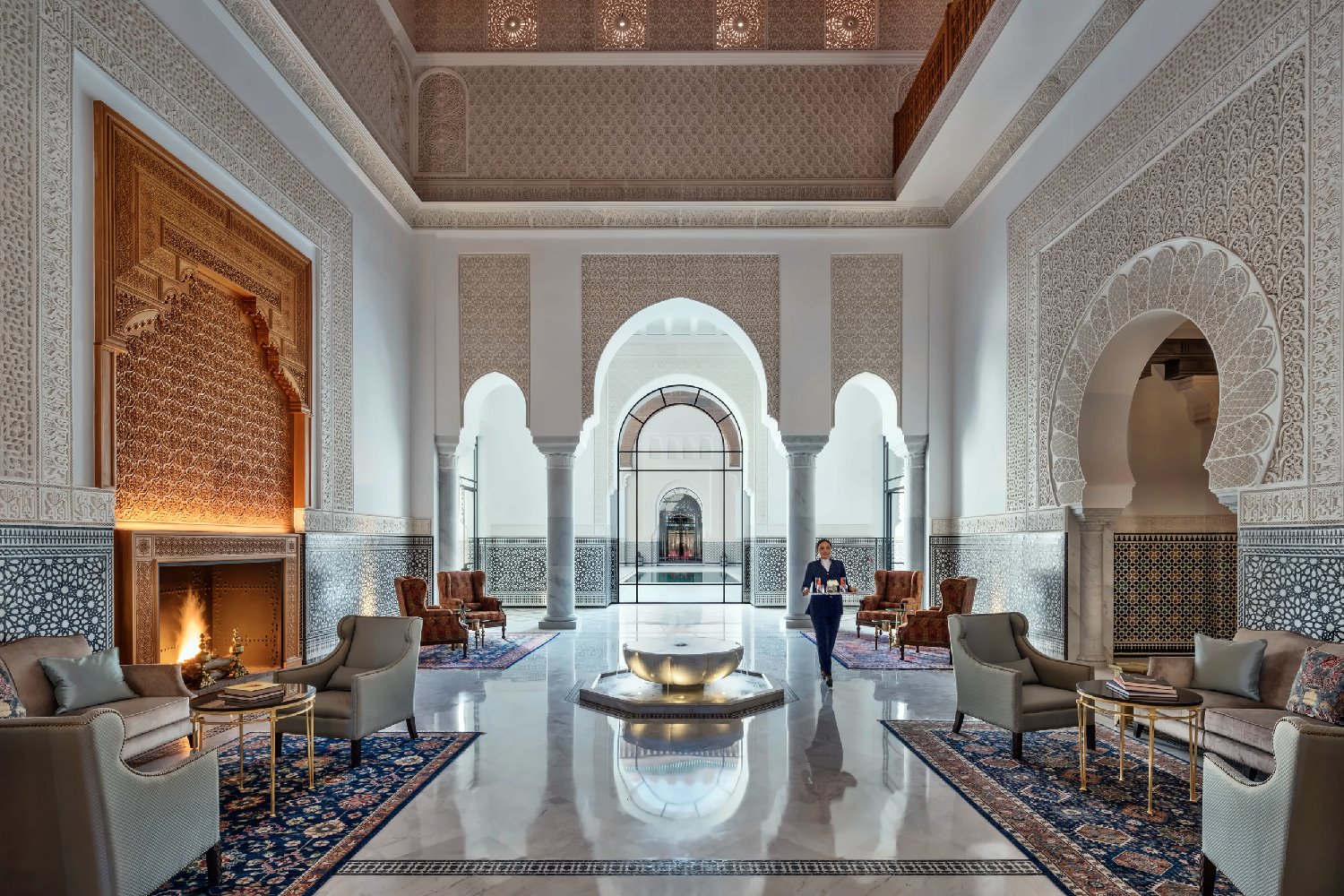 Finding excellent service is not always easy. But, Oberoi Hotels & Resorts are founded on the belief that the guest is everything. Therefore you are guaranteed to have the best experience.
The resort focuses on sophisticated luxury. Guests may have a look through its huge library, enjoy the incredible Ayurvedic spa and dine at one of the three on-site restaurants that set a new standard for great food.
In addition, Oberoi Marrakech is situated about six miles from the medina and features picturesque views of the High Atlas.
The highlight of the palace is its fantastic courtyard that has been decorated with green-and-blue tiles and impressive handcrafted stuccowork. The hotel is exactly what you would expect from a traditional Moroccan palace – grandiosity, and richness.
On the premises, there is plenty to do and see. Enjoy the year-round swimming in the heated pool, join yoga and meditation sessions, and let all your worries disappear at the unexpectedly contemporary spa.
So, whatever you decide to do, you are bound to have a great time at one of the 78 villas that include their own private pools.
La Mamounia
When looking for luxurious experiences, there is no better place to head than Marrakech. After all – the city is famed for its grand architecture and design. At La Mamounia, you get the finest example of Moroccan luxury.
Enjoy eight hectares of stunning gardens that were a gift to Prince Al Mamoun for his wedding and have a refreshing swim at the huge on-site pool. Admire the incredible tilework in green, blue, and orange colors.
Another showcase of the hotel's spectacularity is the fact that many stars have enjoyed their holidays there. Elton John, Winston Churchill, and Yves Saint-Laurent are just a few examples of a-listers who have spent their vacations in La Mamounia.
The iconic hotel is set just right in the center of Marrakech. Therefore it is the perfect choice for those who wish to explore the mesmerizing city.
Have an adventure in Marrakech
In conclusion, there is no place like Marrakech when it comes to great style, rich decorations, and luxurious getaways. It has been seen as a symbol of mystery and seduction for centuries. Thanks to its incredible world heritage, beautiful mountains, and desert, it has become a bucket-list destination for many.
If you wish to discover the magic of Marrakech, book a stay through PrivateUpgrades and experience what true luxury means.