Year after year, Italy is named one of the most popular travel destinations in the world. Whether you decide to explore the fashion capital Milan, learn about the captivating history of Rome, or admire the architecture in Florence, the country never fails to impress.
Summer and spring, in particular, is the right time to explore Italy's beautiful islands. There are many reasons why Capri should be on your radar – with its turquoise water, craggy cliffs, and exceptional restaurants, it is where you should head to experience Italian luxury and perhaps even spot some celebrities.
Take a look at our selection of the most glamorous hotels in Capri.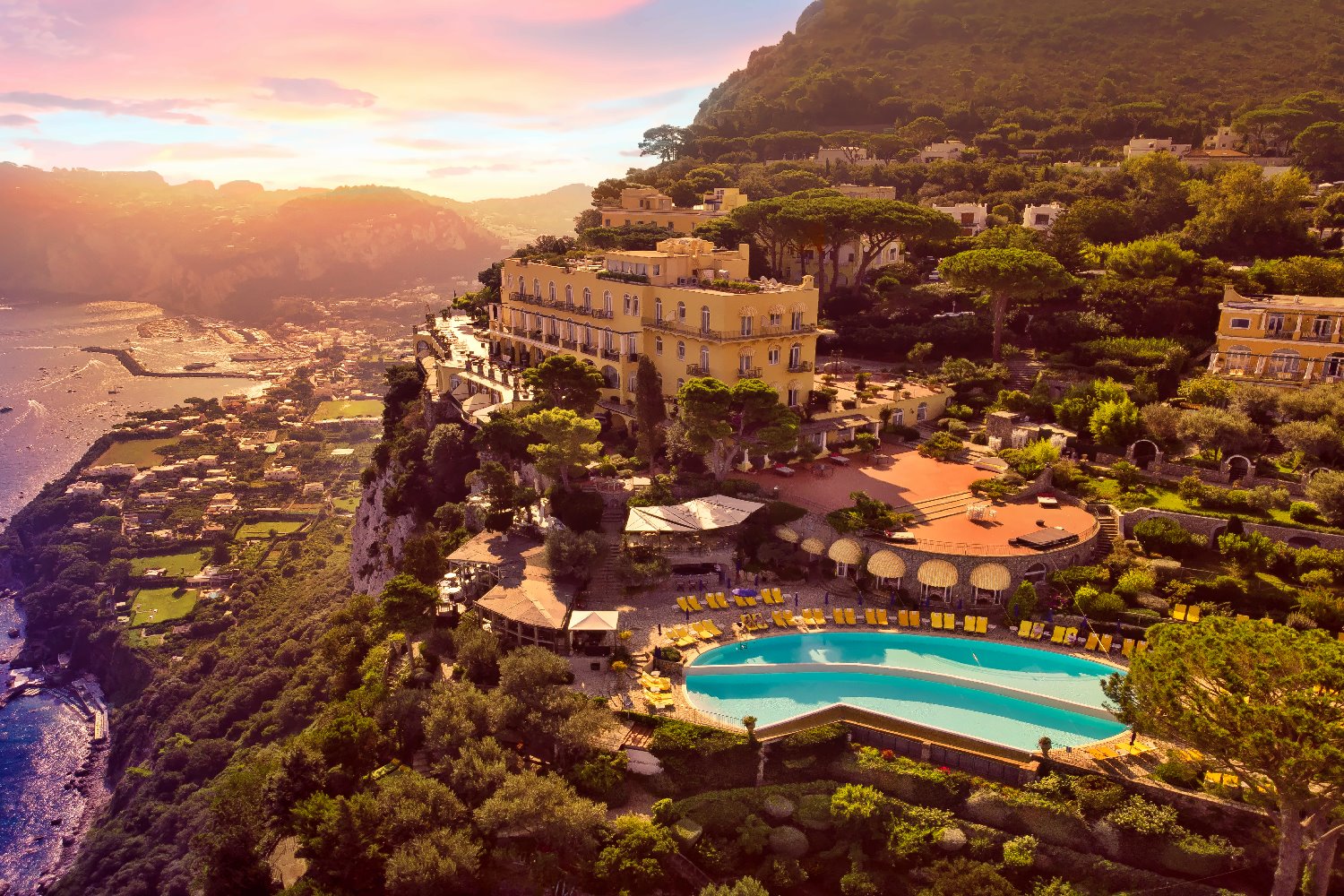 Hotel Caesar Augustus
Imagine staying in a house that was once owned by a prince! If you decide to vacation at Hotel Caesar Augustus, that can be a reality. The impressive villa that was built already in 1850 is perched on the cliffs and set 300 meters above sea level.
What once used to be the home of Russian Prince Emmanuel Bulhak was purchased by the Signorini family in 1940, which remain the hotel's owners even today. Thanks to its location, visitors can enjoy truly spectacular views of the Bay of Naples.
With its convenient location, charming interior, and excellent facilities, Hotel Caesar Augustus is one of the best accommodations in Capri. The five-star will be a great pick for admirers of classic elegance. All around the premises, you will find pieces of antique furniture, stunning ceramics, and beautiful artwork.
The hotel is the perfect destination for a couple's getaway since it offers such a romantic and tranquil atmosphere. The great thing about Hotel Caesar Augustus is that you don't really have to leave the property – you will find everything you need on-site.
The accommodation has several outstanding restaurants, which offer delicious Italian meals prepared from locally grown ingredients. For a memorable experience, head to La Terazza di Lucullo and taste the cuisine of award-winning chef Eduardo Vuolo.
When you book your stay through PrivateUpgrades, you can benefit from many advantages like an early check-in/late check-out, upgrade upon arrival, and 100 USD equivalent food & beverage credit.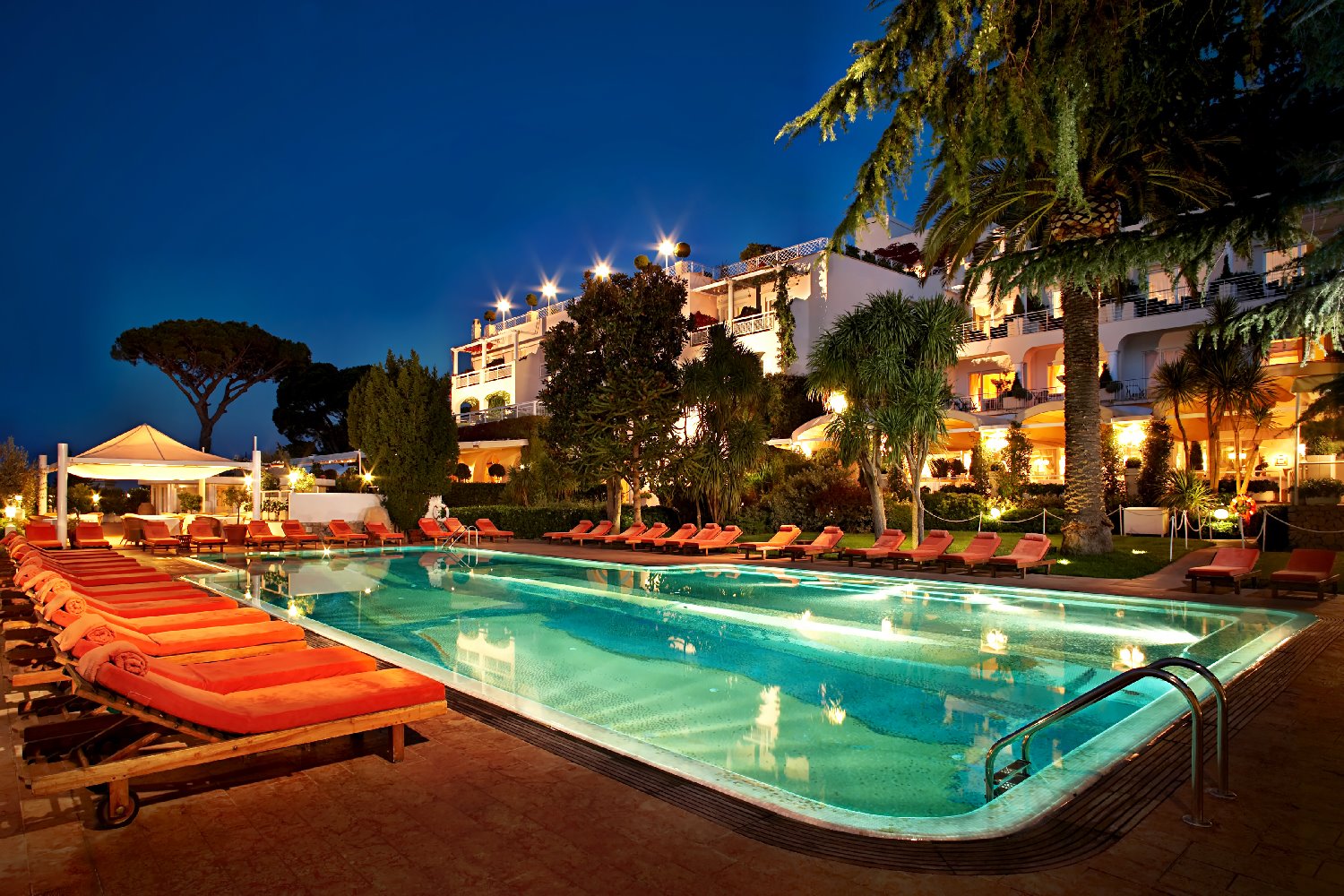 Capri Palace Jumeirah
There is nothing better than a relaxing spa getaway. So to forget everyday worries, book a stay at the exceptional Jumeirah Capri Palace Hotel & Spa. Nestled in the picturesque village of Anacapri, the accommodation includes awe-inspiring views of the Gulf of Naples as well as the islands of Ischia and Vulcano.
The hotel is particularly famous for its welcoming services and stunning rooms and suites. Wine enthusiasts will appreciate the vast wine cellar, which will take your taste buds on a fascinating journey.
Equipped with 68 spacious guest rooms, the palace is the perfect combination of elegance and current design. Black marble, soft linens, exquisite furnishings, and handcrafted ceramic tiles from the Amalfi Coast all add to the fantastic atmosphere.
A highlight of Capri Palace Jumeirah is its hand-painted pools and well-groomed gardens, which seem straight from a storybook.
What sets the hotel apart from other accommodations in Capri is its award-winning medical spa. Operated by professionally trained nurses, physicians, and beauticians, guests may undergo a range of health therapies.
So whether you wish to do a detox, achieve weight loss goals, or manage your stress, the spa's friendly team will help you in your journey. Mud remedies, thalassotherapy, reinvigorating massages – after visiting the hotel, you will feel like a reborn person.
Capri Palace Jumeirah will also be a pleasant discovery for gourmets since it is home to the two Michelin-starred L'Olivo restaurant, which serves Mediterranean cuisine, and the one-Michelin-starred restaurant Il Riccio.
To experience everything Capri Palace Jumeirah has to offer, book your stay through PrivateUpgrades. Those staying in suites may enjoy complimentary sparkling wine and canapes upon arrival, a sunset aperitif for two, as well as soft drinks from the in-room minibar.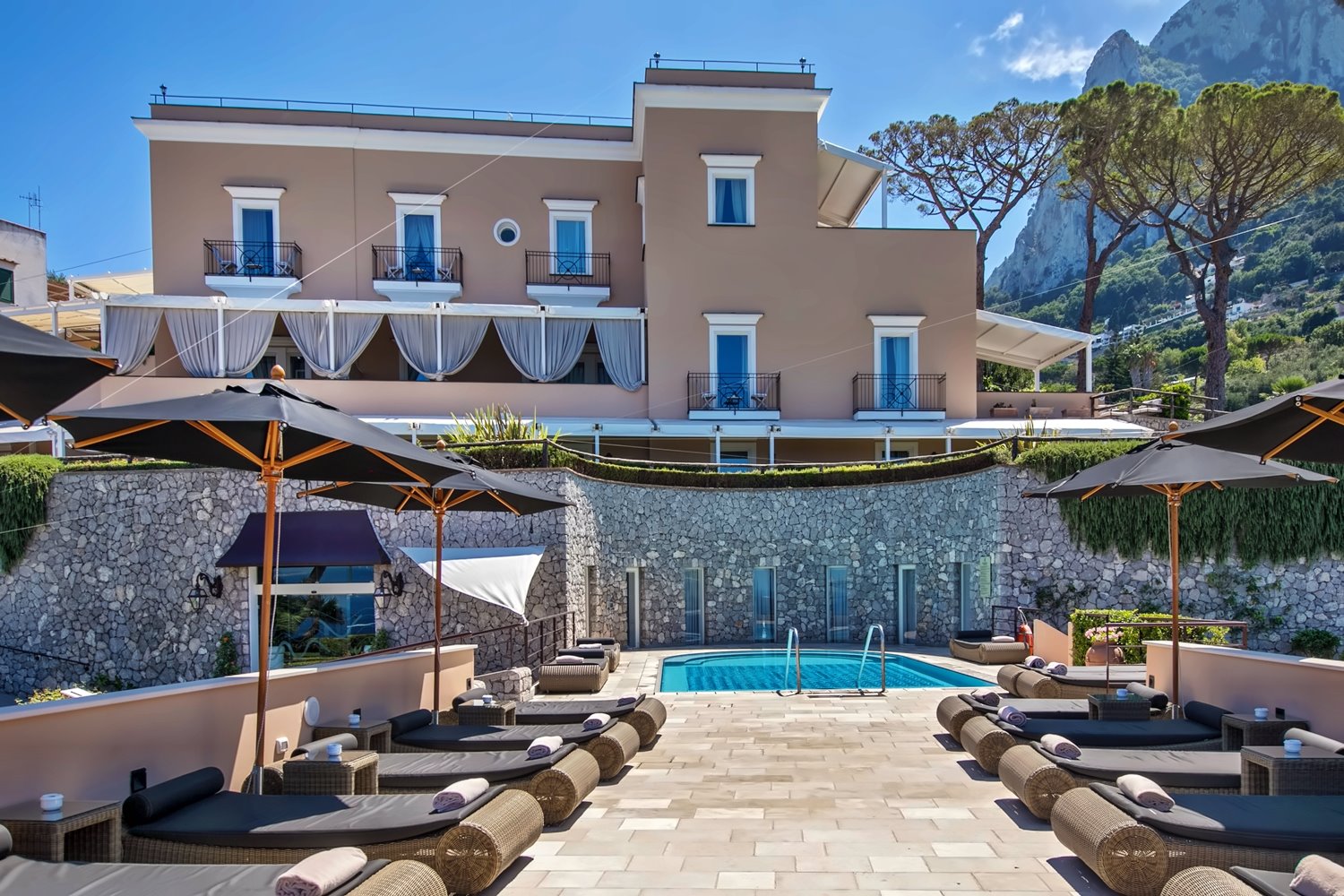 Villa Marina Capri Hotel & Spa
Capri really is one of Italy's most enchanting destinations. By staying at Villa Marina Capri Hotel and Spa, you can experience the island's glamour and luxury at its best. Some accommodations may seem cold and impersonal. Villa Marina Capri Hotel and Spa, however, will feel more like a home than a hotel.
Featuring breathtaking views of the Bay of Naples and Amalfi Coast, the accommodation is set within walking distance from the island's largest beach. Guests of the hotel may choose between 22 guestrooms, including 11 suites, all of which offer plenty of space and beauty.
A unique aspect of the accommodation is that each of the rooms is themed and named after cultural icons, who have had an impact on Capri, for example, Chilean poet Pablo Neruda, Futurist movement founder Filippo Tommaso Marinetti, and many others.
Whether you prefer fine dining or wish to enjoy a casual cocktail, within the premises, you will find many options to satisfy your hunger. Ziqù Restaurant & Terrace offers fresh Mediterranean recipes with an international flair. Il Roseto is the perfect place to enjoy a romantic dinner in a secluded rose garden.
Don't forget to stop by Aria Bar – a fabulous lounge bar that sets the mood for unforgettable moments. Finally, head to Pool Bar to get your hands on delicious cocktails to sip while soaking in the sun.
If you wish to enjoy exclusive benefits, join our members-only travel club. When vacationing at Villa Marina Capri Hotel & Spa, you will get a daily breakfast, $100 hotel credit, complimentary Wi-Fi, and other advantages.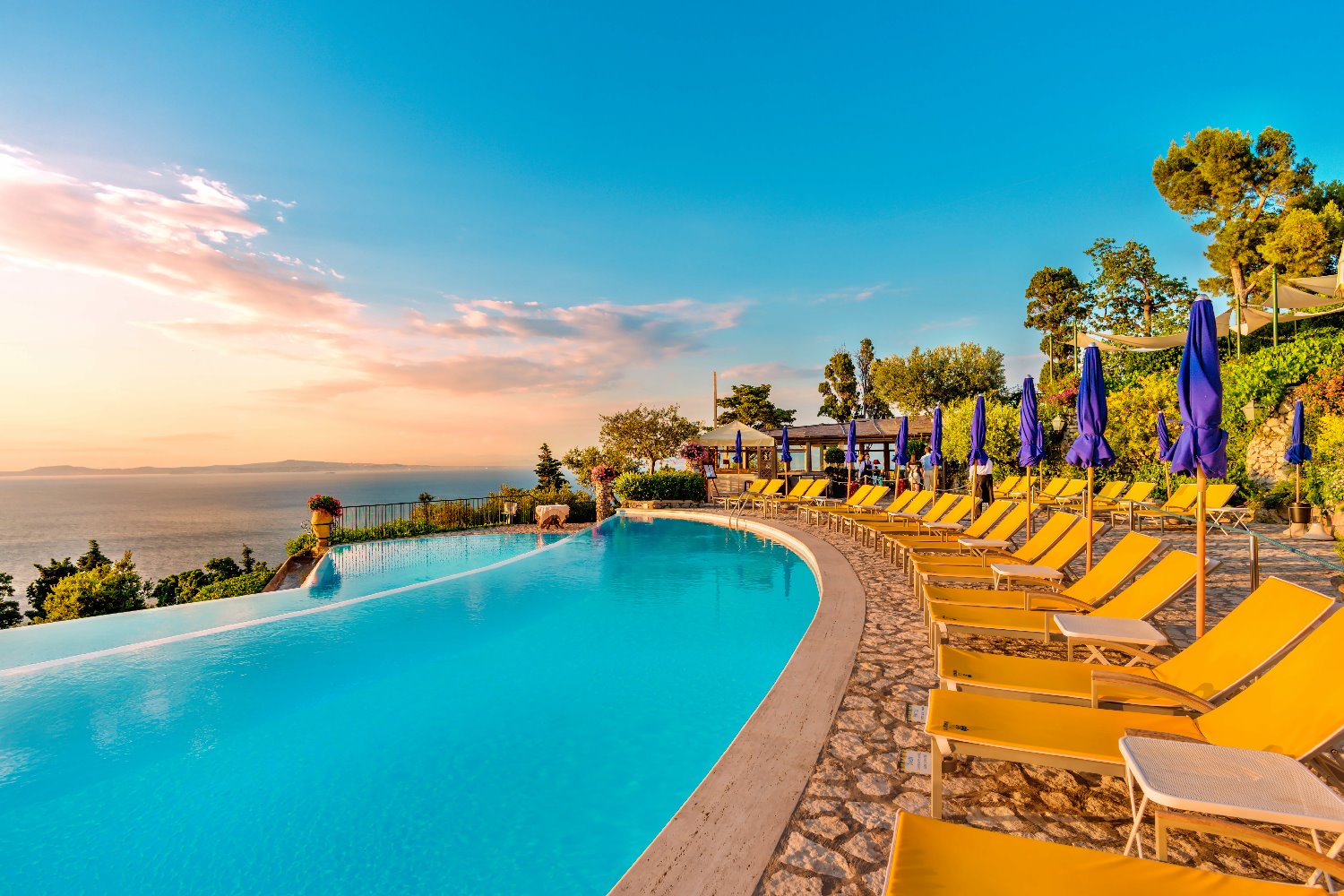 A paradise for beach lovers and foodies
Capri has long been a favorite travel destination for many a-listers. Whether you decide to cruise on the open water or simply enjoy one of its spectacular restaurants, you will feel like Italian royalty. Here are other amazing hotels in Capri you should check out:
There is something magical about the Italian way of life. When you take friendly and welcoming people and add jaw-dropping natural beauty and spectacular cuisine, you get the perfect travel destination!
If you wish to discover Capri and everything it has to offer, contact one of our team members who will happily assist in planning your dreamy vacation.