There are a couple of cities in the world that surprise you regardless of whether it is your first or 22nd time visiting it. With its spectacular architecture and lovely Mediterranean atmosphere, Barcelona is one of the best European destinations.
Head there to admire modernist masterpieces like the Sagrada Familia, learn more about contemporary art, enjoy the lively music scene and mouthwatering tapas.
Read on to find the best hotel stays in Barcelona.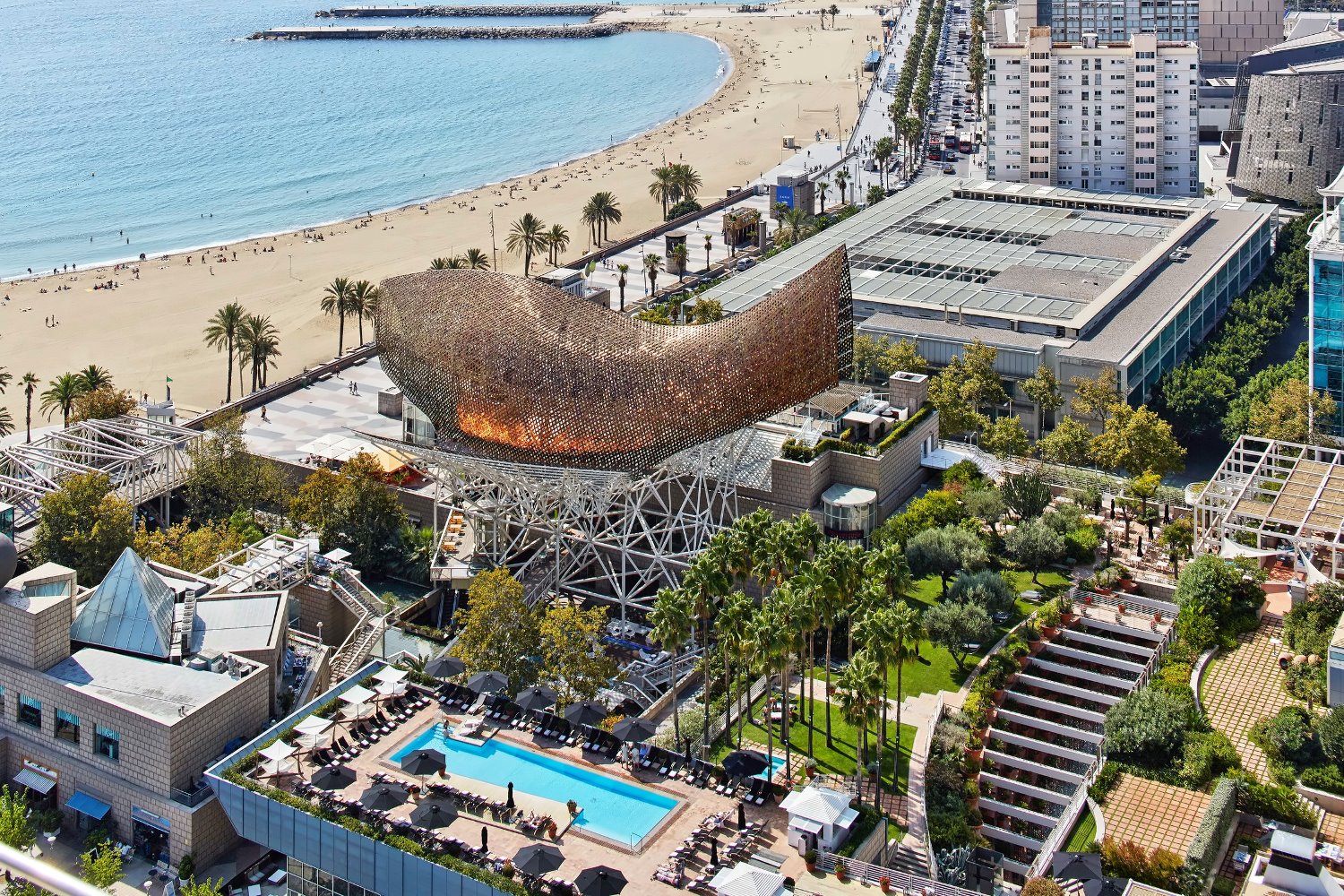 The Hotel Arts
As far as luxurious stays in Barcelona go, the Hotel Arts is the classic choice that won't disappoint. Offering minimalist luxury, the incredible accommodation is set on the beach. Wake up to the sound of waves and have your morning coffee overlooking the majestic ocean. Sounds excellent, doesn't it?
While the design of the hotel is contemporary, bright, and sleek, the service is as old-school as it gets (meaning – it is exceptional). As you walk into the lobby, you will see stunning floral displays. Thanks to the surrounding gardens, you will feel close to nature wherever you might go.
Guests of the hotel may choose between rooms that offer sea or city views, but – if you don't mind a splurge – opt for one that has both.
The Hotel Arts is set away from the main attractions of the city. However, there are plenty of beachside restaurants and fun things to do nearby. On-site, you will find a 2-Michelin-starred restaurant – Enoteca Paco Perez – which is led by chef Paco Perez.
There, you have the opportunity to taste Mediterranean dishes, which are made of natural flavors and organic food. Don't miss out on the chance to try delicious cocktails, which were imagined by the award-winning mixologist Diego Baud, at the P41 bar.
Another highlight of the hotel is its spa and gym facilities. The incredible wellness oasis features separate areas for men and women. Enjoy steam baths, ultra-lux treatments, and relaxing massages!
Wish to stay at the Hotel Arts? As a PrivateUpgrades member, you can get a discount of up to 30%. Just remember to book your stay until the end of April!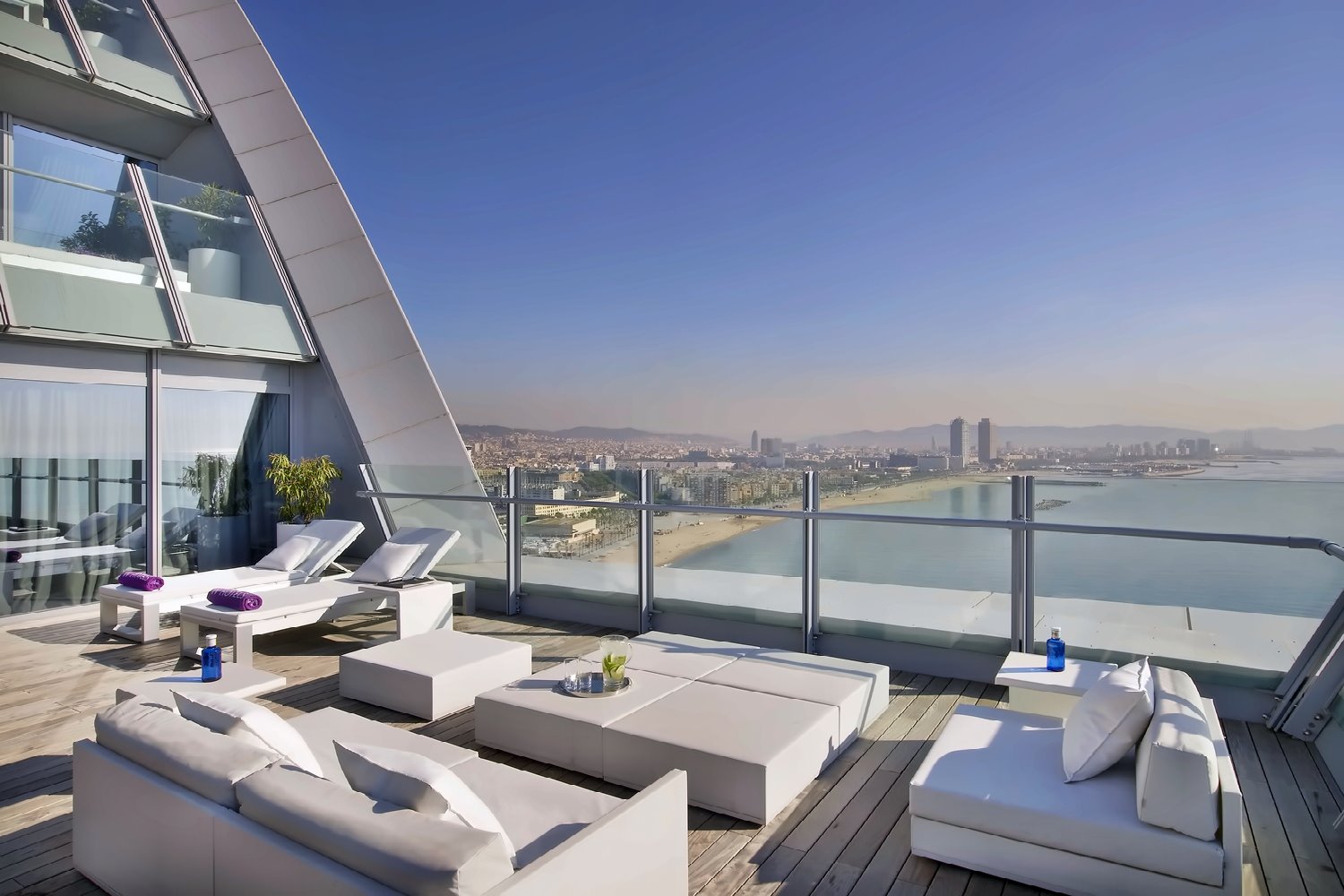 W Hotel Barcelona
For admirers of great design, the name of the W Hotel is well known. Regardless of which travel destination you pick, you will surely have an excellent time when staying at the famous hotel chain. W Hotel Barcelona is no exception.
Designed by world-renowned architect Ricardo Bofill, it really is the perfect stay. Each of the 473 guestrooms and suites offers spectacular views over the Mediterranean and Barcelona. Since the hotel is set on the Barceloneta boardwalk, you will be close to all of the action.
Stop by the SALT Restaurant to enjoy mouthwatering burgers and colorful cocktails, or head to the 26th-floor ECLIPSE rooftop bar – either way, your taste buds will be satisfied.
If you have ever been to Dubai, you might recognize that the hotel and the overall aesthetic are in some ways similar to Burj al-Arab hotel. Within the premises, guests may also enjoy a rooftop swimming pool and private cabins, which include breathtaking views.
What makes the accommodation so great is its sensual and playful vibe. When you are staying at W Hotel Barcelona, you don't have to worry about anything, because the staff does everything to make your stay effortless and pleasant.
If you decide to experience the magic for yourself, book your stay through PrivateUpgrades and get up to a 30% discount. Become our member and enjoy other benefits as well!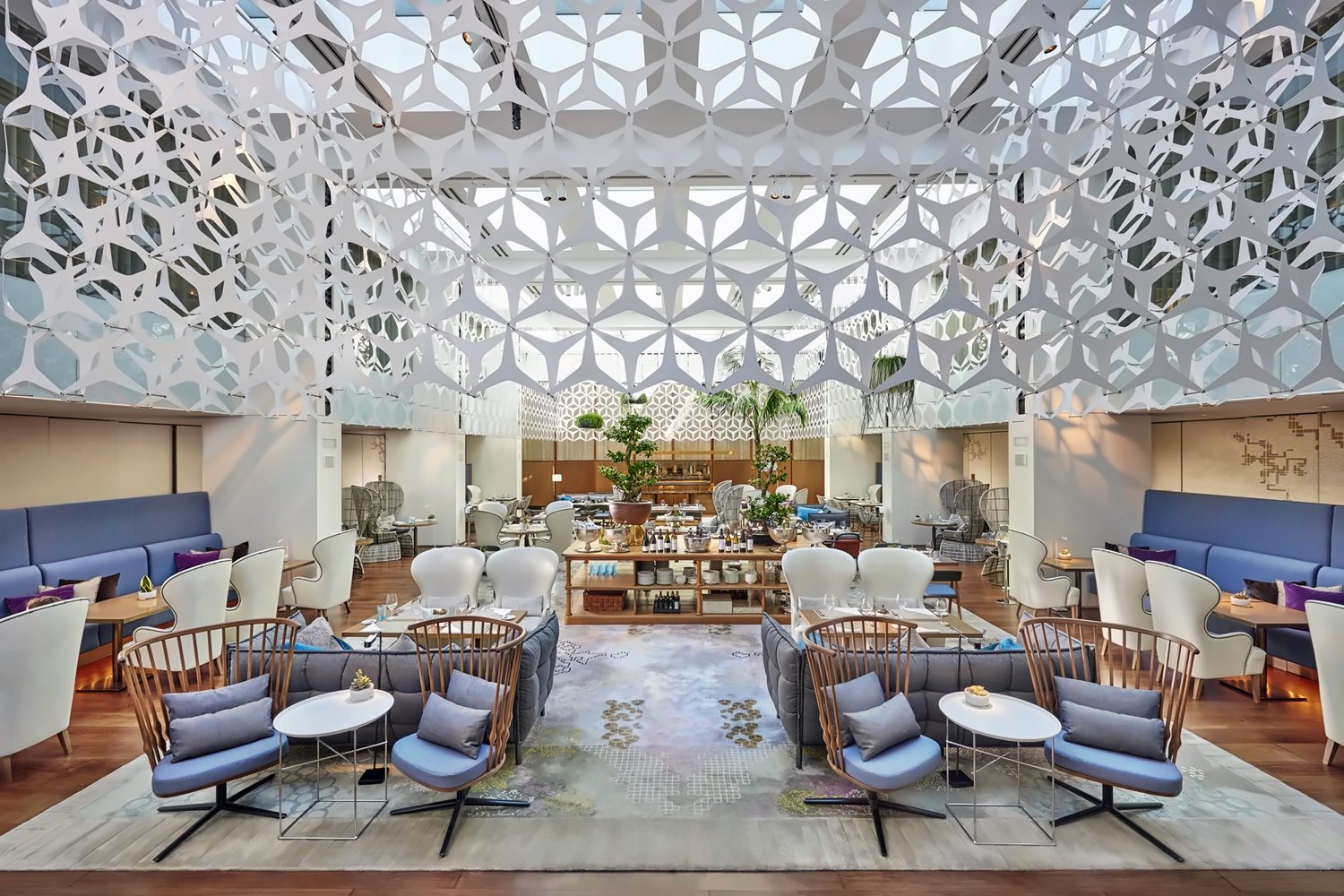 Mandarin Oriental Barcelona
Wish to have a different experience? For those who prefer to be right in the city, the Mandarin Oriental Barcelona will be a perfect choice. Set on the Passeig de Gracia, the beautiful avenue in the Quadrat d'Or, the hotel is close to some of the best restaurants and incredible clubs.
The area is also well known for its many high-end shops. So if you wish to satisfy your inner shopaholic, this is the best place to be! Architecture buffs, on the other hand, will enjoy the modernist buildings by Antoni Gaudi, Puig I Cadafalcch, and Domenech I Montaner.
As you can see – Barcelona – and the hotel – have something to offer for everyone.
If you have ever stayed at the global group's luxury accommodations, you already know that great service can be expected. The same goes for the hotel in Barcelona. Housekeeping, concierge, reception, dining, and spa staff will happily assist you in anything that you may need.
Dine at a double-Michelin-starred restaurant
As soon as you walk into the hotel, you will be impressed by the Urquiola decor, lavish fabrics, and stunning ceiling and floor designs.
Compared to other hotels in the area, Mandarin Oriental Barcelona is not as large. With only 120 rooms, it doesn't feel as crowded, and the atmosphere is much more intimate. All over the accommodation, you will spot an oriental theme. Lots of cream, beige, and white with a bit of pop of color here and there.
Foodies will be happy to know that the Mandarin Oriental hotel has several fine dining restaurants. The most famous one, of course, is the double-Michelin-starred Moments. Inspired by the culinary art of Carme Ruscalleda, the restaurant reinvents Catalan cuisine.
The best part about booking a stay at Mandarin Oriental Barcelona is that you get to enjoy our benefits! Plan your vacation with PrivateUpgrades and get the third night for free.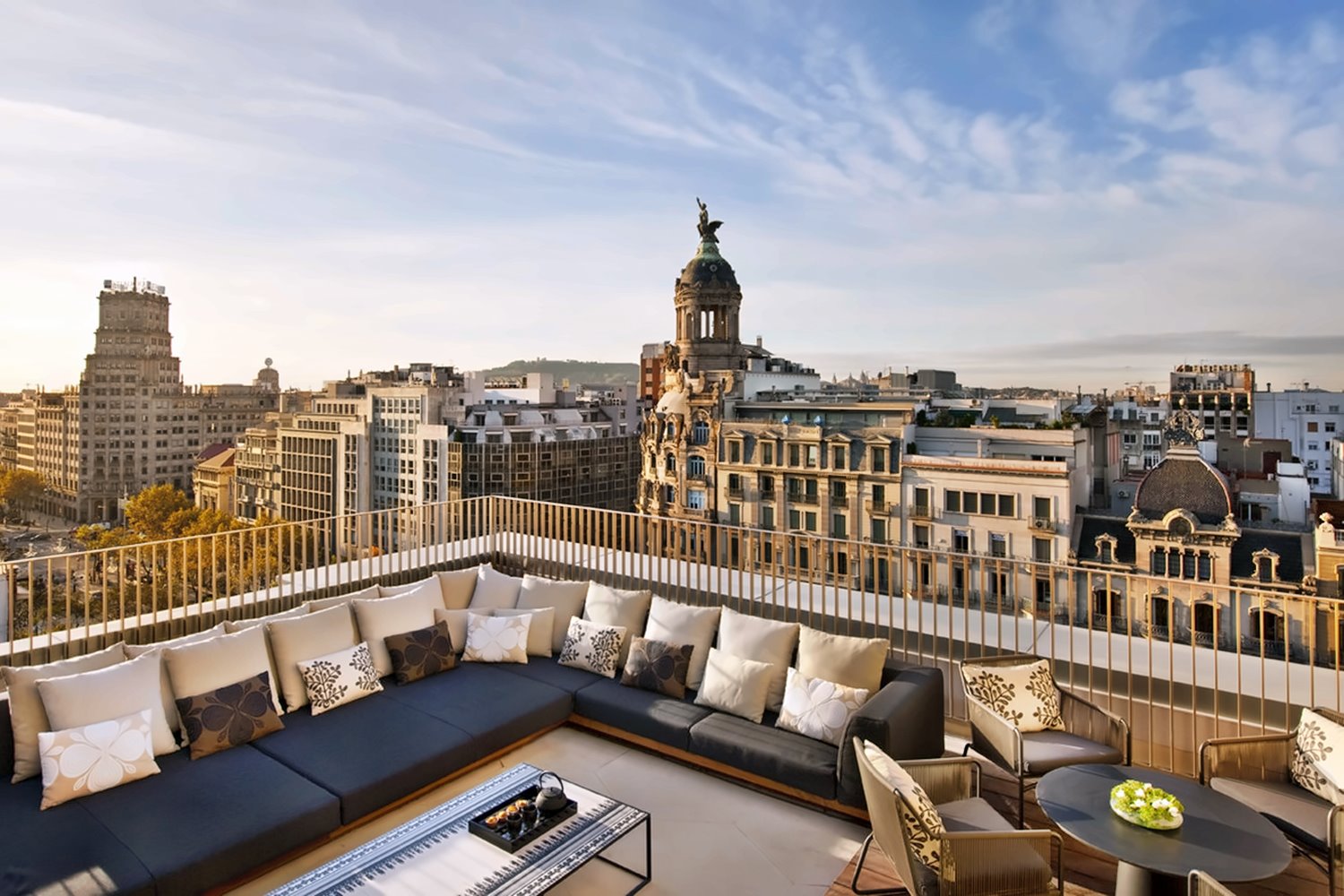 Other options to choose from
Still haven't found the perfect accommodation for your next vacation? Don't worry! Barcelona has many other five-star hotels that will be an excellent pick regardless of whether you are traveling solo, with your significant other, or with the whole family. Here are some other options that won't disappoint:
You will find the full list on our website. Make sure to join or exclusive members-only travel club to get access to numerous upgrades, amenities, discounts, and promotions, whichever accommodation you decide to pick.
Need some help planning your Barcelona getaway? No problem! Reach out to us, and one of our team members will happily assist in whatever you need.