What's more luxurious than vacationing on a private tropical island? If you have difficulty figuring it out, that's because the answer is – nothing. The world is big, and there's an island for every traveler's dream. You just have to know where to look.
Get inspiration for your next vacation in the article below. We've rounded up the most incredible private island resorts in the world. Remember to join our PrivateUpgrades exclusive travel club to enjoy VIP benefits and promotions!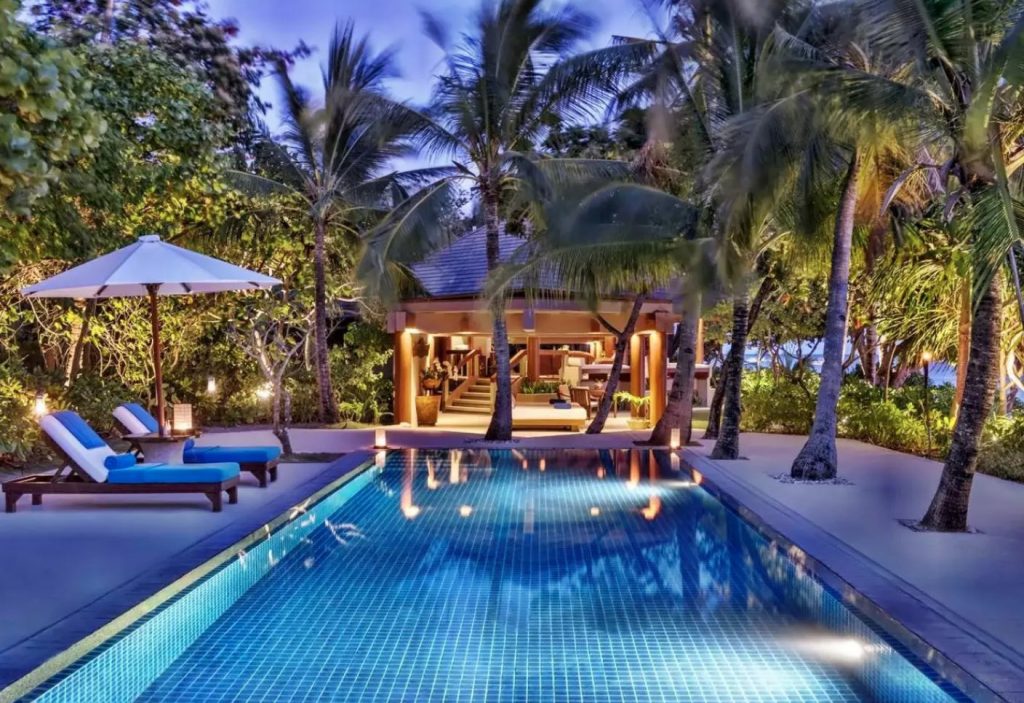 Amanpulo, Philippines
Welcome to the stunning Pamalican Island, a tropical paradise just an hour away from Manila that feels like a whole different world. The island is accessible only by private plane, adding to the sense of exclusivity and adventure.
Amanpulo, managed by the renowned Aman group, is the only resort on this beautiful Philippine island. Since December 1993, it has been offering guests an unforgettable experience of luxury and relaxation.
Picture yourself in one of the 40 delightful casitas and villas, surrounded by lush greenery and opening up to 5.5 km (3.5 miles) of coral sand beaches that form a ring around a jungle-filled center.
At Amanpulo, there's something for everyone. You can enjoy the inviting poolside clubhouse, indulge in the Aman spa treatments, or dive into exciting underwater explorations with the dive center. For those seeking a more laidback experience, the beach club is perfect for relaxation and taking in picturesque surroundings. Snorkeling right on your private beachfront can be both rejuvenating and energizing, making it an ideal way to unwind.
If you're feeling active, the resort also offers tennis courts, invigorating island hikes, and opportunities to spot adorable turtles. And let's not forget about the vibrant and diverse reefs just a short distance offshore, waiting to be explored.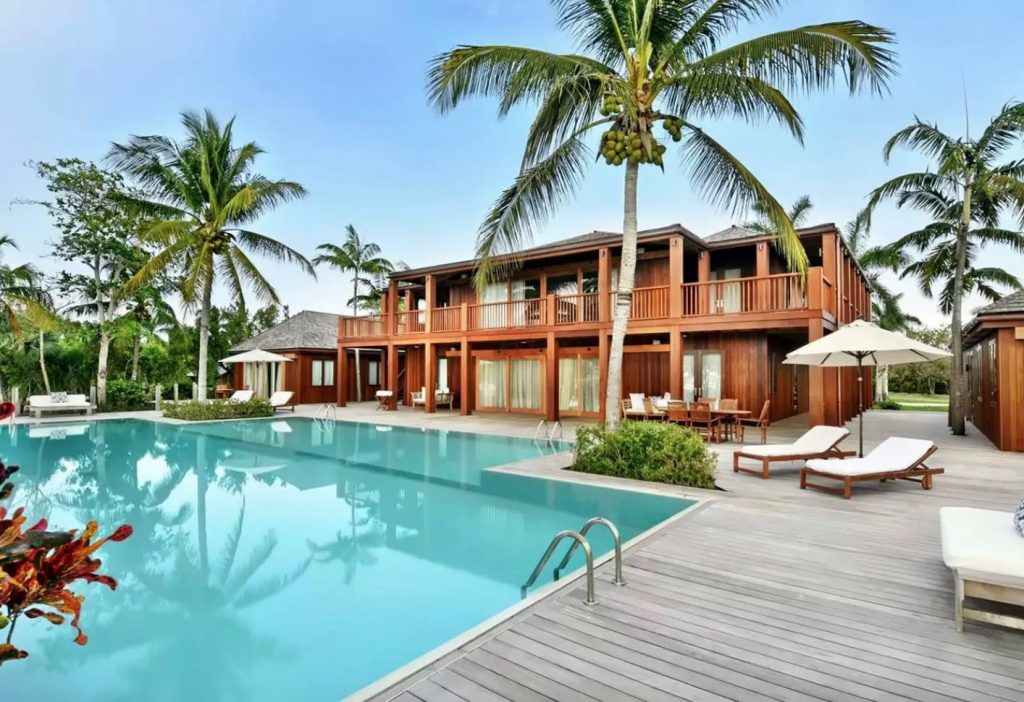 Como Parrot Cay, Turks and Caicos
When you're craving a peaceful island getaway, COMO Parrot Cay is the perfect destination. This hidden gem is on one of the 40 Turks and Caicos Islands. It forms a part of the beautiful British Colony just south of the Bahamas.
At COMO Parrot Cay, you'll find a serene 1,000-acre retreat blessed with abundant marine life, lush vegetation, and, most importantly, tranquility. The resort, built in 1998, offers a variety of accommodations, including cozy guest rooms and charming beachside villas.
Nestled on a hilltop is the Como Shambala Retreat, aptly named after the Sanskrit words for "center of peace and harmony." Two restaurants serve delicious meals, and the resort boasts stunning white-sand beaches and breathtaking natural landscapes.
This magical place not only attracts those seeking a quiet and reflective vacation but also caters to wellness enthusiasts. The resort's spa specializes in Eastern-inspired therapies and hosts invigorating yoga camps throughout the year.
You might even rub shoulders with some of Hollywood's finest, like Brad Pitt, Demi Moore, Charlize Theron, and Zac Efron, who love the luxurious and uniquely designed "paparazzi-proof villas." These exclusive villas are cleverly hidden by lush tropical foliage, offering celebrity guests a sense of privacy and seclusion.
When you step foot on the dock, you'll be pleasantly transported to a wonderful place! The waiting room is like a little oasis filled with refreshing drinks and the delightful scent of Parrot Cay's signature essential oils.
You'll have access to complimentary classes six days a week at the resort's wellness area, COMO Shambhala Retreat. Whether you're a newbie or a seasoned fitness enthusiast, you'll find the classes perfectly tailored to suit your needs.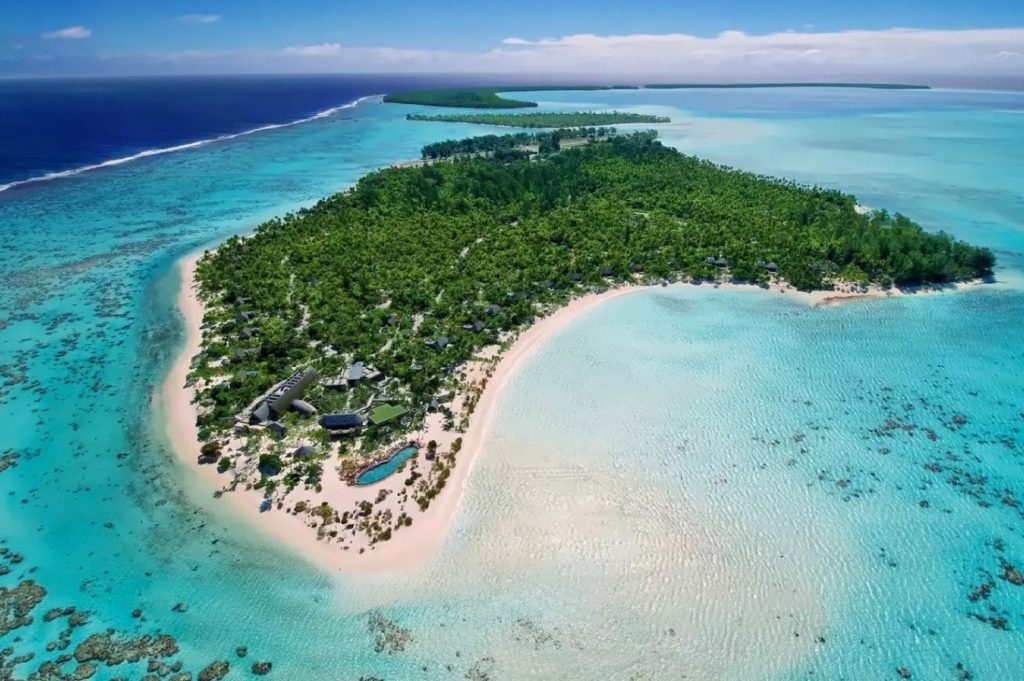 The Brando, French Polynesia
The breathtaking paradise of Tetiaroa is a stunning tropical atoll located just a short 20-minute flight away from Tahiti in French Polynesia. You might not expect it, but this pristine island is now home to a wonderful eco-friendly luxury resort known as The Brando.
Surrounded by lush miki miki, pandanus, and coconut trees, The Brando's 35 villas offer a perfect blend of seclusion, comfort, and sustainable indulgence. Each villa comes with its own private pool and a beautiful expanse of white-sand beach, providing an idyllic escape.
Interestingly, this enchanting island caught the attention of the legendary Marlon Brando, who fell in love with its rugged natural beauty and purchased it back in 1960. Over the past fifteen years, his estate has worked diligently to transform the island into a self-sustaining private getaway, ensuring that its beauty remains protected for generations to come.
The Brando has become a haven for celebrities seeking privacy, honeymooners looking for a romantic retreat, and anyone in search of a remote tropical paradise. So, if you're yearning for an unforgettable eco-luxe experience, this is the place to be!
One of the most awesome things to do at the resort is the Green Tour! It's a fantastic opportunity to go behind the scenes and explore the island's eco-friendly facilities. During the tour, you'll learn all about their impressive Platinum LEED-certified property and how they generate electricity, use seawater for air-conditioning, desalinate water, and even grow their own produce!
Here, you won't have to worry about crowds because the resort ensures a peaceful and secluded experience. You might bump into other vacationers only occasionally at the restaurants or during some exciting excursions.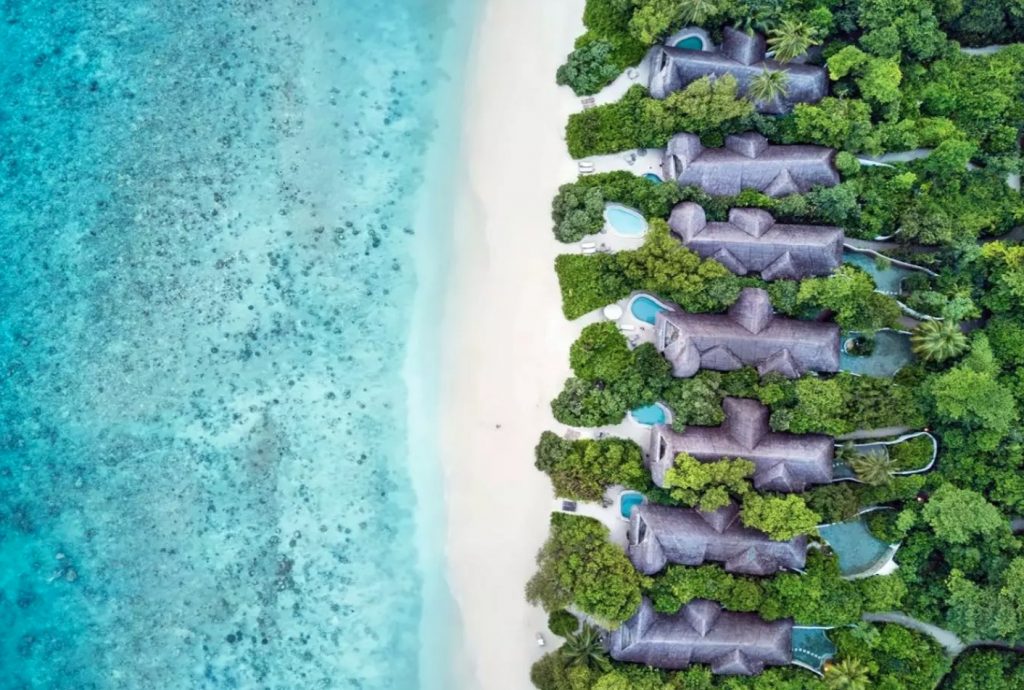 Soneva Fushi, Maldives
Ever wished to experience a 'Robinson Crusoe' style adventure? Soneva Fushi is the place to do it! This fantastic resort is located on the privately-owned tropical island of Kunfunadhoo. It's nestled within the beautiful Baa Atoll, a UNESCO World Biosphere Reserve.
Imagine an island that stretches 1,400 meters long and 400 meters wide. It is, in fact, one of the largest in the Maldives! Its crystal clear waters, pristine white beaches, and warm tropical climate make it a paradise like no other. But what truly sets it apart is the lush and vibrant vegetation that provides a unique and unforgettable natural experience.
As you explore this magical place, you'll discover hidden luxury villas and private residences scattered amidst dense tropical foliage. These multi-bedroom accommodations look like something out of a fairytale, some even resembling charming tree houses. Each one opens up to its private stretch of sugar-white sands, and many have their own private seawater swimming pools – perfect for a refreshing dip whenever you desire.
And that's not all! In the summer of 2020, Soneva Fushi unveiled eight extraordinary water retreats, considered the world's largest and most luxurious overwater villas. Staying here will be an experience you'll treasure forever.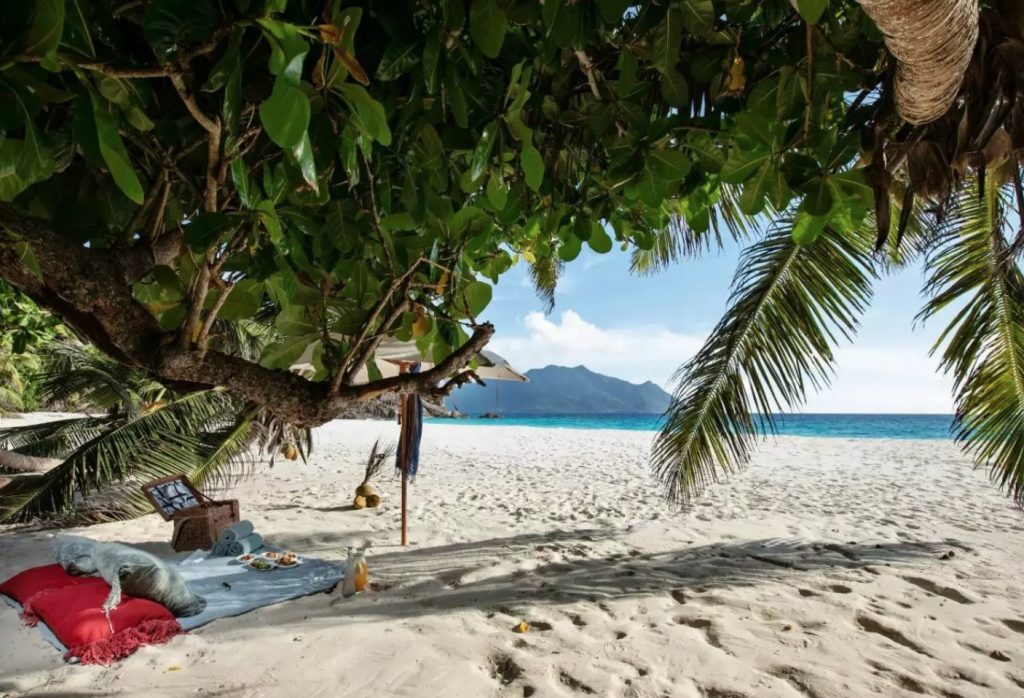 North Island, Seychelles
North Island is an exceptional private island resort and one of the best hotels you'll ever visit.
Imagine a stunning, picturesque island with just 11 luxurious, hand-crafted villas. Each villa is strategically designed to overlook the pristine, powder-white sands and the mesmerizing turquoise waters of the Ile Du Nord eco-reserve. And the best part? You'll have your own private garden and direct access to the beach. How amazing is that?
The villas are thoughtfully raised off the ground to capture the refreshing Indian Ocean breezes, making sure you feel comfortable and relaxed throughout your stay. Plus, they come with plunge pools and outdoor showers. These little extras truly make you feel like you're in your own private paradise.
But that's not all! The resort has so much to offer. Picture this – there's a lounge and dining area, a scenic health spa and gym, a cozy library, a dive center, and a stunning rim-flow swimming pool, all beautifully integrated into a natural granitic outcrop. It's like living in harmony with nature while enjoying luxurious amenities.
Oh, and here's a fun fact: North Island was even the chosen destination for the honeymoon of Prince William and the Princess of Wales in 2011 – so you know it's truly fit for royalty!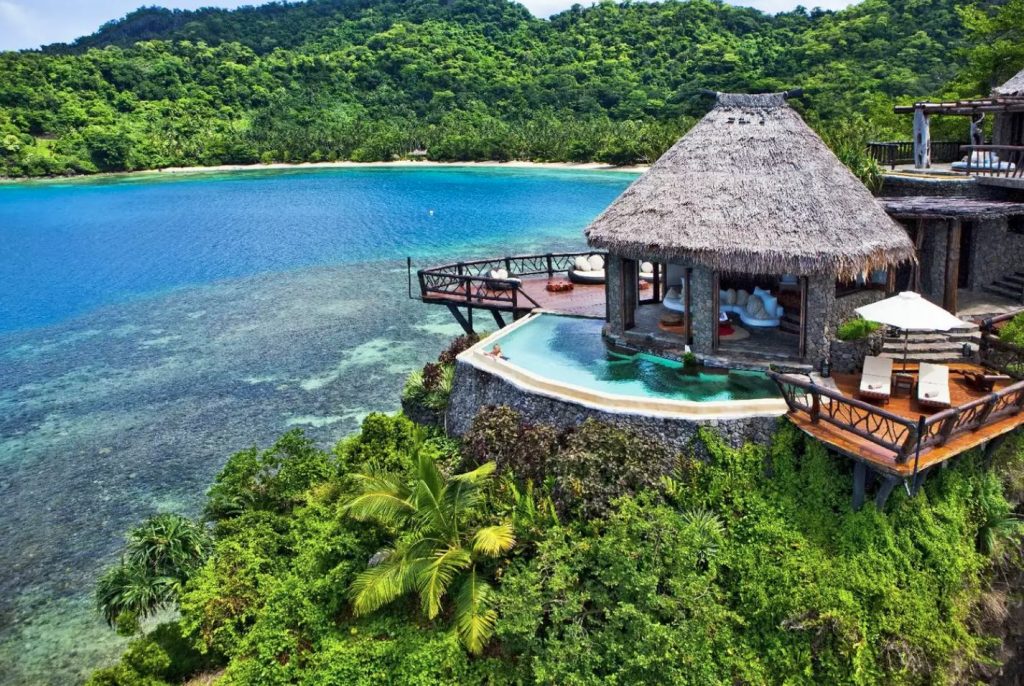 Como Laucala Island, Fiji
This beautiful resort spans across 3,500 acres of exclusive land, encompassing coconut plantations, stunning sandy beaches, lush green mountains, and breathtaking natural beauty.
When you enter this paradise, you'll find yourself surrounded by authentic Fijian-styled villas, providing true luxury and utmost privacy. These 25 villas are thoughtfully scattered across the island's northern tip, allowing you to experience the perfect blend of indoor and outdoor living. All together creates a relaxed and luxurious atmosphere.
At COMO Laucala, you'll be spoilt for choice with an array of activities that cater to every interest. There's something for everyone. From thrilling scuba diving and exciting sailing to fishing, tennis, cycling, golf, yoga, and cultural nights. You can also enjoy guided tours and various water sports, ensuring a memorable and adventurous stay.
Embracing a holistic approach, the resort's philosophy involves incorporating the island's abundant resources into your experience. They grow their own products and ingredients, which are used in spa treatments and offered in the five gourmet restaurants and bars. This ensures that every aspect of your stay is deeply connected to the island's beauty and essence.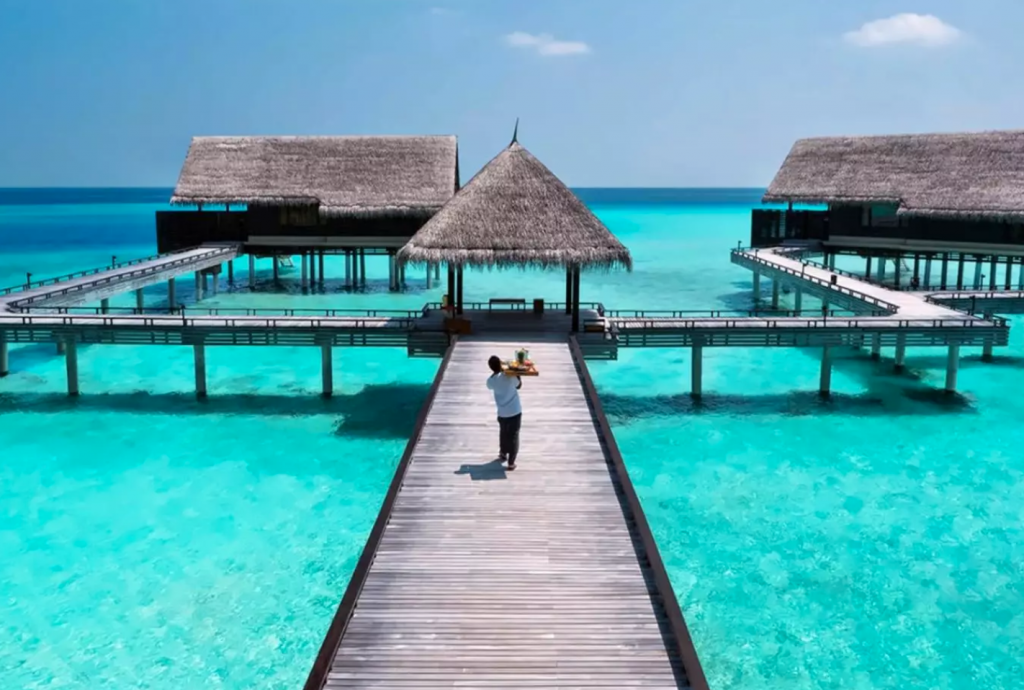 One & Only Reethi Rah, Maldives
The iconic hotel boasts a unique design that has been carefully created to enhance its beauty while still preserving the natural paradise it calls home, much like Dubai's famous Palm Islands.
Imagine a stunning 109-acre island with an impressive 3.7 miles of coastline, offering not just one main beach but 12 delightful beaches to explore. You'll be delighted to find that each villa has its own section of private sand, along with breathtaking ocean views and spacious private verandas, ensuring you have plenty of room to relax and unwind.
One of the most picturesque spots on the island is the small bridge that divides it in two. You can capture some Instagram-worthy shots there, with the crystal-clear water beneath looking as calm as a millpond.
Getting to this exclusive resort is an adventure in itself. You can opt for a quick 15 to 20-minute seaplane ride or, for a more leisurely journey, enjoy a scenic 45-minute trip aboard the resort's luxurious 56-foot yacht.
At One & Only Reethi Rah, you'll be in the capable hands of their friendly and attentive team, consisting of around 700 dedicated staffers. They are experts in taking care of VIP guests, like Madonna, Tom Cruise, and the Beckhams, so you can trust them to make your honeymoon, romantic escape, or family vacation truly special and memorable.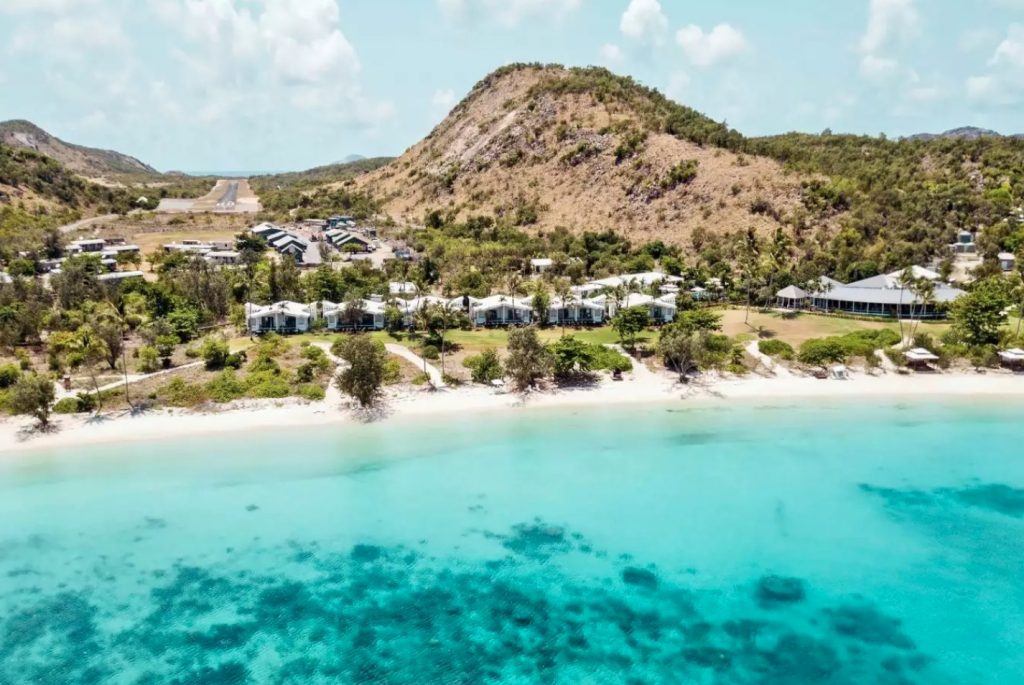 Lizard Island Resort, Australia
Imagine a resort – Lizard Island – situated right on top of the Great Barrier Reef, one of the most incredible natural wonders on our planet. Here, you have the incredible opportunity to immerse yourself in the vibrant marine life of this precious ecosystem. However, it's important to note that the area is currently facing challenges due to the rising temperatures of the ocean.
While you're here, you'll experience a truly unique getaway where you can disconnect from the outside world since there's no cell service. Instead, you can fully embrace the beauty of nature and enjoy the company of your loved ones, whether they are family or friends.
Picture yourself indulging in delightful tiki-lit beach dinners, savoring breathtaking sea views from your villa, and embarking on exciting glass bottom sea kayaking adventures, all while being surrounded by the magnificent reef.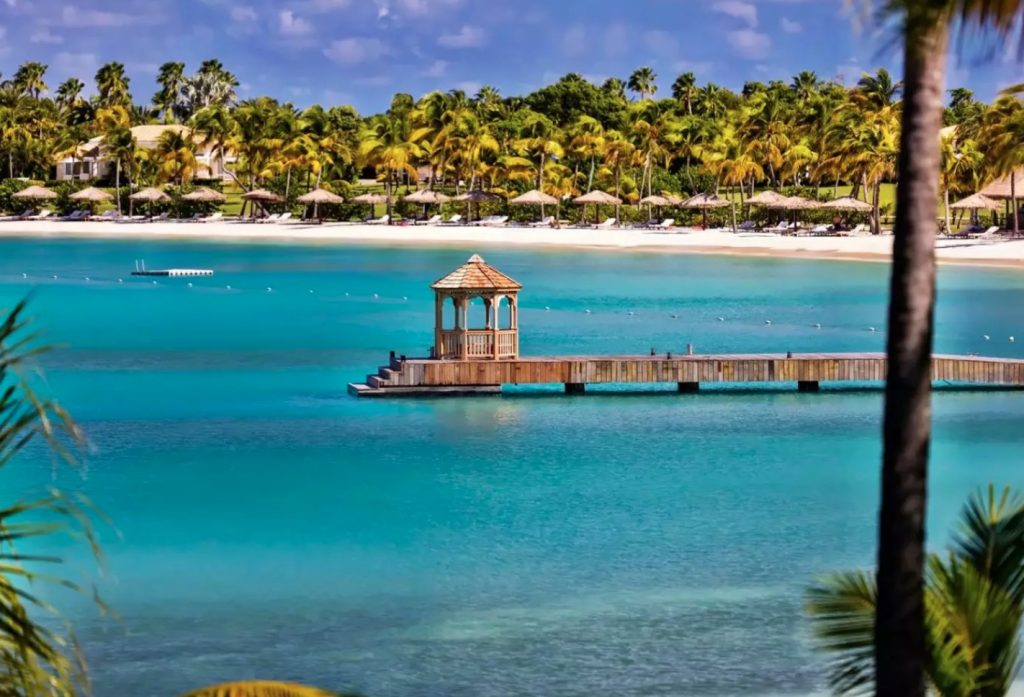 Jumby Bay Resort, Antigua and Barbuda
To get to Jumby Bay Resort, you'll venture just two miles off the coast of Antigua, where you'll find a stunning 300-acre private island surrounded by crystal-clear waters and silky white sand. This hidden gem is part of the prestigious Oetker Collection and is a dream destination for sun-seekers like you. The best part? You can only access this exclusive Caribbean luxury resort by boat, which adds a touch of magic to your journey.
Once a sugar plantation, this island, believed to be discovered by Christopher Columbus, has transformed into a heavenly retreat for couples, families, and even celebrities like Mariah Carey and Paul McCartney. Here, you'll experience an elegant, tranquil, and luxurious vacation with impeccable service and breathtaking natural beauty.
Get ready to be wowed by The Estate House, the resort's incredible signature restaurant! After a recent $6 million restoration, it's truly a dining experience you won't want to miss. Picture a charming 1830s villa nestled among palm trees and ivy, where you can indulge in exquisite Italian cuisine. For a touch of romance, head to the upstairs terrace and spend a delightful evening.
One of the most delightful perks for guests is the beach cruisers, available throughout your stay. You can hop on these bikes and explore the winding pathways all around the resort, making it a fun and convenient way to get around.
Ending notes
Whether you're looking for the perfect honeymoon destination or a place to celebrate a different special occasion, a private island getaway is just what you need. To plan the vacation of your dreams, reach out to our friendly team here.