For many travelers, a stunning pool is a major factor when choosing a hotel for their next holiday. No matter the climate, having one is a 'must' for any luxury hotel. Nowadays, size isn't the only thing that matters. In recent years, originality has become more valued, and properties look for ways to be more creative with them.
With our help, discover some of the most amazing hotel pools in America.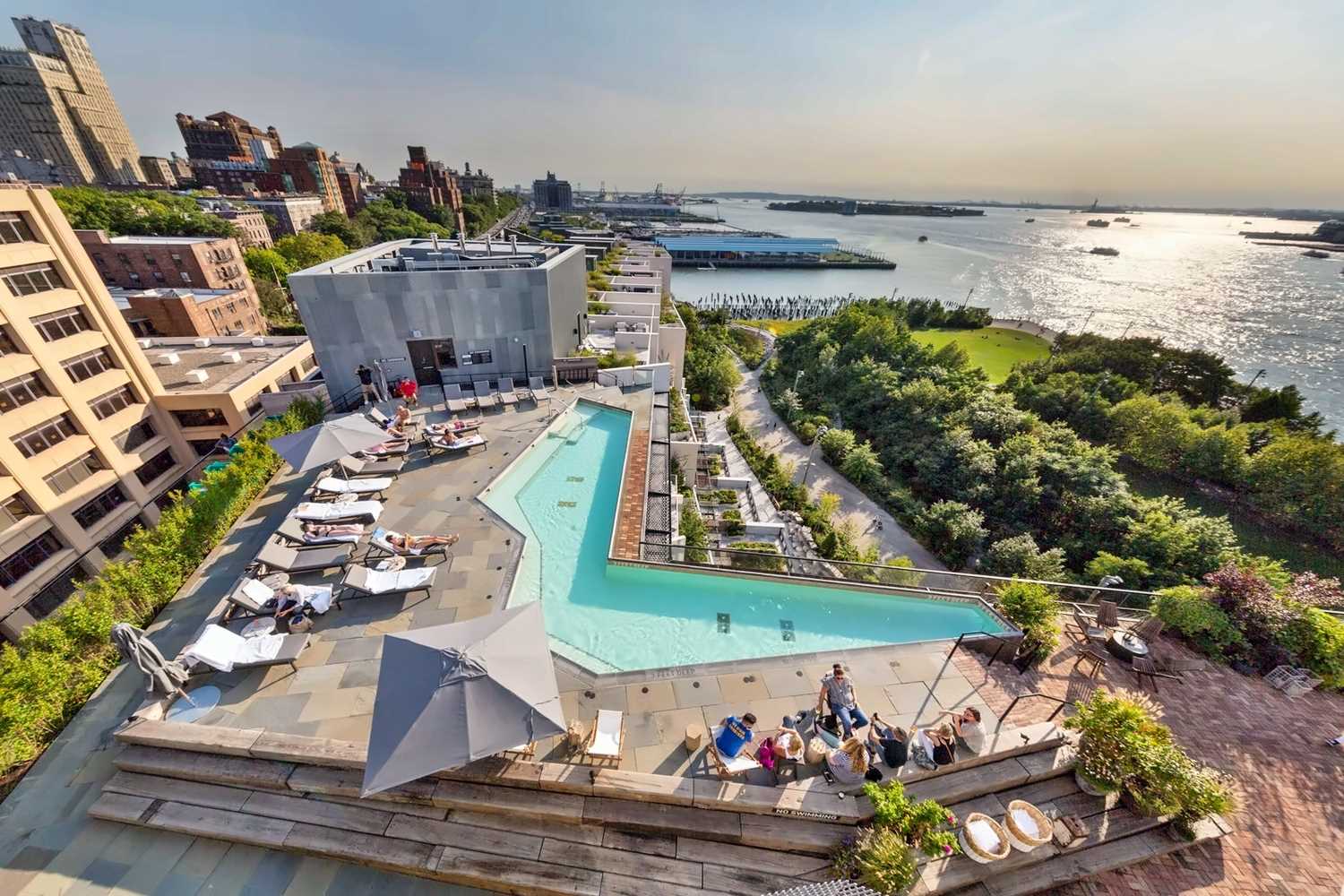 New York may not be the first destination that pops into your mind when thinking about places to soak in the sun or lay by the pool, but 1 Hotel Brooklyn Bridge is the perfect example it can be. After you see the hotel's impressive pool area, which is set on the roof deck, you will never want to leave.
From the stunning pool, guests may enjoy breathtaking views over the East River and Manhattan's skyline. Just imagine – you are 10 stories high, sipping elevated craft cocktails and enjoying life – what could be better?
The pool area is available only for hotel guests, but the view from Harriet, the on-site lounge and cocktail bar is accessible to anyone. If you wish to see Brooklyn Bridge up close and personal, this is the best place to do it! Of course, the pool isn't the only great thing about 1 Hotel Brooklyn Bridge.
If you decide to book a stay, expect the ultimate luxe feel. Floor-to-ceiling windows, sustainable materials, and a bit of greenery every now and there – it is not difficult to see why so many visitors decide to respite there from the hustle of New York City.
Members of our exclusive travel club can make use of many different promotions and offers. By making a booking through PrivateUpgrades, you will get daily breakfast credit of $25, a food and beverage credit of $100 (which can be used in the Harriet's Lounge!), early check-in/late check out, and other benefits.
When was the last time you paid a visit to Baltimore? The historical Maryland city is an excellent holiday destination, and once you see the pool of Sagamore Pendry Baltimore, you will be tempted to experience it in person!
The hotel is set in an old pier building that dates back to 1914. Outside the Recreation Pier is where the accommodation's renowned sparkling zero-entry pool can be found. The private deck, which is created using alternating offset gray bricks, is a real treat for the eyes.
Admirers of great design will be charmed by the roads of white lounge chairs, which are accompanied by beautiful candle lanterns, red striped pillows, and a seasonal bar area that is bustling with energy all summer long. The views, of course, are spectacular too. Such panoramic vistas of Baltimore's harbor and marina would be difficult to find anywhere else.
Those who don't mind a splurge can spend a day at one of the five private cabanas set at the pool area. Guests may rent them for a full or half-day. Within the price, you get access to a $200 drinks and nibbles credit. While the pool area is worth checking out, the hotel itself is amazing.
Dark woods, marbles, and maritime details – every single thing has been well thought of. The living spaces are beautiful, and the courtyard is splendid – what else could you wish for?
Join our members' club and get an upgrade upon arrival, enjoy daily breakfast, get $100 resort/hotel credit, make use of early check-in/late check-out, and complimentary Wi-Fi.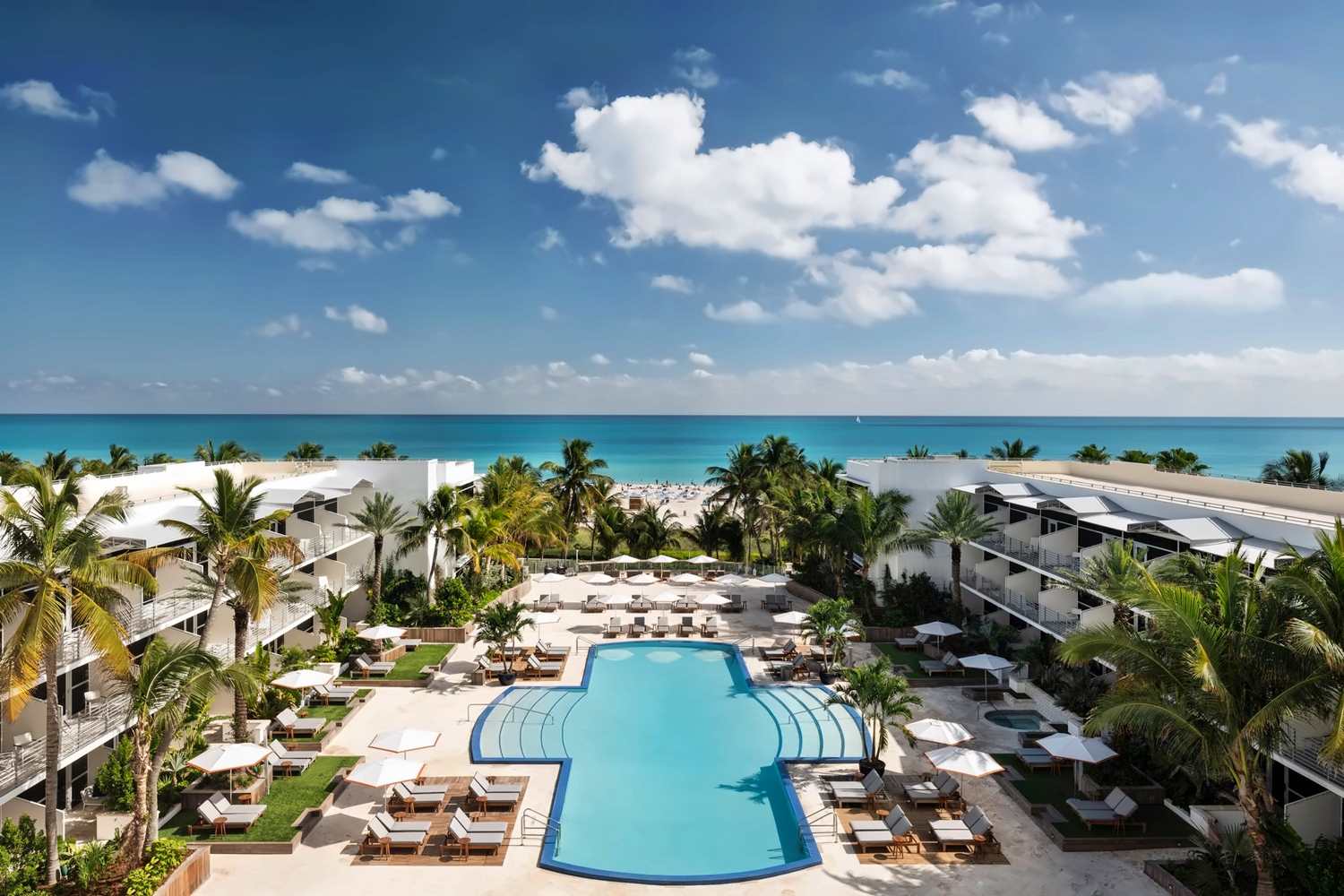 Visiting Miami and not spending at least a day in one of the incredible beach clubs would be a crime. The city is famous for its sunny days. Therefore it is the perfect place to enjoy a pool day and get a little sunkissed. One of the best pools in the States can be found at Ritz Carlton South Beach.
Recently the iconic pool was fully refurbished, but it still remains in the prime spot where the original used to be. Compared to before, now the pool area has more beach chairs. That means it is easier to find a place even at the busiest times. The pool itself is huge, so practicing social distancing won't be an issue.
The elevated pool deck is worth your attention too. With comfortable lounge chairs ad private day beds, it is the best place to wind down after a long day of exploring. Adjacent to the pool, you will find a hot tub, and there are other extras available, too, like complimentary sunscreen and fruit-infused water. Small details like these make the experience so special!
The luxury hotel chain never fails to disappoint, and the Ritz Carlton South Beach is no exception. Guests may choose between 58 stylish poolside lanai rooms, 41 suites, and 67 Ritz-Carlton Club-level rooms and suites.
You can book your stay through PrivateUpgrades. Then, get daily breakfast credit of $35 per person for up to two guests per bedroom, $100 resort credit, an upgrade on arrival, and other advantages.
Hawaii is a favorite tropical destination for many, so it makes sense the beautiful state has its fair share of excellent hotel pools. Koloa Landing, which is located on the island of Kauai, has not only one but three incredible pools. The biggest of them is 6,100-square feet and is shaped like a lagoon.
With 25 acres of tropical landscape, you will feel like in an entirely different planet. What is convenient, the hotel's spa is set just a few steps from the pool area. A fantastic feature is its in-pool island that includes a firepit. If you are a fan of night swims, here you will have the opportunity to do it!
Wish to stay at the resort? Become our member and enjoy benefits like an upgrade on arrival, daily breakfast for two people, $100 hotel credit, early check-in/late check-out, and complimentary WiFi.
---
As you can see, stunning pools can be found in hotels all across America. When they are so beautiful, it is impossible to resist the temptation of diving in regardless of the weather. Why should you? Swimming is known to be beneficial!
Contact our team to plan your stay at one of these fantastic hotels.