Portugal is the land of sunshine, snow-capped mountains, and excellent ocean beaches. Here 300 days a year are sunny. That unspeakably pleases many tourists.
Hotels in Portugal are a great place to stay for short vacations or long adventures, both in the cities and on the coast. You can easily choose one that meets all your requirements. Whether that is proximity to the beach or the mountains, the architectural features of the building, or the gastronomic area.
What can you expect from hotels in Portugal?
5-star hotels in Portugal offer ultimate luxury and a wide range of entertainment options. Wherever the beach resorts are located, the hotel infrastructure works to ensure that every minute is a good time for tourists.
Holidaymakers who choose 4-star hotels can also count on first-class service. The picturesque local landscapes and the buildings nestled among the trees are a sight for sore eyes.
Excellent service, comfortable rooms, a wide range of services, and affordable prices are what make Portugal's best hotels popular with tourists from all over the world.
Most hotels have travel agencies that organize exciting trips to historic sites, royal palaces, and ancient monasteries. Many of them have restaurants offering tastings of favorite Portuguese wines or gastronomic festivals showcasing the local cuisine.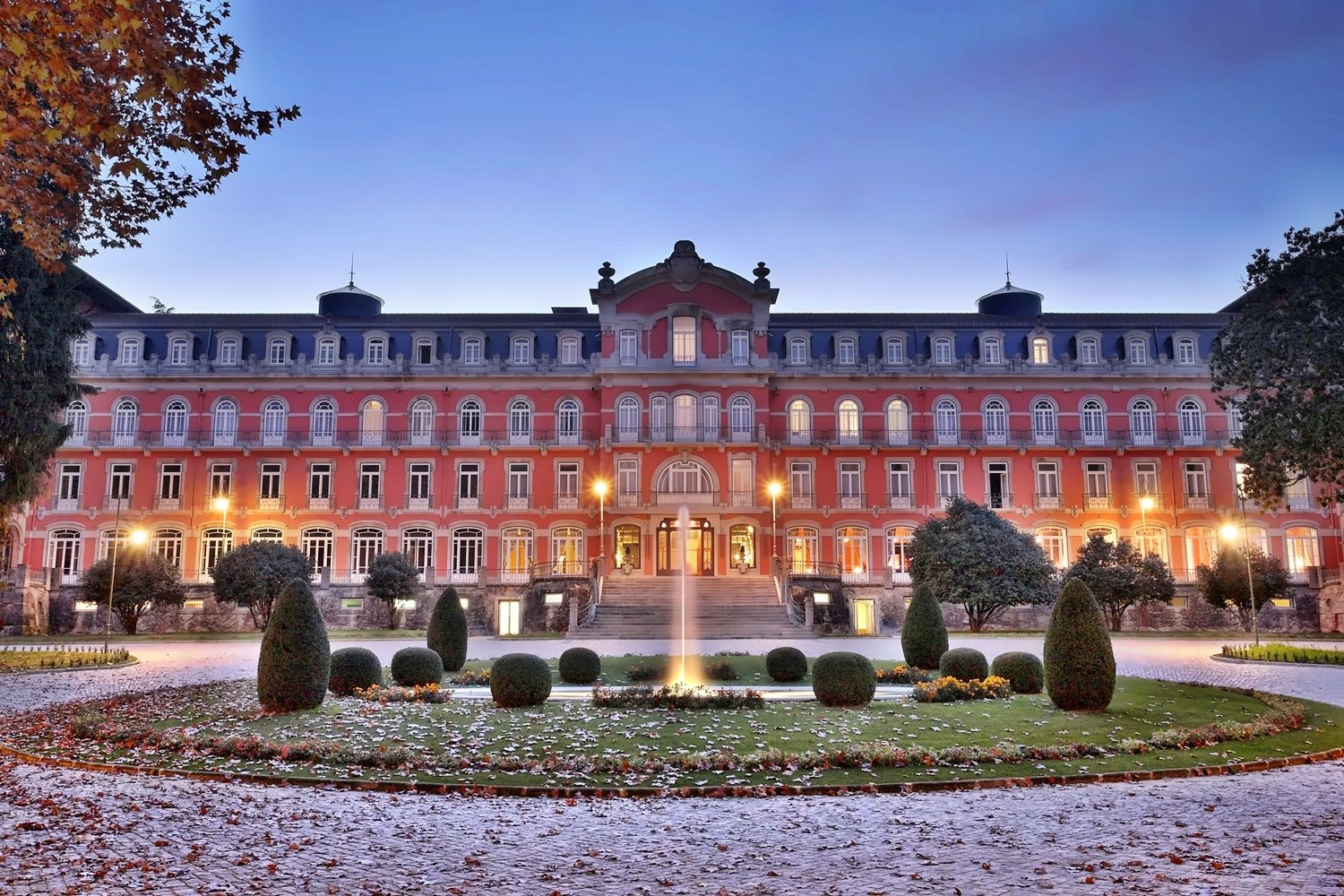 Vidago Palace
One of the best places to stay in Portugal is the majestic Vidago Palace. Decorated in bright colors and equipped with a work desk and LCD TV, the hotel rooms are ideal for business trips or relaxing holidays.
The suites have floor-to-ceiling windows, giving visitors a luxurious look and feel. For maximum relaxation, each room has a spacious seating area.
When it comes to relaxation, the hotel has a special SPA area. Guests also have access to Vidago's indoor and outdoor swimming pools. If you wish, book beauty treatments at the SPA center. Hydrotherapy sessions use local mineral water and essential oils from plants grown in the hotel's garden.
Prefer active leisure? Make use of the hotel's 18-hole golf course!
Vidago Palace has 4 restaurants, including a stylish main restaurant and a poolside grill bar. The Vidago Wine Cellar offers the region's most famous export wines, which can be an excellent idea for a date with your other half.
The hotel is just a 5-minute drive from the center of Vidago, which is a big plus for those who want to explore the area. You will be close to all of the action.
Another must-see hotel is Conrad Algarve. Set in beautiful gardens with thriving palm trees, lush greenery, and picturesque waterfronts, it really is a fine example of luxury.
Conrad Algarve is located in Quinta do Lago. It is just a 20-minute drive from Faro, the provincial capital.
The hotel combines a contemporary design, first-class service, and the charm of a typical Portuguese resort. The elegant rooms are equipped with the latest technology and have spacious balconies.
Its wellness and SPA center features an indoor pool, jacuzzi, fitness center, and treatment rooms. There you can make use of a wide range of body and facial treatments.
The hotel also boasts a tennis court and organizes boat trips and various excursions. For golf lovers, there are 6-hole and 18-hole golf courses a few minutes drive away.
For foodies, Conrad Algarve's restaurants and bars offer a variety of gourmet food and drinks.
For your next Portugal adventure, consider booking Vila Vita Parc Resort & Spa. The hotel is located in the province of Algarve, near the resort area of Armação de Pêra. If you take a plane to Faro, it is just a 35-minute drive from the airport.
The elegant buildings of Vila Vita Parc Resort & Spa are built in the traditions of Portuguese-Mauritanian architecture. Moreover, they are set in a lush subtropical park of more than 20 hectares. While staying at the hotel, enjoy splendid views of the Atlantic Ocean.
The complex impresses with its infrastructure and variety of services. The exquisite rooms, housed in several buildings, including luxury villas with swimming pools, are presented for every taste.
For adults, there is also a luxurious SPA complex available, which includes a fitness center and three outdoor pools.
You can choose to take part in water sports or take trips on the hotel's own yacht. Other options for active recreation are available too. This hotel is ideal for family vacations or romantic journeys!
Numerous restaurants and bars offer a wide variety of international cuisine and fine drinks prepared with the freshest organic produce from Vila Vita Parc Portugal's private farms. Did you know the hotel produces wines in its own vineyards? That's right.
Vila Vita Parc Resort & Spa is one of the finest hotels in the Algarve, combining Portuguese hospitality, historical tradition, and the latest global standards.
Pine Cliffs Resort
Set among pine forests and lush gardens, this cliff-top hotel overlooks golden beaches and the turquoise Atlantic Ocean.
Pine Cliffs Resort is built in the traditions of Moorish architecture. Not only that. It combines Portuguese flavor, first-class service, and excellent opportunities for sports and family vacations.
The balconies of the exquisitely designed rooms of Pine Cliffs Resort feature breathtaking views of the ocean, cliffs, and fragrant gardens.
Sports enthusiasts can enjoy tennis courts, a modern fitness center, sports fields, an aquatics center, and a golf course. Indoor and outdoor pools and a top-class SPA are available for those who want to relax. Younger guests, however, will love the children's amusement park and hotel's activities for little ones of all ages.
Pine Cliffs Resort, a Luxury Collection Hotel in Portugal, is the perfect choice for active families and romantic getaways.
---
To conclude
Portugal has wonderful beaches, stunning nature, beautiful historical and ancient monuments, and many incredible cities.
It is a country for those who know how to appreciate the taste of life. There you will find excellent service, a large number of attractions and, importantly, no crowds of tourists, as it can be visited all year round thanks to the beautiful weather.
If you wish to book a vacation in Portugal, we are here to help! Reach out to our team to get access to exclusive promotions.