Looking for a tropical escape? Why not head to the Bahamas – a place of Tiffany-blue waters and spectacular golden beaches. Here you'll find luxurious hotels, extraordinary experiences, and sights that will take your breath away.
Unlike other tropical destinations, the Bahamas has something in store for everyone. So whether you're a traveler who enjoys lying by the pool or loves to be out and about, you'll surely be impressed by the island's offerings.
So what should you know before planning a luxury trip to the island of azure blue oceans? Make use of our best tips and tricks for visiting the Bahamas!
Which Bahamas islands should you visit?
Nassau, Bahamas
Nestled on the gorgeous New Providence Island lies the vibrant and bustling capital city of Nassau. It's no wonder this tropical paradise is the most popular destination among all the islands of the Bahamas.
From sun-kissed beaches to thrilling attractions, Nassau is the ultimate playground for families seeking adventure and fun. With over 70% of the country's population residing in this lively city, you'll be swept away by the infectious energy and excitement that fills the air.
Freeport, Bahamas
Welcome to Freeport, the jewel of Grand Bahama Island! This vibrant and bustling city boasts an impressive collection of luxurious resorts, cultural landmarks, and historical sites. But that's not all! Freeport is home to 18 of the 28 species of native birds, making it a bird watcher's paradise.
Make sure to carve out some time to visit the lively and colorful Port Lucaya Marketplace, where you can explore an array of charming boutiques selling locally-made Bahamian crafts and indulge in some fine dining. Count Basie Square is also a must-visit, where you can enjoy open-air entertainment and soak up the lively atmosphere.
For nature lovers, Lucayan National Park is a national treasure you won't want to miss. This second most visited park in The Bahamas is home to an enchanting underwater cave system, as well as the preserved remains of the Lucayan Indians.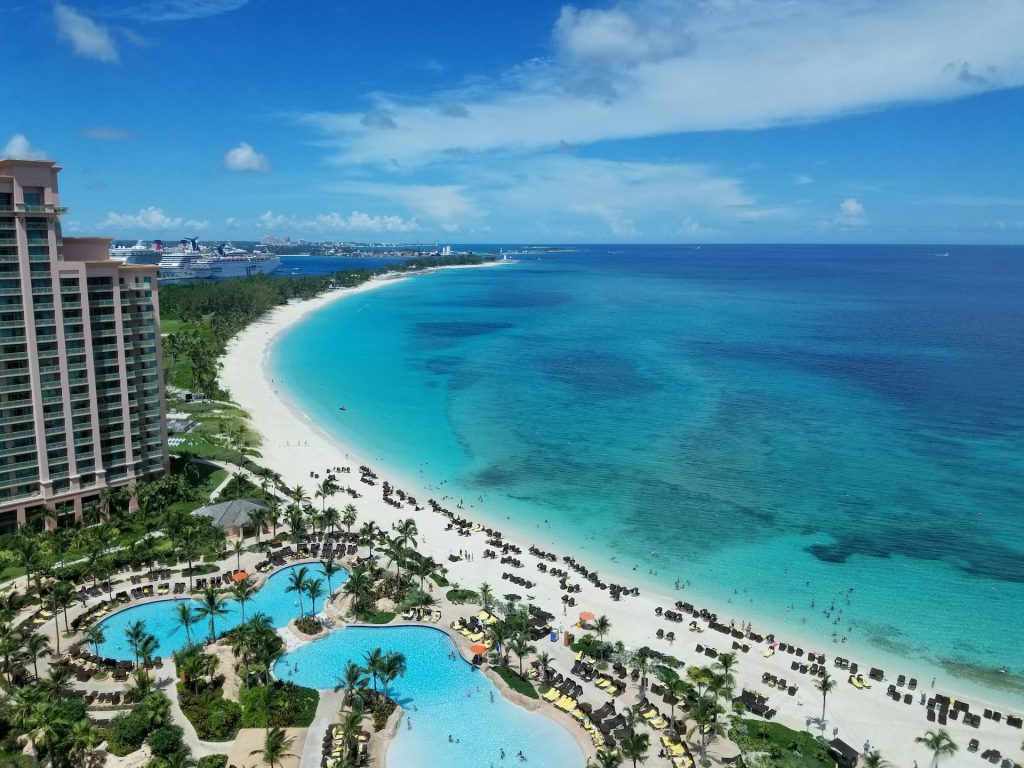 Paradise Island, Bahamas
This slice of heaven is just a quick hop across the harbor from Nassau and is home to the world-famous Atlantis Paradise Island Resort. We promise you won't regret adding this luxury destination to your Bahamas vacation itinerary.
At Atlantis, the Aquaventure waterpark will leave you screaming with excitement! Take on The Current, an exhilarating river that's anything but lazy. With waves to ride and rapids to conquer, it's the ultimate thrill-seeker's paradise. But if you're in the mood for a more laid-back experience, kick back and relax on miles of pristine white sand beaches or lounge by one of the many resort pools.
And for all you nature lovers out there, don't miss the chance to explore the incredible marine exhibits. Get up close and personal with amazing habitats, from dazzling lagoons to mysterious caves and stunning coral formations. Trust us, Paradise Island is a place you won't want to miss!
When is the best time to plan your visit to the Bahamas?
If you're looking to flee the winter snows, then you'll want to visit between mid-December to mid-April, but beware, it's peak season, and prices will be high.
Now, if you're after the best deals and a refreshing breeze, then the sweet spot to visit is between mid-April to mid-December when the trade winds pick up. So pack your bags and get ready for a tropical getaway filled with sunshine, sea, and sand without breaking the bank!
Hurricane season is here from June to November, but don't worry, The Bahamas is usually spared from the worst of it. However, if you're planning a tropical getaway during this time, it's always better to be safe than sorry. Make sure you pack some travel insurance for peace of mind, and if you're booking a hotel, check if they offer a Hurricane Cancellation Policy.
The Best Hotels in The Bahamas
Four Seasons Ocean Club
Nestled on the coveted beachfront of Paradise Island since 1962, The Ocean Club has earned its place as one of the most prestigious hotels in the Bahamas. But don't be fooled – this isn't your typical retro relic. The hotel boasts sprawling lawns, a low-rise structure, and unobstructed views of the crystal-clear ocean, making it a true oasis for those seeking luxury and tranquility.
One of the hotel's main attractions is its spa, where you can indulge in Bahamian-inspired treatments that will leave you feeling rejuvenated and refreshed. If you're looking for some adult time, head to the exclusive pool area reserved for grown-ups only. And for those with a love of art, the sculpture garden is sure to impress, evoking the grandeur of Versailles.
But what about families? Fear not! Even the entry-level rooms can accommodate up to three people, making it the perfect spot for a family vacation. It's no wonder why so many guests return year after year – once you've experienced the luxury of The Ocean Club, it's hard to settle for anything less!
PrivateUpgrades member benefits include:
Upgrade on arrival, subject to availability
Daily Breakfast for up to two guests per bedroom
100 USD Food & Beverage credit
Early check-in / late check-out
Prices here start from 1283 euros per night.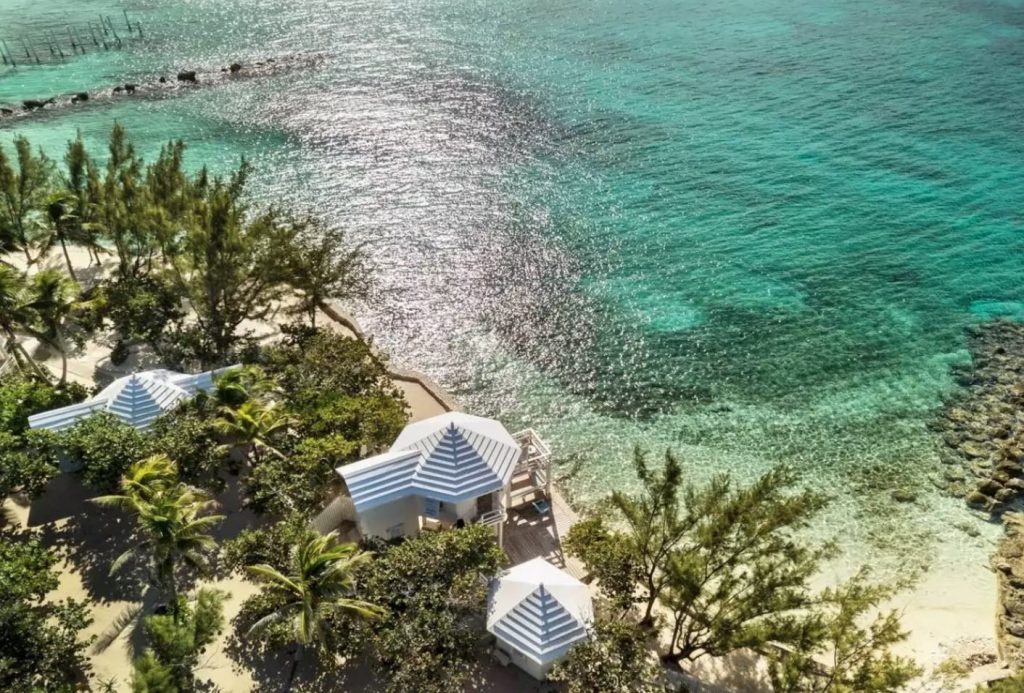 Get ready to experience the ultimate fusion of tropical paradise and cosmopolitan flair at the Rosewood Baha Mar! This place has it all – pristine white sand beaches, swaying palm trees, and top-notch service, plus the added bonus of all the excitement that comes with being in the heart of a vibrant city.
Forget about your typical honeymoon destination because this place is all about socializing and having fun with your friends! With an on-site casino, rooms designed for groups, and trendy shopping spots, the Rosewood Baha Mar is the perfect place to let loose and make memories that will last a lifetime.
And let's not forget about the food – it's a total game-changer. With culinary delights from renowned chef Daniel Boulud, amazing Mexican cuisine at Costa, and a plethora of other dining options within the greater Baha Mar complex, your taste buds will be in heaven.
As a member, make use of these benefits:
Upgrade on arrival, subject to availability
Daily Breakfast for up to two guests per bedroom
100 USD Food & Beverage credit
Early check-in/ late check-out
Prices start from 885 euros per night.
---
End notes
Ready to experience the magic and beauty of the Bahamas yourself? We'd love to help you plan your perfect getaway! Reach out to us here.